6-Y-O ISIS Child Soldier Helps Behead Prisoners, Preaches About Hell in Horrifying Video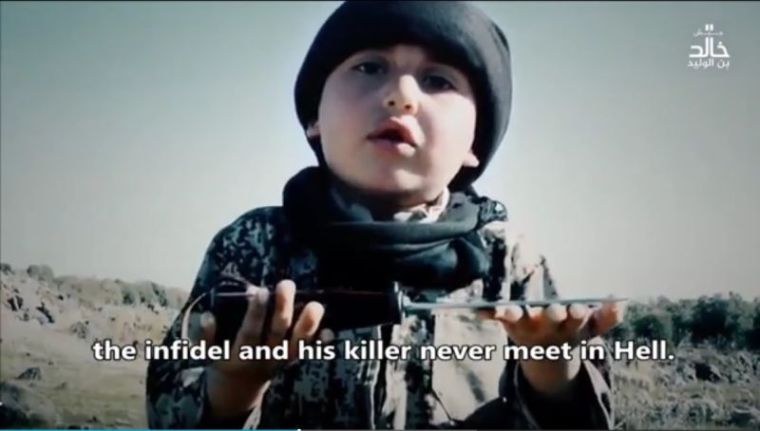 A 6-year-old child brainwashed by the Islamic State terror group has been shown in a video helping behead prisoners in Syria and preaching about who's going to Hell.
The boy, wearing a black headscarf and camouflaged army gear, appears in a video reported by MailOnline on Tuesday and released on IS' social media accounts, holding a blade and talking about the jihadists' mission.
"The infidel and his killer never meet in Hell," the young boy apparently says, while holding a knife, and talks about the terrorists being granted "peace by allah."
The boy is then shown giving two knives to two adult IS executioners, who walk past him and behead two prisoners.
The video does not make clear who the prisoners are, or why the Islamic radicals executed them.
The terror group has been known to carry out beheadings of people it deems to be spies; of those it accuses of being traitors; and of Syrian or Iraqi army combatants who are trying to liberate the region from IS' presence.
The two prisoners in the video, wearing matching tracksuits, are shown being marched through a steam and pushed face down into the water before they're beheaded by the extremists.
IS calls the boys it kidnaps and brainwashes into joining its ranks the "cubs of the Caliphate," and has posted numerous videos of children carrying out horrific acts in order to showcase its influence over the youth.
In January, another video from Syria, seemingly filmed at an abandoned amusement park in the city of Deir ez-Zor, showed a child as young as 10 cutting the throat of a victim while other children executed prisoners by shooting them.
Some of the children who've been rescued from IS and returned to their families have faced great challenges returning to everyday life.
"We would carry arms and fire — sometimes to the left and sometimes to the right. We would disassemble and assemble the rifles," one 7-year-old Iraqi boy who was rescued said earlier in April, according to The Mirror.
"Then they taught us how to behead, catch heads and then chop it off with a knife."
Hussein Al-Qaidy, director of the Office of Kidnapped Affairs, explained that "a large number of children are being educated at three military bases. They undergo a very organized education. Their [ISIS'] aim is to instill radical religious ideology in them."
"They have even changed their names and converted their religion. Then they teach them how to carry out terrorist attacks and carry weapons. These children have become like a bomb, deploying around the world one day," he added.
Vocativ posted a report on Tuesday about how IS recruits chldren, noting that one of the terror group's main strategies since starting its conquest of Iraq in 2014 has been to pull children into its radical ideology.
The report noted that when IS militants conquered Mosul, they changed teaching plans at local schools and phased out subjects like science, in order to insert religious instruction.
The radicals printed out new textbooks on subjects like math, illustrated with guns and assault vehicles, and taught children arithmetic by counting bullets, as part of the indoctrination methods.