6,000 Attend UMC Women's Assembly, Speakers Lament Failure to Pass 'God Isn't Male or Female' Amendment
Radical Women's March Activists Linda Sarsour and Tamika D Mallory Invited to Speak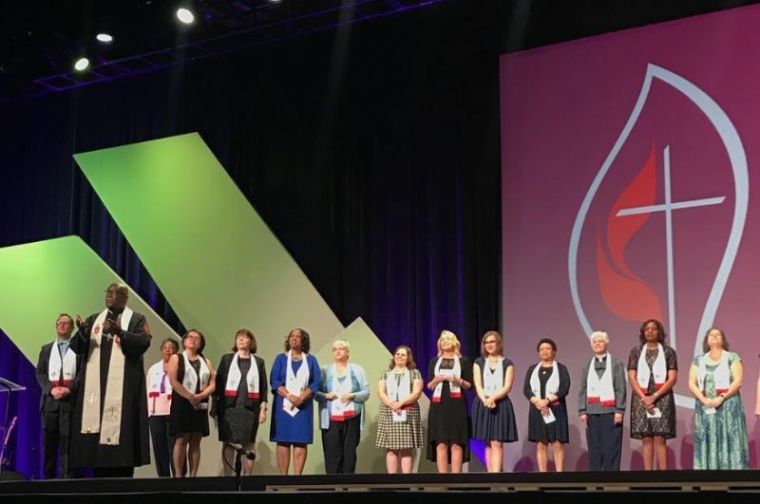 Approximately 6,000 people attended the United Methodist Women's quadrennial Assembly, where leaders denounced the denomination's recent voting down of an amendment to their Book of Discipline which said that God is not "male or female."
Recently, the United Methodist Church announced that their annual conferences narrowly voted down Proposed Constitutional Amendment I, which included the claim that "it is contrary to Scripture and to logic to say that God is male or female, as maleness and femaleness are characteristics of human bodies and cultures, not characteristics of the divine."
A group of female United Methodist Bishops were present for the Assembly's closing ceremony, in which they spoke against the rejection of two proposed amendments to the Book of Discipline that centered on the issue of gender equality.
Bishop Cynthia Fierro-Harvey of the Louisiana Episcopal Area, one of the nine women clergy at the ceremony, noted that in response to the amendment's failing, female UMC bishops "made a statement to The United Methodist Church that provided a glimpse into the need for equity and gender equality for women and girls in our churches and across the world."
"Yes, we've made some headways, but we have a lot of work to do," said Fierro-Harvey. "And now so along with United Methodist Women and others across the connection, we hope to go back to our annual conferences with this amendment and make a decision that's better informed."
Dawn Wiggins Hare, top executive of the Commission on the Status and Role of Women, commented on the amendment's failure during her remarks on May 18 at the event.
"This is not who we understand The United Methodist Church to be," she said, as quoted by United Methodist News Service. "The progress we thought was secure is not."
The Christian Post reached out to the United Methodist Women for comment and we will update this piece when a response is received. 
Earlier this month, it was announced that Proposed Constitutional Amendment I, which stated in part that God is not "male or female" failed to pass. Amendment I received 66.5 percent of the vote, less than a half percentage point shy of the minimum 66.7 percent majority. The necessary supermajority was defeated by about 100 votes.
Many in the UMC expressed concern over how Amendment I included the claim that "it is contrary to Scripture and to logic to say that God is male or female."
"Does this mean Jesus is not male? Or does it mean that Jesus, who is obviously male, is not divine? Either position is contrary to our doctrinal standards," noted Good News magazine in 2017.
"While this statement is well-intentioned, and we support its strong emphasis on the equality of women, we are concerned with its theological fuzziness being written into our Constitution. The church's advocacy for women's equality is well-stated elsewhere in the Book of Discipline."
Soon after the amendment's failure, it was revealed that the "male or female" sentence was not supposed to be in the final copy of the amendment, having been removed by an earlier vote of 746–56.
In response, the UMC Council of Bishops announced that there would be a revote on the amendment in the near future, with the correct text lacking the "male or female" sentence.
Held May 18–20 at the Greater Columbus Convention Center in Columbus, Ohio, the assembly had a diverse group of speakers including controversial Women's March activists Linda Sarsour and Tamika D. Mallory.
The theme of the event was "The Power of Bold," which encouraged attendees to be more active in advancing social justice issues like better healthcare for mothers and children, prison reform, economic inequality, and "climate justice."
Mark Tooley, president of the theologically conservative Institute on Religion & Democracy, took issue with the left-leaning proceedings of the Assembly.
"It focused on social and political themes of the left, featuring radical speakers like Linda Sarsour and Tamika Mallory, while ignoring evangelism, discipleship and Methodist distinctives about holiness. They predictably focused on climate change but not changing human hearts," said Tooley to CP.
"It was essentially the National Organization for Women or the Women's March at prayer, if barely that. Most women in United Methodist churches, especially if they are not retirement age, are likely unaware UMW even exists, a far cry from when UMW was America's largest women's group."