7 Notable Figures in the Fight Against Porn and Sexual Exploitation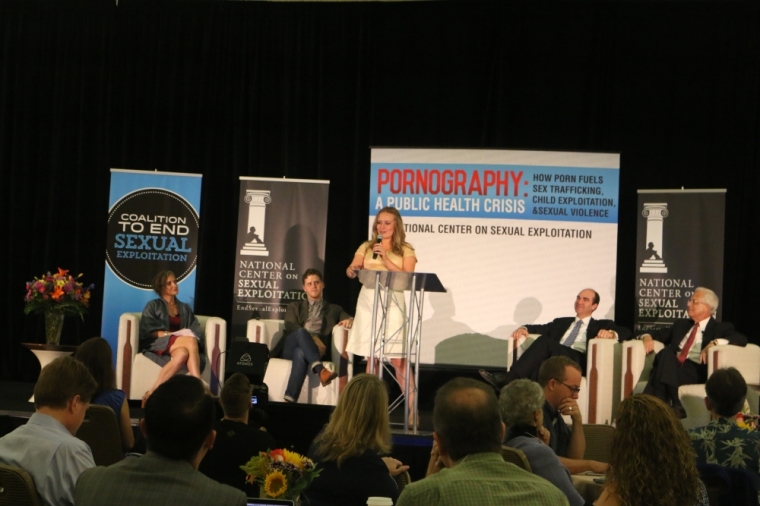 ORLANDO, Fla. — Numerous people are waging war in the fight against pornography and its negative impact on mainstream culture that's seeping into the Church. The Christian Post is highlighting just seven notable figures who are combating the pervasive porn culture that's hurting families and destroying lives.
The seven people named in this list were at the second annual Coalition to End Sexual Exploitation Summitt held earlier this month, which you can read more about here, here and here.
1. Donna Rice Hughes: As the CEO and president of Enough is Enough, Hughes has dedicated much of her life to protecting children from Internet pornography. Since the mid-1990s, she's given over 4,500 media interviews on issues such as Internet pornography, the sexting phenomenon, and sexual predators.
Hughes, already the recipient of numerous awards, received the 2015 Founders Award from the National Center on Sexual Exploitation. Known by some as the young woman who had an alleged affair with former presidential candidate Sen. Gary Hart, which ended up toppling his bid for the White House. Hughes has said she was a victim of date-rape that ended up leading her down a path of poor decision making.
She's now focused on convincing McDonald's and Starbucks to offer pornography free Wi-Fi services. She recently partnered with Miss Florida Mary Katherine Fechtel and the Miss American pageant to promote Internet safety. "She loves God, She loves America, and she hates pornography," Hughes said of Fechtel.
2. Ron DeHaas: CEO of Covenant Eyes, which launched in 2000, DeHaas shared his amazing story during an interview with CP. After he lost his wife and two children in an auto collision in 1992, DeHass remarried and was blessed with a second family. This is when he said he became a staunch advocate against pornography, especially children's access to Internet porn on household computers.
"Looking at the filters out there, I was totally unsatisfied with what was available, so I invented Internet accountability," DeHaas said.
"Filters are not enough," according to DeHaas," who talked in-depth about the flaws and ways people can circumvent the software, as well as the importance of accountability for changing behavior. "You can't manage what you don't measure," he said. DeHass' reports from a person's Internet use tracked by Covenant Eyes give an important summary report to individuals and accountability partners.
3. Jill Manning: A licensed marriage and family therapist, Manning spoke in-depth about the destructive nature of pornography on the family and issues of trust. During the second annual Coalition to End Sexual Exploitation Summit, she offered several presentations, and has been featured on numerous radio and television programs. Manning has also testified on Capitol Hill on the dangers of pornography.
"Up to 70 percent of wives who uncover pornography use in their marriage have symptoms of PTSD," Manning claimed. "They are at home in the warm zone in what was supposed to be their safe zone, with a partner now betraying them." Manning calls pornography a "safety issue, not simply a habit or vice that goes on inside the home."