7 Unexpected Reactions to the Tragic Violence in Charlottesville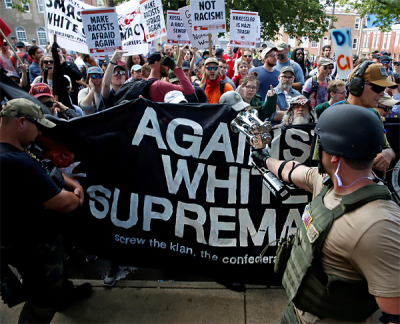 The nation watched in horror as violence broke out between white supremacists and counter protesters earlier this month in Charlottesville, Virginia, at a rally protesting the removal of a Robert E. Lee statue in Emancipation Park.
The Aug. 12 event, organized by Jason Kessler called the "Unite the Right" rally, was attended by white supremacists, the KKK and white nationalist socialist groups. It descended into violence when counter protesters and white nationalists — many on both sides armed with helmets, weapons and shields — began fighting. Later that day, 20-year-old James Alex Fields Jr. rammed his car into a crowd of counter protesters, killing Heather Heyer, 32, and injuring at least 19 others.
While many Americans responded to the violence by denouncing the views of white supremacists, rejecting their racist chants and worldview by holding peaceful vigils, others have reacted by destroying property and calling for President Trump to be assassinated. (Click on the next page above.)