70 Muslim and Gay Groups Vow Solidarity After Orlando Shooting by Pro-ISIS Gunman
70 Muslim and Gay Groups Vow Solidarity After Orlando Shooting by Pro-ISIS Gunman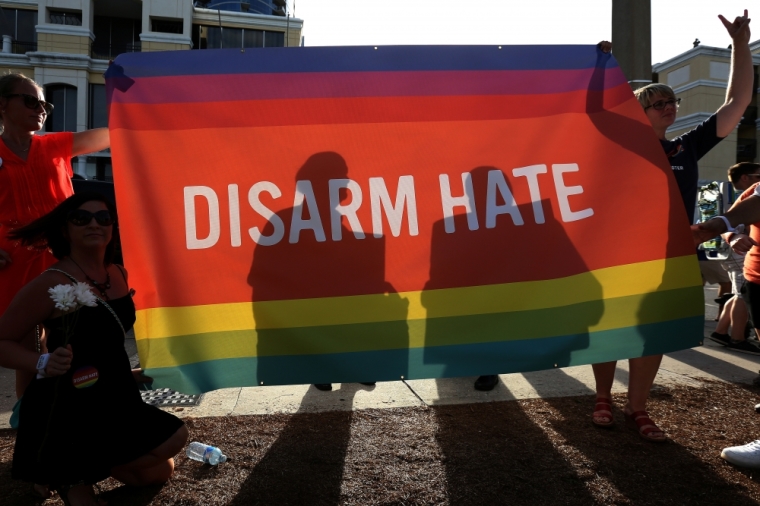 Close to 70 Muslim and LGBT groups in America have come out with a joint statement in the wake of the Orlando massacre, the deadliest mass shooting in U.S. history where a gunman killed 49 people at a gay nightclub, and vowed not to attack each other.
"In this moment of immense sadness and outrage, we stand together united against fear, hate and violence. We will not lose hope in the people and communities around us because we know we are stronger together," the joint statement read.
"In standing together, hand in hand, across every faith, we send a powerful message to those who seek to divide us using hatred and violence: love is stronger than hate and hope will defeat fear," it added.
The shooter, 29-year-old Omar Mateen, who was also killed during the attack, pledged his allegiance to the Islamic State terror group in a phone call to police, and explained he was carrying out the shooting to avenge Muslims killed by the American government.
Several other reports, however, have suggested that Mateen was gay himself, with accounts from his ex-wife and even a man claiming to be his former lover.
Reuters and other publications said that there have been tensions between the Muslim and LGBT communities in America following the shooting. Qais Munhazim, a doctoral political science student at the University of Minnesota, shared his experiences in attending a vigil a day after the attack:
"The moment I introduced myself to someone who is also part of the (LGBT) community, she asked me what my nationality is and I said I am Afghan," Munhazim revealed.
"Immediately her answer was, 'this is not the right time or place for you.' I went there trying to be among my own community, to grieve together with them. Even my grieving was questioned because of my identity," he added.
The joint statement, signed by groups including GLAAD and the Muslim Public Affairs Council, sought to portray the two communities as united, however.
"In the days ahead there will be more calls to define an enemy. There will be cynical efforts to pit groups of Americans – many of whom share a history of being victims of suspicion and discrimination – against one another and to increase surveillance of entire communities, based solely on how they look or how they pray," it read.
The groups insisted that they stand "united against these efforts to divide us. "
The statement continued: "We are reminded that as our communities stand together, we are in fact one community – which includes LGBTQ Latinos and LGBTQ Muslims, who are targeted both as Muslims and as members of the LGBTQ community."