9-Y-O Christian Boy Accused of Burning Quran, Tortured 4 Days by Police Finally Released From Jail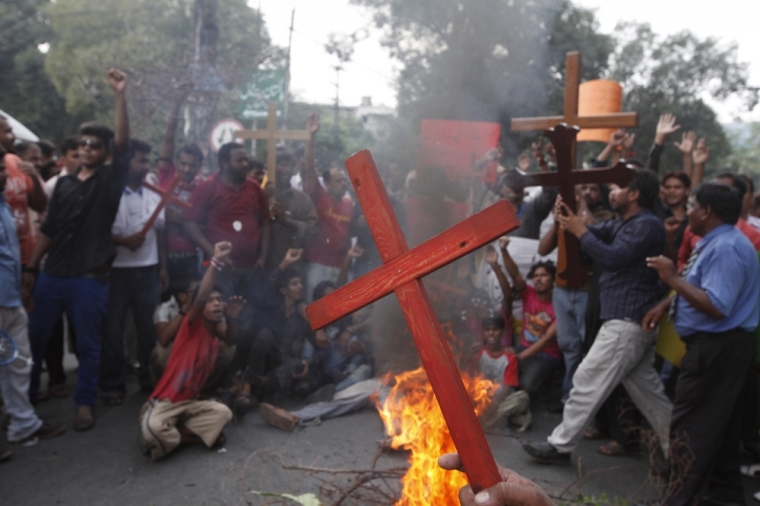 Human rights activists and politicians in Pakistan have banded together to successfully secure the release of a 9-year-old Christian boy and his mother who were jailed last week and could have faced the death penalty after they were accused of burning the Quran.
According to the London-based charity British Pakistani Christian Association, 9-year-old Izhan was at school in the town of Quetta on Oct. 20 when he was accused of burning a copy of Islam's holy book.
The next day, he and his mother, Shakil, who works as a nurse at a nearby hospital, were arrested without the police conducting an investigation into the allegations provided by a Muslim witness.
As with many other blasphemy cases, news of the arrest stirred up tensions between the local Muslim and Christian communities. Fortunately, local police protected the Christian community from threats and the formation of a Muslim mob.
As one Pakistani Christian teen already sits in prison and faces the prospects of the death penalty after being charged with breaking the country's persecutory blasphemy laws on the grounds that he shared a blasphemous picture on Facebook, Pakistani human rights activists quickly went to try and secure the release of the child and his mother.
Officers from BPCA, along with other human rights advocates, spent the four days after the arrest calling on the police to release Izhan and his mother.
According to the Pakistani Christian Post, lawmakers and the leadership of the Sunni political party Jamiat Ulema Islam (F) were instrumental in helping to secure their release and quash the blasphemy allegations against them.
Asiya Nasir, a Christian member of Pakistan's National Assembly; William John Barkat, a member of the Provincial Assembly of Balochistan, and activist Shahzad Kundan were active in the effort to bring justice to the accused child and his mother.
"Credit goes to the local leadership of Jamiat Ulema Islam (F) which played a tremendous role because Ms. Asiya Nasir MNA and Mr. William John Barkat MPA belong to the same political party," the news site reported.
BPCA reports that Shakil and Izhan have said that they were tortured and interrogated during their four-day detention. However, neither confessed to having committed blasphemy. According to BPCA, no evidence has been found that supports the claim that the mother or child desecrated a Quran.
"This is the first blasphemy charge, in my recollection, that has been dropped, " BPCA Chairman Wilson Chowdhry said in a statement to The Christian Post. "The law states that bail does not apply for blasphemy charges and that crimes once registered should be trialled in court.There is no room for the dropping of charges. This unusual situation is the result of serious campaigning by groups such as the BPCA and politicians such as Asiya Nasir and her Muslim Colleagues.
"The fact that Muslim politicians joined forces with Christians was influential because in Muslim society, the strength of a witness testimony from a Muslim has more authority then that of a Christian," he added. "There is No doubt in my mind that police were influenced by this. If more Muslim politicians were willing to support Christians in this way many lives could be saved from the ignominy of blasphemy charges. That said, the fervent support shown by Muslim politicians during this incident could be an indication of a seed change in the way that the Muslim community views the application of blasphemy laws."
Nasir Saeed, director of the Centre for Legal Aid, Assistance and Settlement, said in a statement that bringing blasphemy charges against a 9-year-old child shows just how the blasphemy laws are being used to promote hatred toward Christians.
"He may have never have even heard the word of blasphemy," Saeed said, referring to Izhan. "Unfortunately, this is the worst example of hatred and intolerance against Christians and treatment toward them in Pakistan."
"The government of Pakistan must look into such cases and take appropriate steps to bring necessary changes to stop the ongoing misuse of this law," he added. "The international community has continuously expressed its concern and called for amendments."
Earlier this month, the Pakistan Supreme Court indefinitely adjourned the death penalty appeal hearing for Christian mother Asia Bibi, who has been in jail for over six years after she was accused of blasphemy in 2009.