'A.D. The Bible Continues' Releases 'First Look' Preview (VIDEO)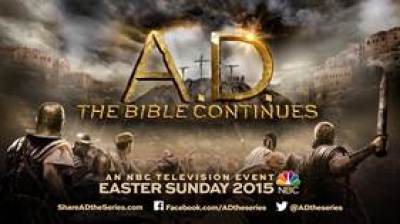 "A.D. The Bible Continue" released a special preview this week, at the beginning of the Lenten season.
The new miniseries, due to air on Easter Sunday, picks up where the hit series "The Bible" left off and will focus on the birth of the Christian church during a time of Roman oppression. It specifically follows the first 10 chapters of the book of Acts, which details the actions of the disciples and Jesus' mother, Mary, as well as key political actions of the time.
Mark Burnett and Roma Downey, executive producers of the miniseries, have been actively promoting and sharing behind-the-scenes photos from the set. As Downey told the Television Critics Association, "people are hungry for stories of faith."
"We just know there's a hunger for this kind of material," Downey said. "People are hungry for stories of faith and 'A.D.,' we believe, will satiate that hunger."
One major change is that "A.D." will air on NBC instead of the History Channel, allowing more viewers to partake in watching the series.
"We are extremely ethical, and I spoke to them," Burnett said about the change. "I believe this belongs on American [broadcast] network. It has the biggest privilege in the world … to have an hour of primetime on American [broadcast] network TV; there is nothing like it on earth."
The miniseries is purposely scheduled to release on Easter Sunday, bringing the story of the aftermath of the crucifixion and resurrection to audiences across the nation.
"We couldn't make it any faster," Burnett said. "We are people of deep faith and I believe God's hands are all over it. I believe it was always intended to be Easter Sunday."
The show features a diverse cast of actors from 10 different nations. Juan Pablo di Pace portrays Jesus, while Babou Ceesay portrays his best friend, John, and Chipo Chung takes on the role of Mary Magdalene. Greta Scacchi steps into the role of Jesus' mother, Mary, and the disciple Peter is played by Adam Levy.
"Christianity is among the most diverse movements in history, so when Mark and I looked to bring this epic story of 'A.D.' to life on NBC, it was important to us to find a cast as diverse and beautiful as the church is around the world," Downey said in a previous statement to the press.
Watch the new, exclusive, trailer below.