Roma Downey Announces For King & Country Song Featured in 'A.D.'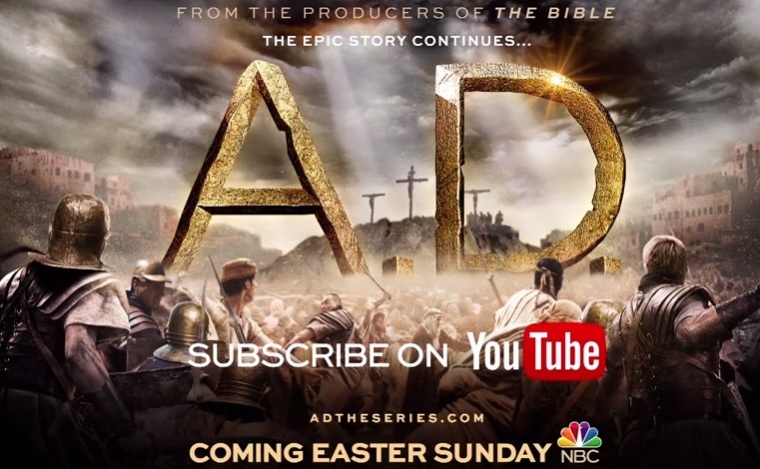 A new recording from the Christian duo For King and Country is now available online and featured in Roma Downey and Mark Burnett's new series "A.D."
For King & Country, formerly known as Joel & Luke, recorded a rendition of the song "By Our Love" specifically for the "A.D." soundtrack. The latest from the Nashville-based brothers can be heard on the new trailer for the television series, which heads to NBC on Easter Sunday 2015. Downey, who co-produced "A.D." with her husband Burnett, released a statement announcing the exciting development on the soundtrack.
"We are very excited to share our new A.D. music video with Christian Post viewers. Through For KING and COUNTRY's powerful rendition of "By our love" reminds us this is the way Jesus changes the world," said Downey to The Christian Post. "During our Christmas celebration we rejoice in how God incarnated His compassion for all humanity and he launched a revolution of love that has transformed the lives of billions of people."
"A.D.," which is a sequel to Downey and Burnett's "Bible" series, follows the harrowing yet inspiring journey of the birth of the church. The new series will also take a closer look at the first ten chapters of the Book of Acts, revealing the aftermath of Christ's death and its impact on his disciples and his mother, Mary, and key political and religious leaders of the time.
In addition to telling the compelling story of the early church complete with faith, sacrifice and victory, "A.D." includes an incredibly diverse cast that offers powerful performances. The cast includes Argentinean actor Juan Pablo di Pace who portrays Jesus, and roles of iconic Bible characters such as Mary Magdalene, John, James, and Simon the Zealot went to actors from all over the world.
"Christianity is among the most diverse movements in history, so when Mark and I looked to bring this epic story of A.D. to life on NBC, is was important to us to find a cast as diverse and beautiful as the church is around the world," Downey who serves as executive producer, said in a statement.
"We look forward to sharing these amazing performances with our audience, and in them we hope that people see themselves," she added.
"A.D." premieres on NBC on Easter Sunday, April 5, 2015. Watch the new trailer including the For King & Country song here.
Churches and small groups are free to download a High-Res copy through the download link here.