Obama Describes Pastor Clementa Pinckney as 'A Man of God Who Lived by Faith' in Impassioned Eulogy at Charleston Funeral (Video)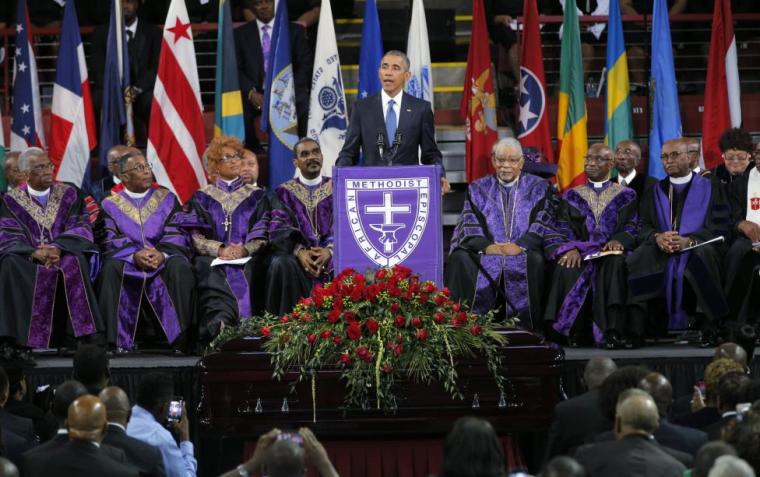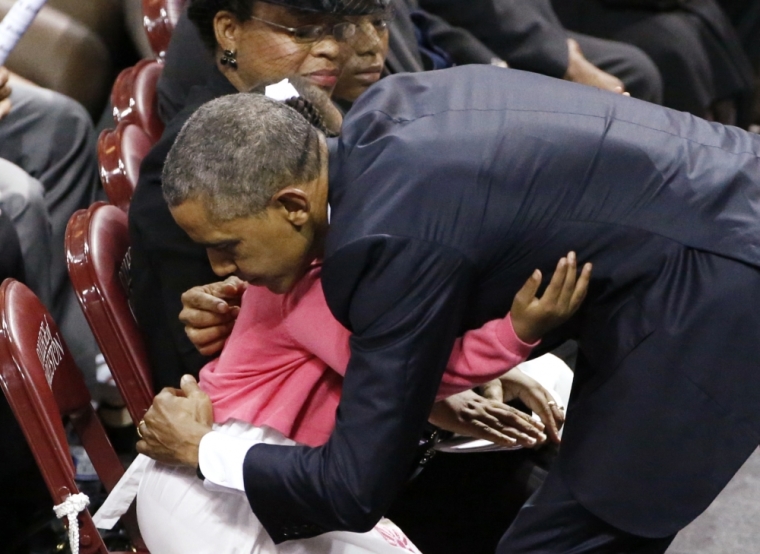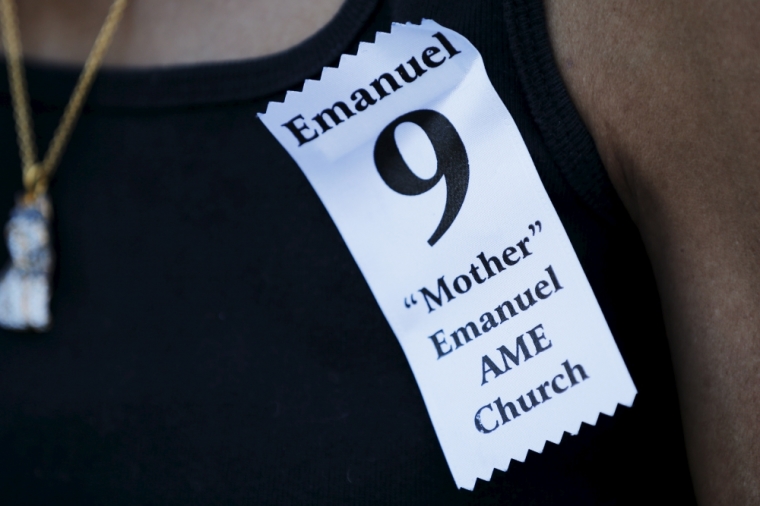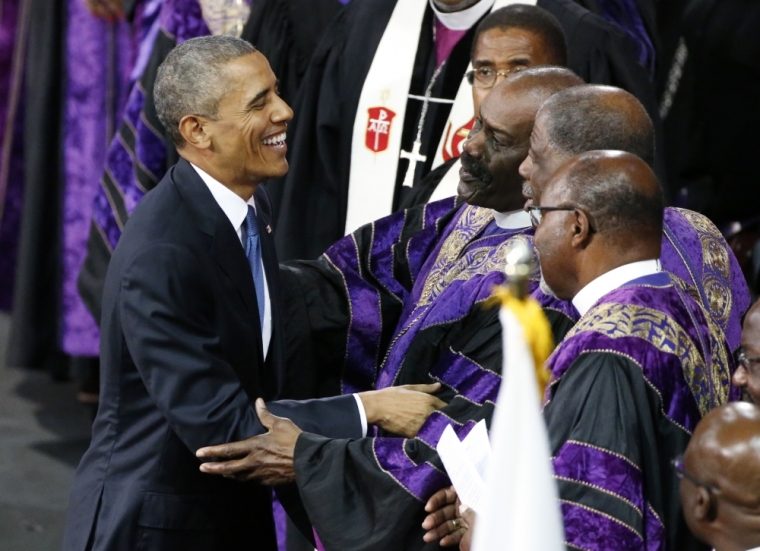 View Photos
Thousands of mourners gathered in Charleston, South Carolina, on Friday for the funeral of Democratic State Sen. Clementa Pinckney, pastor of the Mother Emanuel African Methodist Episcopal Church, as President Baraxk Obama delivered an impassioned eulogy for the respected leader he remembered as "a man of God who lived by faith."
Grieving relatives, Emanuel AME church members, politicians and members of the community were present at the College of Charleston's TD Arena to pay their respects more than one week after Pinckney and eight others were gunned down during a Bible study at his church.
"Giving all praise and honor to God," Obama began. "The Bible calls us to hope, to persevere and have faith in things not seen. They were still living by faith when they died, Scripture tells us. They did not receive the things promised, they only saw them and welcomed them from a distance, admitting that they were foreigners and strangers on Earth."
Obama remembered Pinckney, who began preaching at 13 and became a pastor at 18, as "a man of God who lived by faith," while standing above the-late senator's casket and speaking to the 5,000-strong crowd.
"We are here today to remember a man of God who lived by faith, a man who believed in things not seen," he said. "A man who believed there were better days ahead, off in the distance. A man of service who persevered, knowing full well he would not receive all those things he was promised, because he believed his efforts would deliver a better life for those who followed."
Obama addressed Pinckney's widow, Jennifer, and their daughters, Eliana and Malana, as well as the Emanuel AME church family and the people of South Carolina during his heartfelt speech.
"To Jennifer his beloved wife, to Eliana and Malana, his beautiful wonderful daughters, to the Mother Emanuel family and the people of Charleston, the people of South Carolina, I cannot claim to have had the good fortune to know Rev. Pinckney well, but I did have the pleasure of knowing him and meeting him here in South Carolina back when we were a little bit younger. The first thing I noticed was his graciousness, his smile, his reassuring baritone, [and] his deceptive sense of humor."
Seated amongst the large crowd was First Lady Michelle Obama, Republican and Democratic state and national lawmakers, and Emanuel church's interim leader, the Rev. Norvel Goff, among other high profile figures.
During his eulogy, Obama also remembered the eight other victims whom he described as "good people, decent people, God-fearing people."
"To the families of the fallen, the nation shares in your grief," he said.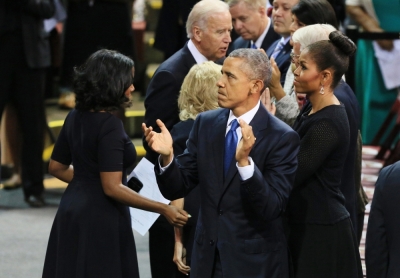 Obama went on to touch on pressing political matters such as the history behind the Confederate flag and race relations in the United States.
At one point, he broke into an impromptu version of "Amazing Grace," which brought the crowd to their feet and had many cheerfully singing along.
"The Church is and always has been the center of African-American life," he said.
The Emanuel AME church has been a part of the Charleston community since 1816 and was founded by a former slave. Obama called the historically black church "a Phoenix from the ashes" due to its incredible history and story of survival.
Pinckney, who became the youngest African-American to be elected to his state legislature at age 23, was honored by mourners who paid their respects to the slain pastor and lawmaker during a public viewing on Wednesday held inside the rotunda of the State Capitol in Columbia, South Carolina.
Last week, Dylann Roof, the accused gunman, attended a Bible study at the AME church for an hour before opening fire in the basement of the church, killing nine of the 13 people who had gathered for worship.
Roof, a 21-year-old white man from Lexington, was charged with nine counts of murder for each victim and possession of a firearm for the massacre which police have called a hate crime. While under state law Roof is ineligible for bond on the murder charges, a judge previously set his bond at $1 million on the weapons charge.