Abercrombie & Fitch Guilty of Religious Discrimination, Supreme Court Decides in Muslim Head Scarf Case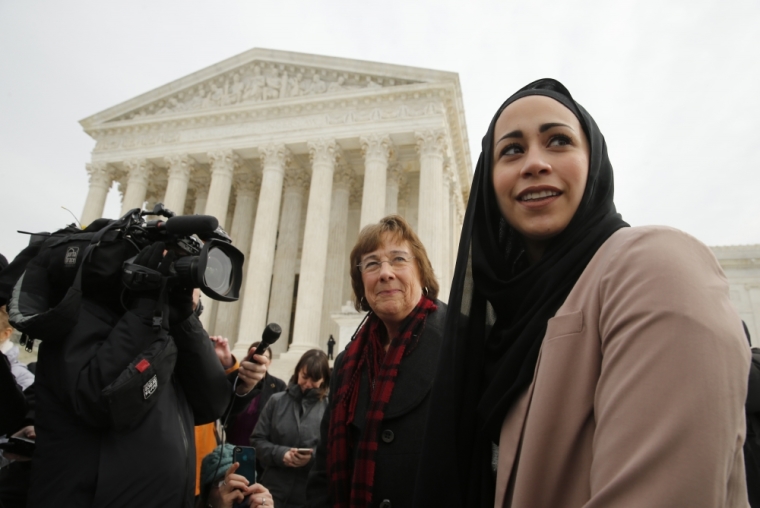 Update: 1:37 p.m., Monday, June 1, 2015
The Christian Post received the following statement from Abercrombie & Fitch on Monday afternoon following the Supreme Court's ruling: "While the Supreme Court reversed the Tenth Circuit decision, it did not determine that A&F discriminated against Ms. Elauf. We will determine our next steps in the litigation, which the Supreme Court remanded for further consideration. ... We have made significant enhancements to our store associate policies, including the replacement of the 'look policy' with a new dress code that allows associates to be more individualistic; changed our hiring practices to not consider attractiveness ... A&F has a longstanding commitment to diversity and inclusion, and consistent with the law, has granted numerous religious accommodations when requested, including hijabs."
A Muslim woman who was denied employment because she wears a head scarf won a religious discrimination case against clothing retail chain Abercrombie & Fitch in the U.S. Supreme Court Monday.
The EEOC v. Abercrombie & Fitch decision was nearly unanimous.
"Thus, the rule for disparate-treatment claims based on a failure to accommodate a religious practice is straightforward: An employer may not make an applicant's religious practice, confirmed or otherwise, a factor in employment decisions," Justice Antonin Scalia wrote for the 8-1 majority.
Justice Clarence Thomas was the lone dissenter, agreeing in part and dissenting in part. Justice Samuel Alito wrote a separate concurring opinion.
The Equal Employment Opportunity Commission sued Abercrombie after the company declined to hire Samantha Elauf, a devout Muslim who wore a hijab, or head scarf, as part of her religious practice, to the interview.
Abercrombie violated Title VII of the Civil Rights Act, which prohibits employment discrimination based upon religious belief and practice, the court decided.
An employer is guilty of religious discrimination in hiring, Scalia wrote, if it refuses to hire in order to avoid having to provide a religious accommodation.
"For example, suppose that an employer thinks (though he does not know for certain) that a job applicant may be an orthodox Jew who will observe the Sabbath, and thus be unable to work on Saturdays. If the applicant actually requires an accommodation of that religious practice, and the employer's desire to avoid the prospective accommodation is a motivating factor in his decision, the employer violates Title VII," he wrote.
Scalia also made a point of clarifying that the religious freedoms protected by Title VII includes both the freedom to believe and the freedom to live according to those beliefs.
Since Congress defined religious as both belief and practice for the purposes of Title VII, he wrote, "religious practice is one of the protected characteristics that cannot be accorded disparate treatment and must be accommodated."
A broad coalition of supporters, including Christian, Jewish, and LGBT advocacy groups supported Elauf in her case.
In a February interview with The Christian Post on the day of the oral arguments, Eric Baxter of the Becket Fund for Religious Liberty, who attended the oral arguments, was optimistic that the EEOC would win.
Abercrombie never denied that Elauf was not hired because of her head scarf. Instead, the company argued she should not win a religious freedom complaint because she never stated in the interview that she was wearing the head scarf for religious reasons. This argument was absurd, one of the justices pointed out, because if the company denied employment because of the head scarf, it would be because they assumed she would be wearing it daily as part of her religious practice.
In his concurring opinion, Alito argued that if an employer is, quoting Title VII, "unable to reasonably accommodate to [the] employee's or prospective employee's religious ... practice ... without undue hardship on the conduct of the employer's business," then the burden of proof for undue hardship is on the employer, not the employee or prospective employee.
"Thus, a plaintiff need not plead or prove that the employer wished to avoid making an accommodation or could have done so without undue hardship. If a plaintiff shows that the employer took an adverse employment action because of a religious observance or practice, it is then up to the employer to plead and prove the defense," he wrote.
In his dissent, Thomas argued that Abercrombie cannot be guilty of intentional discrimination because the company's "look policy" applies to all employees, not just Muslims.
"Unlike the majority, I adhere to what I had thought before today was an undisputed proposition: Mere application of a neutral policy cannot constitute 'intentional discrimination,'" he wrote.
The case shared some similarities with another recent Supreme Court decision. The Court unanimously ruled in January that an Arkansas prison violated a Muslim inmate's religious practice when it would not allow him to grow a beard.