Abortion 'Care Packages' Containing Handcuffs Sent to Over 500 Clinics in the US With Warning: 'Could You Be Next?'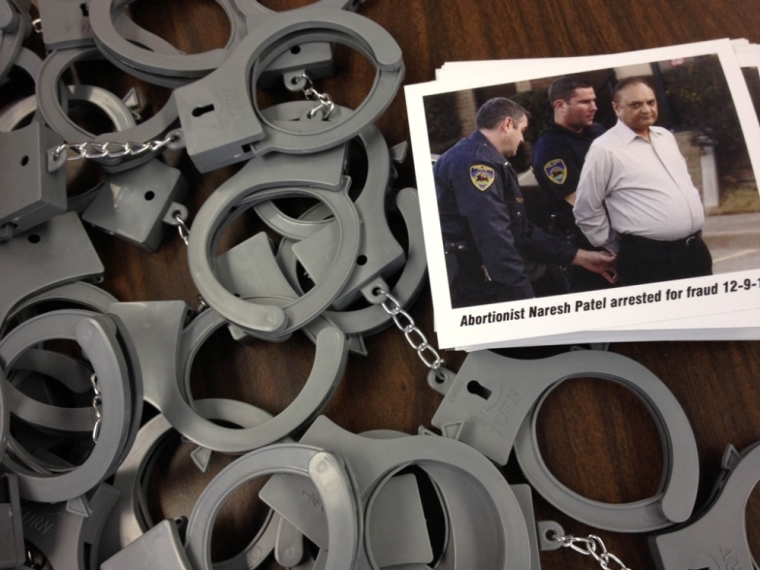 The Pro-Life Acton League has sent over 500 plastic handcuffs inside "care packages" that are being delivered to abortion clinics throughout the U.S. this week and include a picture postcard showing the recent arrest of an Oklahoma abortionist with a handwritten message asking: "Could you be next?"
The packages were sent to the nation's abortionists on the 42nd anniversary of the U.S. Supreme Court decision in Roe v. Wade, which legalized abortion in all 50 states. The postcards containing the handwritten note from Eric Scheidler, executive director of the Pro-Life Action League, encourage abortion clinic employees to leave the billion dollar business that he says is killing millions of babies every year.
Featuring the image of Oklahoma abortionist Naresh Patel who was arrested near Oklahoma City on Dec. 9, 2014, for fraud after he sold abortion-inducing drugs to women who weren't pregnant, the postcard reads: "Could you be next? If you want to get out of the abortion business, give me a call," and includes Scheidler's cell phone number.
"I thought this could really be a strong message to abortionists who really think seriously about the business that they're involved in," Scheidler told The Christian Post on Monday.
"This is a fundamentally corrupting line of work, which is why we see so many abortionists being brought up on charges that are not directly related to abortion. It's a corrupting business, and there are some abortionists who are just in it for the money and they're taking advantage of people. Naresh Patel seems to be one of those."
Patel, who was arrested in December on allegations that he prescribed abortion-inducing drugs to women who weren't pregnant at a cost of $620 each, has also allegedly sexually assaulted some of his patients during their abortions, and is known to have burned babies' bodies in a field after he aborted them.
"What happened there was that Patel had been disposing of the babies he was aborting at a hospital after the hospital decided they didn't want him to do that anymore. For whatever reason they withdrew permission for him to discard these bodies at the hospital where they have facilities for getting rid of medical waste, which these babies are being considered," Scheidler explained.
"So he had all of these dead fetuses that he had to get rid of, and he found this vacant lot on the outskirts of Shawnee and tried to set fire to these babies," he continued. "The fire didn't really take and he left scene, which was later discovered by a couple of hikers who came upon this pile of partially burned bodies, and it came out that it was Patel who did it."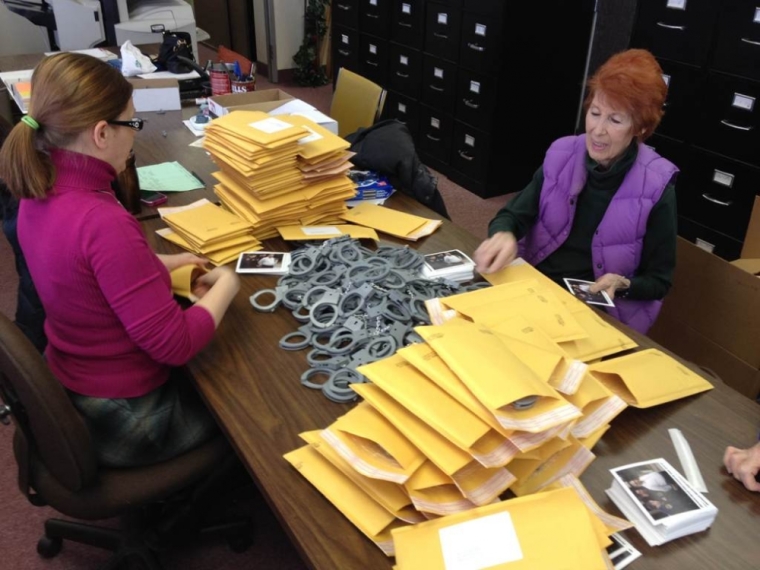 Although there was an investigation into Patel's burning of 55 babies' bodies in 1992, according to Scheidler the abortionist didn't break any laws because aborted babies aren't considered human remains.
"That case just goes to show you the schizophrenia inside the American legal system over the status of these people that we've decided can be killed — sometimes," he asserted.
While most abortion clinics will be receiving their pro-life packages Tuesday and Wednesday, Scheidler told CP that as of Monday, he got a phone call from the wife of a former abortionist who received one of his handcuff care packages and told him that her husband no longer performs abortions because she had encouraged him to quit.
"I got a phone call from an abortionist's wife in Louisiana who told me that he's not doing abortions anymore, and that she got him to quit doing them [because] she said she was concerned about his soul," he said.
Among the most egregious abortionists who will be receiving the handcuffs this week include late-term abortionist LeRoy Carhart in Germantown, Maryland, who performed a late-term abortion on a woman who subsequently died from complications soon after the procedure in 2013. And Orlando, Florida-based abortionist James Pendergraft, who served seven months in federal prison for extortion in 2001-2002, and had his license suspended four different times and was ordered to pay an eight-figure malpractice settlement in 2011 for a botched abortion that left a child alive, but significantly disabled.
Two others among the more than 500 include Timothy Liveright, an abortionist at Planned Parenthood in Wilmington, Delaware, who's been accused of alleged sexual harassment, and whose clinic was shut down in 2013 after nurses filed complaints with the state and called the clinic a "meat-market style of assembly-line abortions" that was unsafe and unsanitary. And Willie Parker, who performs late-term abortions in Mississippi and the Albany Medical Surgical Center in Chicago, and claims to be a Christian who believes "God has directed him to do this work [abortions] to help women," Scheidler added.