Abortion Clinic Employees Reveal Alleged Texas 'House of Horrors' in Douglas Karpen's Clinic
Editor's Note: Warning, graphic material in following article.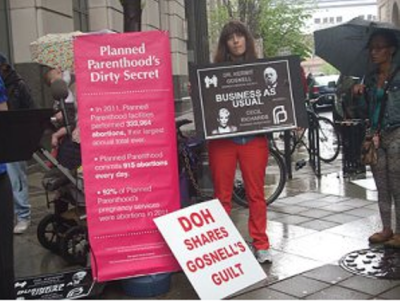 Spurred by pro-life groups and Texas Republican Lt. Gov. David Dewhurst, the Harris County District Attorney's Office is proceeding with an investigation into allegations that Houston-based abortionist Douglas Karpen, who operates three abortion clinics in the state – two in Houston and one in Dallas – has performed illegal late-term abortions and killed babies born alive, a violation of the federal Born Alive Infant Protection Act.
In a video released Wednesday by Life Dynamics, a Denton, Texas-based pro-life organization, three former employees of Karpen's discuss the details of routine late-term abortions in Karpen's clinic in which babies were allegedly born alive and then subsequently killed by the abortion doctor.
Three former employees at the Aaron Women's Clinic in Houston described seeing babies killed outside of the womb. In an interview with the three women, they were asked: "You would see the babies alive? And he's kill the babies outside the womb?" The response to both questions was "yes sir," and they then described the process and method Karpen would allegedly use to kill the babies born alive.
A fourth former employee remains anonymous at this time, but is filing an affidavit about her experiences at one of Karpen's abortion clinics.
Karpen operates out of the Northpark Medical Groups in Dallas, and the Texas Ambulatory Surgery Center and Aarons Women's Clinic, both of Houston. According to his clinics' website, Karpen will perform late-term abortions up to 25 weeks, and states that "choice has no color."
Color photos released by Operation Rescue show graphic images taken by the former employees' camera phones allegedly showing the remains of babies, past 24 weeks gestation, that had "their necks cut" by Karpen, similar to the methods used by abortionist Kermit Gosnell who was sentenced Wednesday to serve three life sentences in prison. He was convicted of first-degree murders in the death of three babies born alive in his West Philadelphia abortion clinic, and one count of involuntary manslaughter in the death of one patient.
"In fact, there are numerous similarities between Karpen and the Gosnell case, including the disregarding of complaints by the authorities that allowed both men to continue their illegal operations," said Troy Newman, president of Operation Rescue.
Dewhurst sent out a tweet on Thursday afternoon announcing that Harris County authorities are investigating Karpen. "Great news! I received word that Harris County authorities are actively investigating #TexasGosnell," he wrote. The announcement followed a statement he released Wednesday demanding that authorities in Harris County investigate the alleged illegal practices at the clinic.
"In a week when serial murderer Kermit Gosnell was found guilty of killing babies, I read with disgust about the allegations of Houston-based abortionist Douglas Karpen performing illegal late-term abortions surrounded by appalling sanitary conditions in his clinic," Dewhurst said.
The Texas Department of State Health Services will also be joining the DA's investigation.
Cheryl Sullener, senior policy advisor for Operation Rescue, told the CP on Thursday that Karpen is "at least as bad a Gosnell. Our main concern is the killing of babies born alive, and we're asking for an immediate investigation."