Abortion is 'black genocide': Angela Stanton-King declares at 'Roe v. Wade' premiere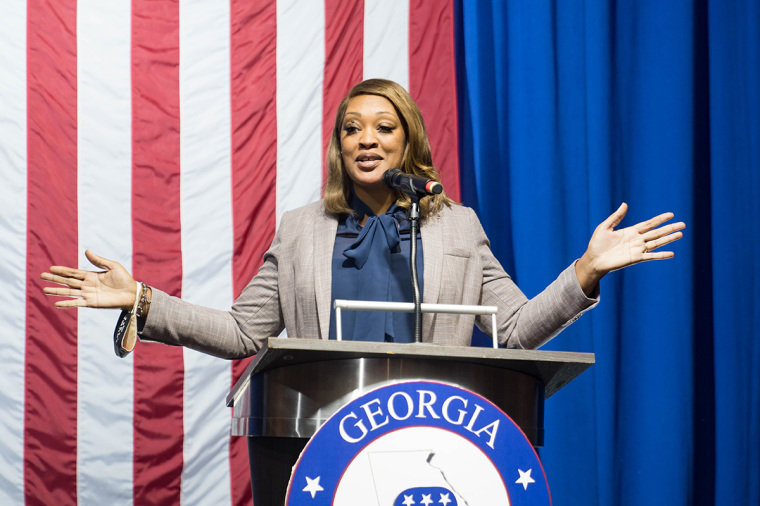 ORLANDO, Fla. — Angela Stanton-King, a pro-life advocate and the goddaughter of Alveda King, recently condemned the big abortion industry for targeting people of color and committing a "black genocide" in America. 
The Atlanta, Georgia-native attended the movie premiere of "Roe v. Wade" held at the Conservative Political Action Conference on Feb. 26 and had a message to share with her black brothers and sisters. 
"I'm here today because it's important for us to make sure that we are speaking out and making sure that the black community is aware of this black genocide, how abortion has specifically targeted black life," Stanton-King told CP of why she wanted to attend the premiere of such a controversial film.
"When we are saying that 'black lives matter,' we have to acknowledge the fact that black life begins in the womb," she continued. "So when we talk about white supremacy, the black community needs to understand that they're playing a role in white supremacy when they're aborting the black lives of their own children."
"Roe v. Wade" is based on the events that led to one of the nation's most contentious U.S. Supreme Court rulings. 
The film will hit theaters on April 2 and features a star-studded cast, including Hollywood actors Jon Voight, Robert Davi, Corbin Bernsen, John Schneider, Stacey Dash and Nick Loeb.
The film depicts the history of "what happened from 1966 through 1973" that led to the Supreme Court's decision declaring existing state laws banning abortion unconstitutional. It also goes into the history of how Planned Parenthood was launched and highlights the beliefs of its founder, Margaret Sanger, and her mission to eradicate blacks and people with disabilities. 
Alveda King told American Family Association in 2019 that Sanger, the founder of the Birth Control League and later Planned Parenthood, said "colored people are like weeds, and they need to be eliminated. They need to be exterminated." 
Stanton-King attended the movie screening on behalf of Martin Luther King Jr.'s niece, Alveda King, a longtime pro-life advocate who's featured in the film.
"My godmother, Alveda King, had a huge part in this movie. Now that she has kind of grown a little bit older, she's passing the torch and I'm here to be a voice to let people know, 'Hey, when we say 'black lives matter,' we're gonna talk about Roe v. Wade and why it needs to be overturned," Stanton-King declared.
The reality TV star of the BET Network docuseries "From the Bottom Up," said she first met Alveda King 15 years ago, back when Stanton-King was actually in favor of abortion. 
"She told me that I would be a pro-life advocate. Back then I was pro-choice, I didn't believe her. But look, I'm here now. I've been walking with her for the last 15 years and she is absolutely a pro-life warrior," she gushed.
"She has stood up in this movement prior to President Trump, before when we had been fighting and no one had heard our voice about how important it is to stand up and begin to fight for life in the womb.
"Civil rights for life! We are fighting! We just want people to understand how important it is for people of color to understand how they have been targeted."
Stanton-King, who's also the community outreach coordinator for The Alive Center, said she wants people to know that "Planned Parenthood clinics are in 85 percent" of black neighborhoods," while "white suburban neighborhood get fertility clinics."
"It's time that we wake up and understand what we mean when we say, 'black lives matter,'" she concluded.
Stanton-King is the founder and president of the American King Foundation "whose mission is to reunite American families separated by mass incarceration with a pathway to justice, economic stability, and relational wellness," according to its website. 
In 2004, she was convicted on federal conspiracy charges for her involvement in a car theft ring and served time in prison. While incarcerated, she gave birth to her child. In February 2020, she received a full pardon from then-President Trump. 
Later that year, she ran for election to the U.S. House to represent Georgia's 5th Congressional District as a Republican, but lost to Democrat Nikema Williams for the seat once held by the late Rep. John Lewis who died in July 2020. 
As previously reported by CP, "Roe v. Wade," a Nick Loeb-directed film, encountered several obstacles, including Facebook banning their ads and losing cast members who opposed the film's mission.
The featured film tells "the untold story of how people lied, how the media lied, and how the courts were manipulated" to legalize abortion nationwide, which has led to the killing of more than 60 million Americans, Loeb previously said in an interview with Fox News host Tucker Carlson.
Despite many setbacks, the film will be in theaters nationwide on April 2. For more information, visit "Roe v. Wade" movie.com.