Abortion Speech Law Case Heard at Supreme Court; Pro-Life Advocates Anticipate Win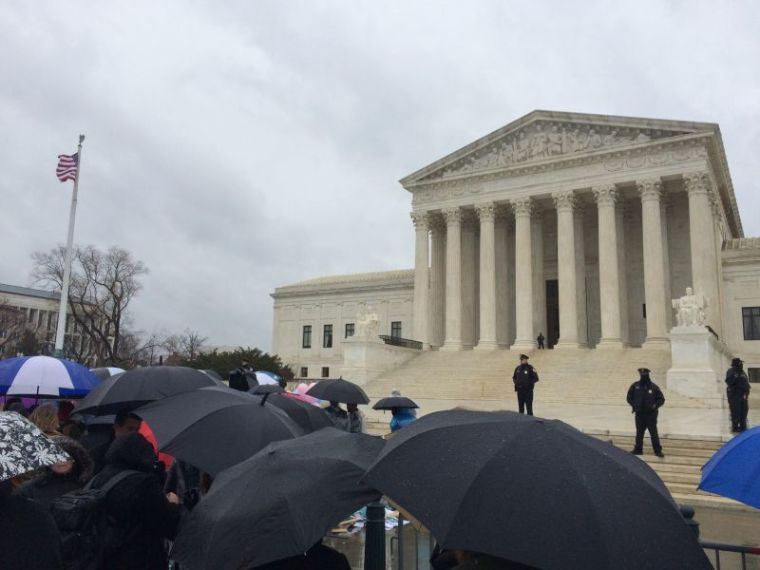 WASHINGTON — Hundreds of pro-life advocates assembled on the steps of the Supreme Court to rally in support of crisis pregnancy centers, contesting a California law which compels them to advertise and promote abortion.
The nation's highest court heard oral arguments Tuesday in the case of National Institute of Family and Life Advocates v. Becerra.
At issue is whether or not a California statute, the Reproductive Freedom, Accountability, Comprehensive Care, and Transparency Act (also known as the Reproductive FACT Act), which requires pro-life pregnancy centers to provide specific information to their patients, including the availability of free or low-cost abortions, is constitutional. Attorneys for NIFLA argue that the free speech rights of the people staffing these centers are being violated while the state of California maintains that such centers are dispensing false and misleading information and that the law is necessary.
As a cold drizzle came down in near freezing temperatures Tuesday, Kate Anderson, legal counsel with Alliance Defending Freedom — the group representing NIFLA in the high court inside — told The Christian Post on the steps of the Supreme Court that the issue is indeed about the First Amendment, which guarantees the right to free speech.
"No American should be coerced by the government to speak a message that violates their beliefs. And that's exactly what's happening here," Anderson said.
"It's really a scary free speech issue for everyone because if we take away the free speech of one person, that threatens the free speech of everyone in America."
Ashley McGuire, senior fellow with The Catholic Association — which filed an amicus brief in support of NIFLA — concurred, noting the wider implications for vulnerable people.
"This case gets at the heart of the First Amendment but it's also about the broader issue: What kind of society are we going to create for women?" McGuire told CP.
"I think there's a real potential for harm to women if the ruling goes the wrong way."
The TCA brief contains testimonials from 13 women who hail from a variety of ethnic and socioeconomic backgrounds, each of whom came to a pregnancy center and were assisted with their pregnancies and went on to succeed both professionally and as women.
"These centers embody the reality that we are the ones who want to love them both, if you will. Not just seeing babies born, but seeing their mothers flourish," McGuire said.
"And the women in our brief, I think, testify to the fact that these centers really do help women be very empowered as mothers and in many cases straighten out their lives, so there's a lot at stake."
Jim Dundas, 65, from Dover, Delaware, told CP that he felt compelled by his faith to attend the rally in Washington.
"I'm here, obviously, because I'm pro-life. I'm here because I believe, biblically speaking, the unborn child is our neighbor. And we are called to love our neighbor," he said.
"I'm also here because this is an issue not only of free speech, this is an issue of truth. And what we're hearing from the other side is lie after lie after lie," he said, motioning to those who could be heard chanting derisively about pregnancy centers — calling them "fake clinics" and carrying umbrellas with the hashtag #endthelies.
"And the more shrill they become, the more they think they are speaking the truth. Well, truth does not come by [being] shrill."
The early church overthrew practices like abortion by caring and loving their neighbor, he added.
Likewise, Laura Devisscher, 38, who chairs a board of a pregnancy resource center in Savannah, Georgia, traveled to the nation's capital to show her support of NIFLA. Her organization is part of NIFLA, which trains their medical team. She is concerned not only about the impact on free speech but on the unborn she works to save.
"But it would just be great if we could one-on-one speak to each other," she said when asked what she would like to say to those on the other side, demonstrating at the court.
"If we could one-on-one speak to each other we could explain what we do, we could show them our credentials, that we do have medical doctors, that we do have registered nurses" staffing the centers, she said.
According to a SCOTUS blog analysis Tuesday, even the liberal justices seemed to express reservations about the California statute during oral arguments.
While abortion bitterly divides Americans, Anderson said she has great hope for unity on the issue because of its free speech implications in this particular case, a principle the Supreme Court has long defended.
So does Joseph Backholm, president of the Family Policy Institute of Washington.
"The good thing about an issue like this is that we have a lot of allies who would consider themselves to be pro-choice who would also say that someone who is pro-life should not be compelled to advertise for abortion services," he said in a CP interview.
"So what is at stake is whether or not the First Amendment will continue to protect not only people's right to say the things they want to say but not say the things that they don't want to say."
He believes and expects the Supreme Court to decide in favor of NIFLA.
"We all laughed during the Olympics at the spectacle with the North Korean cheerleaders who were a bunch of North Koreans, who were obviously compelled to behave in a certain way, probably under threat."
"We laugh but it's also tragic but that's the principle in play here: Can your government want to create an impression, an appearance, or communicate a certain message? And in America the answer should be 'no,' it always has been 'no,' and I believe that the Supreme Court will continue to say that it is 'no.'"
The ruling on the case will be announced in June.