Abortion War: Doctor Who Performs Abortions Up to 6 Months and Says He's Christian Would Roll Back Abortion Limits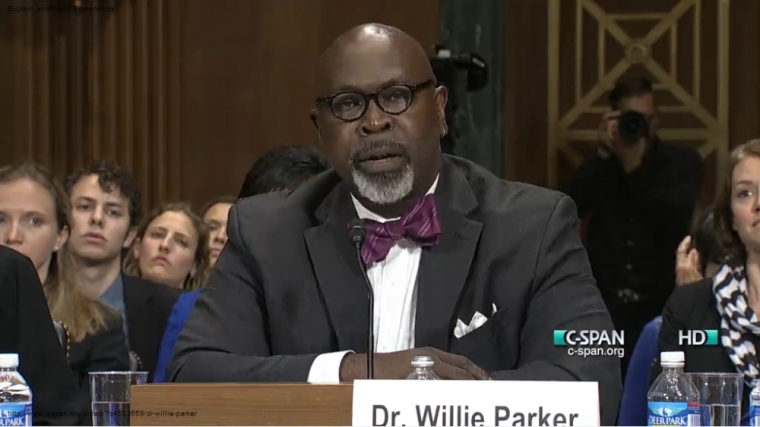 Dr. Willie Parker, a Washington, D.C.-based abortionist who claims to be a Christian, says he now regrets not performing abortions in the first 12 years of his medical career. Parker threw his support Tuesday behind a bill called the Women's Health Protection Act that would make it difficult for states to regulate abortion clinics.
Parker, who works at the Family Planning Associates Medical Group, an abortion clinic in Chicago, Illinois, also practices in Mississippi, where a law regulating abortion providers went into effect this month, and will likely shut down the state's sole abortion clinic, Jackson Women's Health Organization.
On Tuesday, Parker testified in support of the WHPA introduced by Sens. Richard Blumenthal, D-Connecticut, and Tammy Baldwin, D-Wisconsin, at a hearing before the Senate Judiciary Committee and suggested that Mississippi is the frontline of a war against abortion in the United States.
"If there is a war to defend the right to safe and legal abortions then Mississippi, where I practice, is on the frontline," said Parker in a recording of his testimony.
"The state recently passed laws restricting the provision of abortion to obstetrician/gynecologists and those with hospital admitting privileges. Now this law, which is completely medically unnecessary, would shut down the one remaining clinic in that state and thereby would effectively, in that state, deny women access to abortion," he continued.
"On top of this, the state also has mandated delays that are both costly and burdensome to the women seeking this care. A woman's access shouldn't be denied to her simply because she lives in the state of Mississippi or anywhere else for that matter," he said.
According to Slate's Amanda Marcotte, the WHPA proposes that states regulate abortion providers in the same way they do other clinics and doctors who provide comparable services.
"… The general principle is that if you don't require it for other outpatient procedures, you can't require it for abortion. Want to force women seeking abortion to listen to a script full of lies and then make them wait 24 or 48 hours to think it over? Better be prepared to do the same for people who need colonoscopies. Want to require a bunch of unnecessary visits before a woman is allowed to have a procedure? Now you need to do that for a biopsy, too …" Marcotte noted.
In his testimony Parker highlighted that: "In Mississippi, there are far too many teen and unintended pregnancies. The infant mortality and maternal mortality rates are extremely high and far, far too many Mississippians live in abject poverty."
These are some of the circumstances, he claimed, that dictate abortion in Mississippi.
"What women in Mississippi need is safe compassionate medical care and that need is urgent and that should include abortion," said Parker. "I want for women what I want for myself. I want a life of dignity, good health, self-determination and I want the opportunity to excel and contribute in the manner that I best can," he added.
In her response to the WHPA bill, however, Carol Tobias, president of the National Right to Life Committee, America's oldest and largest pro-life organization, told the committee that the bill is "highly misleading."
"The bill is really about just one thing: It seeks to strip away from elected lawmakers the ability to provide even the most minimal protections for unborn children, at any stage of their prenatal development," said Tobias.
"While the proposal is so sweeping and extreme that it would be difficult to capture its full scope in any short title, calling the bill the 'Abortion Without Limits Until Birth Act' would be more in line with truth-in-advertising standards," she asserted.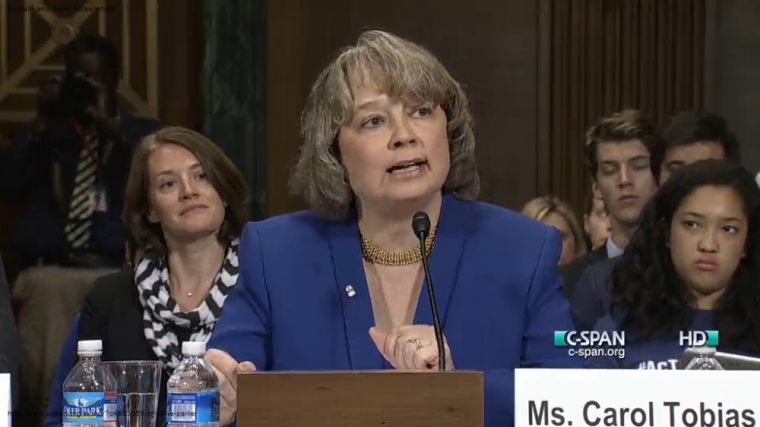 "… If we look at objective polling data on various facets of abortion policy, these advocates do not speak for most women in America. Indeed, on some important issues that are directly impacted by this legislation, advocates for this legislation speak for a fairly small minority of women," explained Tobias.
"We have even heard claims that this legislation is necessary to counter a 'war on women.' To millions of American women, such demagoguery is profoundly offensive, and I count myself among them. Our concepts of female autonomy and equality do not require us to deny the human dignity or the intrinsic right to life of our unborn children," she said.
READ CAROL TOBIAS' FULL RESPONSE TO THE WOMEN'S HEALTH PROTECTION ACT BELOW: