Abstinence Author, Pastor Joshua Harris, Apologizes for Telling Christians Not to Date in 'I Kissed Dating Goodbye'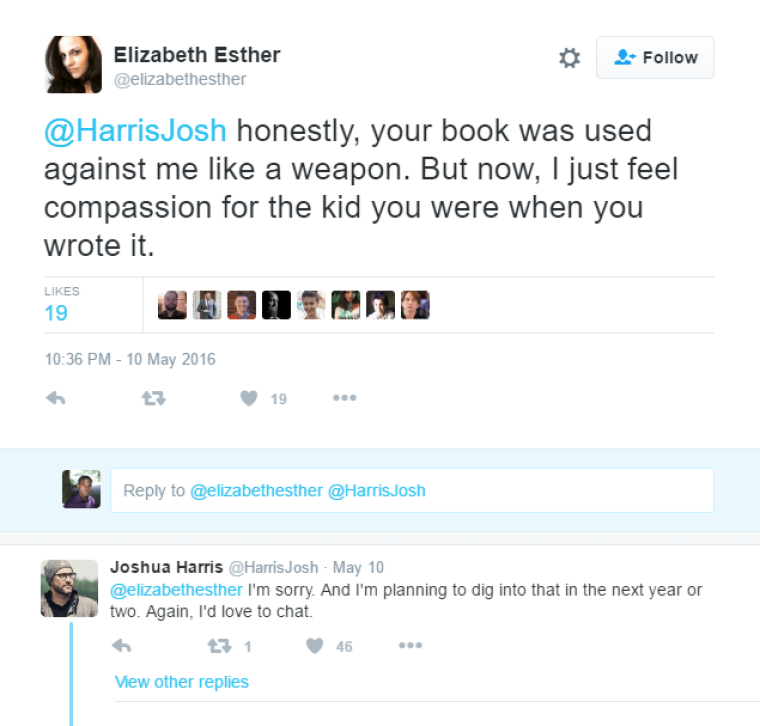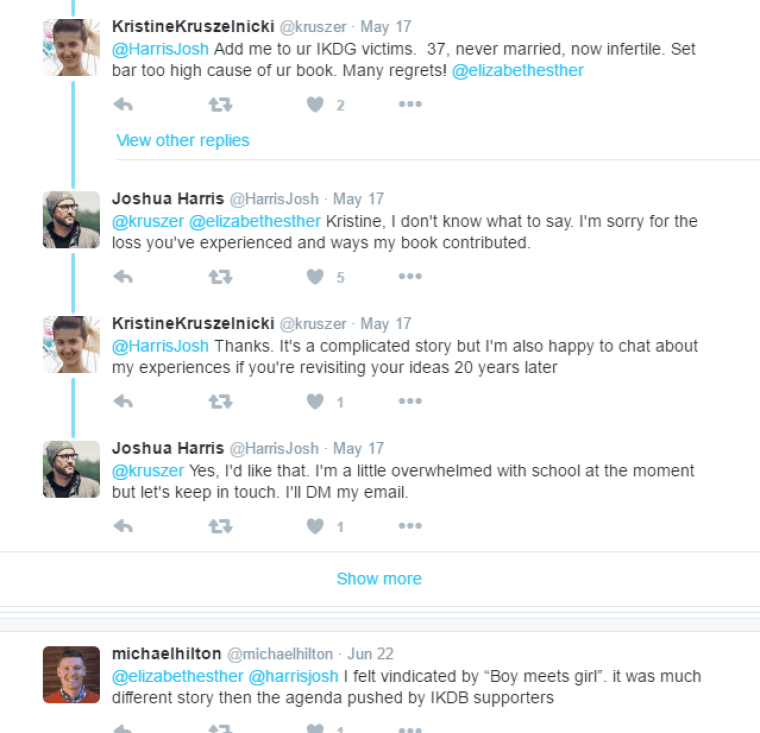 "I'm just beginning the process of revisiting the message and impact of my book I Kissed Dating Goodbye. Over the years I've heard from people who have been helped by the book, but I've also heard a growing number of voices of people who have been hurt by it. I want to understand this better. I'm starting by listening," he said, before inviting people to share their stories.
And readers shared.
"I believe I should take responsibility for my own actions. So I can't say it's your fault that I'm a 30-year-old man who has never had a girlfriend, never been on an actual date, never asked anyone out, and never kissed anyone. That's on me. Nevertheless, I suspect that without IKDG and the movement surrounding it, that wouldn't be the case," one man wrote.
"Here's where I think I went wrong. It never really occurred to me at the time that I should really just ... rebel. Break the rules. I was a 'good kid,' as far as these things go, and I am not proud of that, and I feel weird being not-proud of being a good kid. I never asked anyone out, never snuck out at night to go on a secret date — or whatever it was that rebelliously romantic teenagers do, for which I only have high school TV shows as a reference. Make out behind the bleachers, I guess. I was homeschooled, though, and my church didn't have bleachers," he added.
Another reader said he followed the directives highlighted in Harris' book religiously and thought they had worked shortly after he got married but his relationship ended in a bitter divorce.
"After being married for a few months, I felt like the ideas in Mr. Harris' books worked. We had successfully followed a guide that had a solid biblical foundation. We had truly been friends for many, many years prior to taking a step beyond that and our families knew each other very well," wrote the reader.
"Then, something happened; to this day, I'm still not sure what. The girl that I knew and grew up with changed and, after 15 months of marriage, decided she no longer wanted any part of me and no longer wanted to be married. We were living 400 miles from our families and she left to return home. A little after three years of marriage — and less than half of that living together — we were divorced," he said.
The reader noted that he later remarried after dating again under conditions considered "societal norm."
"Since, I've gone on to marry again to a woman I adore. Things were a little less 'IKDG' and little more of the societal norm. We met online and talked via email and chat for two weeks; met at a restaurant and proceeded to date (as one would commonly understand that word) — and with a much better purity record. A little over a year after our first email, we were married. That will be seven years and two children ago in October," he wrote.
Harris told Graham that he has received more than 300 submissions reflecting on his book and hopes to embark on an independent study in the fall in which he'll read about the religious culture that informed him as a young man.
"I want to do more than just say, 'Oh, I should have said a few things differently,'" he told Graham. "I just need to listen to where people are before I come out with my own thoughts. ... I don't have all the answers yet."
He says he still believes in the mainstream evangelical sexual ethic that sex should be reserved for heterosexual marriage but no longer promotes a strict formula that can guarantee a happy outcome for relationships.
Patheos writer Libby Anne, a former conservative-turned-atheist, has since praised Harris for apologizing for his book.
"I read I Kissed Dating Goodbye for the first time when I was 14 years old, and immediately commenced shaming myself for my schoolgirl crushes. I tortured myself for years, desperately afraid that I was giving away pieces of my heart, never to get them back," said Libby Anne who is also a feminist.
"There are women out there who married the first guy they dated because they believed, under the influences of Harris's teachings, that they had given away a piece of their heart that they could never get back. It was no longer just about physical purity, it was also about what I've sometimes seen called 'love virginity.' The stakes were raised. Dating around became akin to sleeping around, and both were seen as practice for divorce, which of course was bad, bad, bad," she continued.
"But I never in all my years expected to see Harris apologize — directly, publicly, without reservation — to specific individuals for the harm his book did them," she said.