ACLU sues Oklahoma over law banning body mutilating surgeries, puberty blockers for kids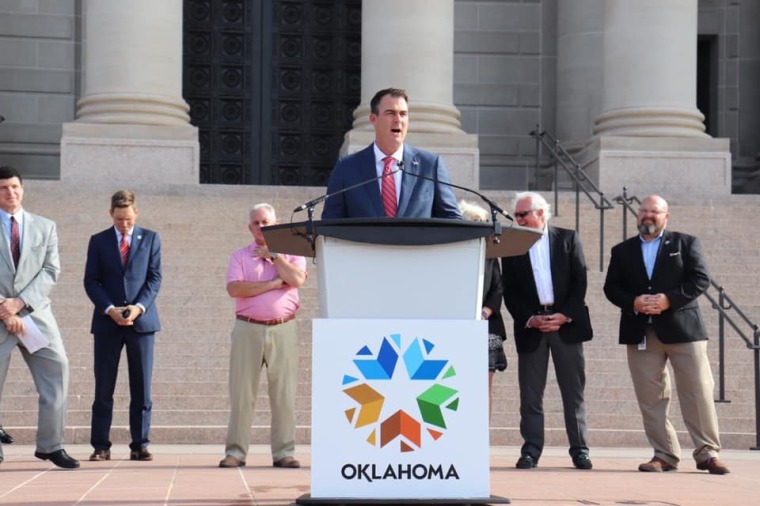 The American Civil Liberties Union has sued several state and medical officials in Oklahoma over a newly passed law that prohibits subjecting minors to body-mutilating surgeries and chemical castration via puberty blockers and opposite-sex hormones.  
The national ACLU, its Oklahoma chapter, Lambda Legal Defense and Education Fund and Jenner & Block LLP filed a suit on Tuesday on behalf of a group of medical providers and families with trans-identified children and teens.
Defendants in the lawsuit include Oklahoma's Republican Attorney General Gentner Drummond and members of the Oklahoma State Board of Medical Licensure and Supervision, the Oklahoma Board of Nursing, the Oklahoma State Board of Osteopathic Examiners, the University Hospitals Authority and the University Hospitals Trust. 
Filed in the United States District Court for the Northern District of Oklahoma, at issue in the suit was Oklahoma's Senate Bill 613, which was signed into law Monday by Republican Gov. Kevin Stitt. The legislation bars healthcare providers from giving minors "surgical procedures that alter or remove physical or anatomical characteristics or features that are typical for the individual's biological sex."
Additionally, the law prohibits the provision of "puberty-blocking drugs, cross-sex hormones, or other drugs to suppress or delay normal puberty or to promote the development of feminizing or masculinizing features consistent with the opposite biological sex" for youth suffering from temporary confusion about their sex or gender dysphoria. 
The suit labeled the new law "the Health Care Ban," and claimed that it "prevents health care providers from treating their transgender patients in accordance with well-established and evidence-based clinical practice guidelines."
"The Health Care Ban was passed because of, and not in spite of, its impact on transgender adolescents, depriving them of necessary, safe, and effective medical care, thereby interfering with and overriding the clinical and evidence-based judgment of medical providers and the decision-making of loving parents," added the complaint.
"If the Health Care Ban is not blocked, it will have devastating consequences for transgender adolescents in Oklahoma. These adolescents will be unable to obtain critical medical care that their health care providers have recommended and their parents agree they need."
Oklahoma's ban on the chemical and surgical castration of minors comes as a wave of states have recently passed similar laws. Stitt released a statement on the day he signed the bill, expressing his support for the legislation and explaining that he had been calling for such state legislation since last year.
"Last year, I called for a statewide ban on all irreversible gender transition surgeries and hormone therapies on minors, so I am thrilled to sign this into law today and protect our kids," said Stitt. "We cannot turn a blind eye to what's happening across our nation, and as governor, I am proud to stand up for what's right and ban life-altering transition surgeries on children in the state of Oklahoma."
Terry Schilling, president of the American Principles Project, celebrated the law's passage in a statement released Tuesday, describing it as "great news for Oklahoma families."
"While the predatory transgender industry has tried to sell the country on what it euphemistically calls 'gender affirming care,' more and more Americans are recognizing this for what it actually is: physical sterilization and mutilation for the sake of ideology and profit," asserted Schilling. "We applaud Gov. Stitt and Oklahoma lawmakers for joining with so many other states in acting to protect kids from being subject to this awful experimentation. The momentum is on our side."
SB 613 passed the Republican-controlled Oklahoma House of Representatives last week in a 73-18 vote and then the Oklahoma Senate in a 37-8 vote. The votes in both chambers came down along party lines, with all support coming from Republicans and all opposition coming from Democrats. 
Efforts to pass bans on the chemical and surgical castration of trans-identified youth stem from concerns about the long-term impact of such drugs and operations. The American College of Pediatricians has identified "osteoporosis, mood disorders, seizures, cognitive impairment" and sterility as possible side effects of puberty blockers while warning that cross-sex hormones can cause "an increased risk of heart attacks, stroke, diabetes, blood clots and cancers across their lifespan."
Chloe Cole, a detransitioner who previously identified as a member of the opposite sex but has seen her gender dysphoria subside as she got older, detailed the adverse effects of life-altering gender transition surgery in a lawsuit against the medical professionals who advised her to undergo such procedures.
Although medical professionals advised Cole that "the distress she experienced because of her gender dysphoria would resolve as she transitioned," she found that her "distress always came back worse" after a feeling of "initial relief" that materialized after "each phase of transition." Cole also said the double mastectomy she had at age 15 caused her to experience a deteriorating state of mental health.
Along with the negative mental impacts of sex-change surgeries, they also leave behind unsightly scars. The office of Florida's Republican Gov. Ron DeSantis shared images of such scars resulting from the removal of forearm tissue to create fake penises in trans-identified females and the removal of healthy breasts from girls who identify as boys alongside video footage of President Joe Biden decrying bans on the procedures as "sinful."
Besides Oklahoma, other states that have passed bans on gender transition surgeries for minors include: Alabama, Arizona, Arkansas, Florida, Georgia, Idaho, Indiana, Iowa, Kentucky, Mississippi, Missouri, Montana, North Dakota, South Dakota, Tennessee, Utah and West Virginia.
SB 613 does provide exemptions for "behavioral health care services or mental health counseling," "medications prescribed, dispensed, or administered specifically for the purpose of treating precocious puberty or delayed puberty in that patient" and "services provided to individuals born with ambiguous genitalia, incomplete genitalia, or both male and female anatomy, or biochemically verifiable disorder of sex development."
It also exempts "the provision of puberty-blocking drugs or cross-sex hormones to a minor currently receiving such drugs or hormones as of the effective date of this act for a period of not more than six months solely for the purpose of assisting the minor with gradually decreasing and discontinuing use of the drugs or hormones."