Actors Sleep Outdoors in New York to Raise Thousands for Homeless Youth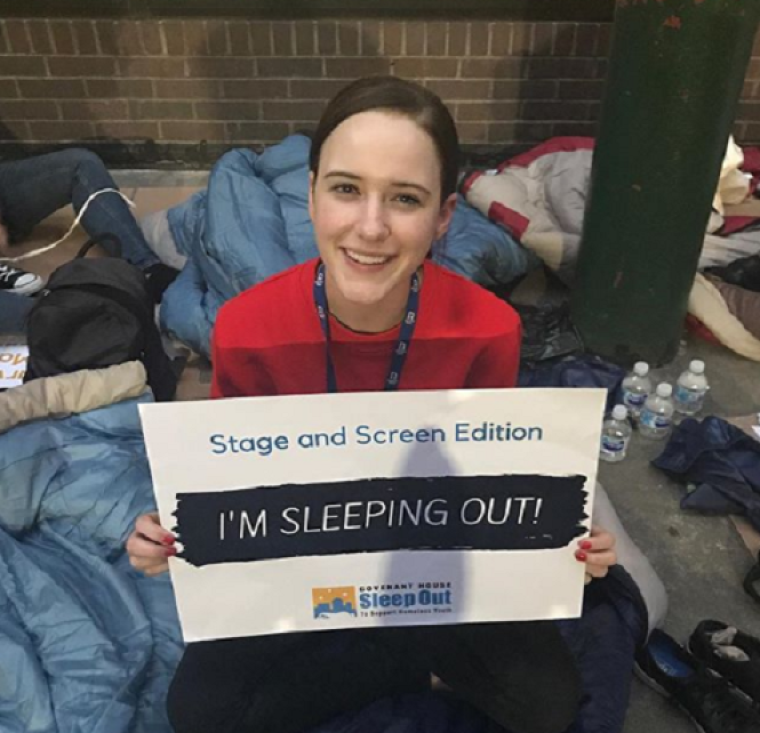 NEW YORK — The first time actor Rachel Brosnahan, star of Amazon's award-winning "The Marvelous Mrs. Maisel," decided to sleep outdoors to help raise money for homeless youth and awareness about their plight, she decided it would not be her last.
It was about six years ago.
Brosnahan was making her Broadway debut in a show called "The Big Knife" at the Roundabout Theatre when the show's publicist mentioned that a few members of the Broadway community had gotten involved with an organization called Covenant House.
For more than four decades, the organization has been providing homeless, runaway and trafficked young people with a safe place away from city streets.
The publicist mentioned how the Broadway community had partnered with Covenant House to create an event called "Broadway Sleep Out."
They would spend a night sleeping outdoors at Covenant House's Midtown site to draw attention to homeless youth between the ages of 17 and 21, while tapping their friends and networks to raise money to help.
"My first 'Sleep Out' I was 23 years old. Young people typically age out of Covenant House at 22. So the young people that I met at Covenant House were my peers. With a very small shift in circumstance, we could be standing in very opposite ends of the room," Brosnahan recalled thinking as she prepared to sleep outdoors for the sixth year in a row Monday night.

"From that point forward, I wanted to become more and more involved. And I think that's something that everybody who participates in this event is struck by," she said.
Since then, Brosnahan has joined the board of directors of Covenant House international and has used her influence to draw supporters of Covenant House's mission.
"This year, we have the largest number of participants we've ever had in this event. The name has changed from 'Broadway Sleep Out' to 'Sleep Out Stage and Screen,'" she said.
Data from the event's page on Covenant House's website shows that as of Tuesday, members of the stage and screen community had raised more than $370,000 from 104 participants.
St. Francis of Assisi is often quoted with saying,"Preach the Gospel at all times. When necessary, use words." Grateful for the Broadway community and for them being good news for our young people last night at our Stage & Screen Sleep Out. This is a movement, y'all.Get on board! pic.twitter.com/026aAHpJyg

— Shakeema North (@PastorShak) August 21, 2018
When asked what she wanted people to understand most about youth homelessness, Brosnahan recalled something Kevin Ryan, Covenant House's president and CEO, once told her.
"The least interesting thing about the young people who stay and live at Covenant House is the fact that they are homeless. They are artists and writers and brothers and sisters and mothers and daughters and friends and aspiring scientists and rappers and teachers and paramedics. They have so much energy and so many dreams that they're ready to put out into the world," she said.
"They are human beings who deserve the same dignity and respect as you and I do and what's not to be passionate about. Young people are the future. I think that we're seeing that in full effect right now at this very moment. Young people have loud and powerful voices and we should be looking to them and lifting them up and supporting them. I'm so grateful that an organization like Covenant House exists that does just that," she explained.
And before the scores of members from the stage and screen community fell asleep in solidarity with homeless youth on Monday night, they sang songs like "Lean on Me" and shared stories to support the work of Covenant House.
Every year, said Ryan, Covenant House reaches 80,000 children and youth.
"We do that in 31 cities and six countries across North and Central America. Covenant House is mostly privately-funded so we rely on families across the United States to help us shelter the young people who live here in this building but also in buildings across the United States, Canada and Latin America," he said.
Some 250 young people between 17 and 21 are currently housed at the Manhattan location alone and some of them are parents with young children.
"Some of the girls have been sexually abused for an extensive period of time so we try to meet each young person where they're at, help them stabilize. We try to be icons of God's love in the world for kids who don't know that. In many instances we're the only Bible these kids are going to read and so we have to be unconditional in the love that we give and absolute in the respect that we give," Ryan said.
"Our movement ... is not waiting for permission to create a better world for kids. We're not waiting for an election. We're not waiting for a government RFP, we're not waiting for a collection. We together are banding together to create a better world for kids and part of that is raising funds and awareness about the prevalence of homelessness so that we can help more kids get away from the streets safely."