Actress Roma Downey Announces New Book on How God's Love Changed Her 'From Inside Out' (Interview)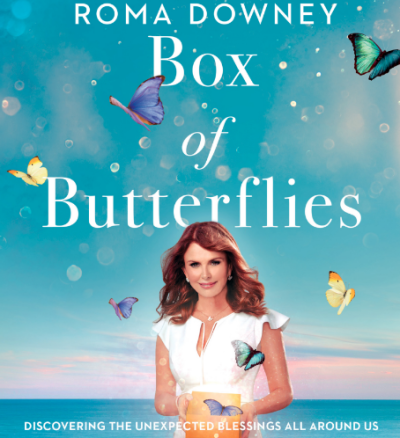 Actress and film producer Roma Downey announced the release of her new book, Box of Butterflies, on Friday and revealed that its colorful pages will serve as a reminder that God's love changes people from the inside out.
"When you look around you can see the blessing in everything. The butterfly is a gentle reminder of how God's love can change us from the inside out," she told The Christian Post about her new book. "One day a caterpillar and the next day a butterfly! It's an encouraging symbol of hope for all of us. We are reminded that no matter how difficult the challenges are that we have to face, God is with us and our faith can give us wings to fly."
Each chapter of the book is to feature personal stories and messages told from Downey's life and perspective and will include complementary Bible scriptures, quotes, hymns and poems. As seen on the book cover, the soul-stirring words will be interwoven with eye catching full-color art.
According to a statement shared with CP, Box of Butterflies: Discovering the Unexpected Blessings All Around Us, will be reminiscent of the messages seen in her hit television series, "Touched by an Angel."
"This book's central theme is that there is a God, He loves you, and He wants to be part of your life. Each chapter features the love and light of God through life topics such as courage, loss, gratitude, love, and kindness. The subtle butterfly theme reminds us that the grace, beauty, and surprise of God's love and kindness is sometimes reflected in the gentle whispers of His creation," the statement explains.
Set to release in March 2018, the book will encourage the reader to "dip in and out" of the content, allowing the reader to return to its pages again and again as the material is suitable for any new challenges life may bring.
"Each page of this book will remind you of God's loving-kindness and constant presence," the statement says.
In the meantime, Downey is also gearing up for the official launch of her new venture Lightworkers.com, an online community to encourage, inspire and unite believers worldwide.
"I have such exciting news to share! I have been asked so often recently, 'Roma, what are you working on? Roma, how do you follow 'Touched by an Angel' or 'The Bible' series?' Well, Lightworkers is my passion and it's coming soon," Downey said in an Instagram post in June. "Wherever there is Light there are Lightworkers.
In the video post introducing Lightworkers, Downey said she and her husband, Mark Burnett, are now venturing to online platforms as well as TV.
"At Lightworkers we are on a mission to brighten your day and who doesn't need more of that, right?" she quipped. "There will be lots of good news to spread with your friends and family and lots of inspiration to get you living your best life."
The couple, who often refer to themselves as "the noisiest Christians in Hollywood," have had great success in the past with the Emmy-nominated miniseries "The Bible," which was watched by more than 100 million people in the U.S., and the feature film "Son of God," which was the second-highest grossing faith-based movie opening of all time.
Downey has been crediting Lightworkers as her production company for the past few years but now the 57-year-old is expanding the brand from TV and film to an online community.
For more information on Lightworkers or her upcoming book, stay connected with Downey on social media.