African-American Pastors Launch 'The Front Porch' to Encourage Biblical Faithfulness in the Black Church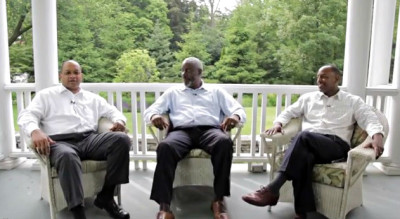 Using the familiar and familial motif of the front porch as a gathering place, three African-American pastors of the Reformed tradition have launched a platform to host conversations about winsome and troublesome aspects of the Black Church in an effort, according to one, to "hold fast to those things that are good, and to do away with those things that are not worthy of our mission."
"We have need for conversation," explained Thabiti Anyabwile. "The Black Church is large, it's not one thing. There's great diversity in it. So there's opportunity in that diversity for conversation that strengthens the different quarters of the church. There's opportunity in that diversity not just for conversation but for conflict. And we need to get on the porch and work some of those things out and to be built up and sharpening each other."
Leading The Front Porch along with Anyabwile, the senior pastor of First Baptist Church of Grand Cayman (Cayman Islands) and Gospel Coalition blogger, are Louis C. Love Jr., pastor of New Life Fellowship Church in Vernon Hills, Ind., and Anthony J. Carter, lead pastor of East Point Church, in East Point, Ga.
Exemplifying the conversational and communal significance of the front porch in many American families, Anyabwile, Love and Carter unpacked the purpose of their new platform in an online video while sitting on a porch.
"The conversations that we have, we want to center them on the local church and the health of the local church, particularly in the African-American community but even beyond that," said Carter, who included Anyabwile and Love in his 2009 book Glory Road: The Journeys of 10 African-Americans into Reformed Christianity.
"I'm praying that we have an opportunity to really encourage Biblical faithfulness. Encourage truth and encourage the church to be what Paul called it: a pillar of the truth. To hold fast to those things that are good, and to do away with those things that are not worthy of our mission," he added.
Love also chimed in, offering his explanation of "Biblical faithfulness."
"I think preaching, faithfulness to the text in preaching, so Biblical exposition. Leadership in the church, Biblical leadership," said Love. "Are there standards, does the Bible speak about these things, is there clarity in the Scripture about who should lead the church, who should teach the church? The mission of the church? How preaching should be done — is any kind of preaching acceptable? Does the Bible say that certain kinds of preaching that's not really preaching, should it be discarded? I think in a sense preaching is kind of the talk of the church that has to be correct, it has to be right. It has to be Biblical, faithful."
The Front Porch, launched a week ago, has garnered interest, with over 250 people responding to the platform's invitation for readers to connect (or "c'mon up to The Front Porch") and join in the conversations, which so far include commentaries on Tyler Perry publicly praying for T.D. Jakes and the controversial "Preachers of LA." trailer, theological discussions on the Holy Trinity, and interview highlights with other religious voices, such as Anthony Bradley, Ken Jones, Eric Mason and others.
In its survey invitation, the platform asks visitors to share not only their ethnicity, but also their denomination, with the options spanning Baptist, African Methodist Episcopal Church, Pentecostal, non-denominational, and others Christian traditions.
Kevin DeYoung, senior pastor at University Reformed Church (RCA) in East Lansing, Mich., and another Gospel Coalition blogger, wrote that he was "thrilled" to commend The Front Porch and its initiative "to be a place for conversations on biblical faithfulness in African-American churches and beyond."
"No one asked me (to) say anything about it. No one needs my commendation. But I can't help but think The Front Porch represents something unique and precious in the church in our day," he wrote. "Of all the things happening in the evangelical church, I believe that looking back, generations from now, the most significant may prove to be the resurgence and redevelopment of strong, biblical theology in the African American church."
The underlying aim of The Front Porch, according to Love, is to foster unity among "the household of God" and to encourage "the way it's supposed to live as a household."
The Christian Post was not able to speak with Pastors Anyabwile, Love and Carter by press time. Watch the video of their explanation of The Front Porch below.