After being on brink of divorce, Pastor John Gray and wife to host relationship conference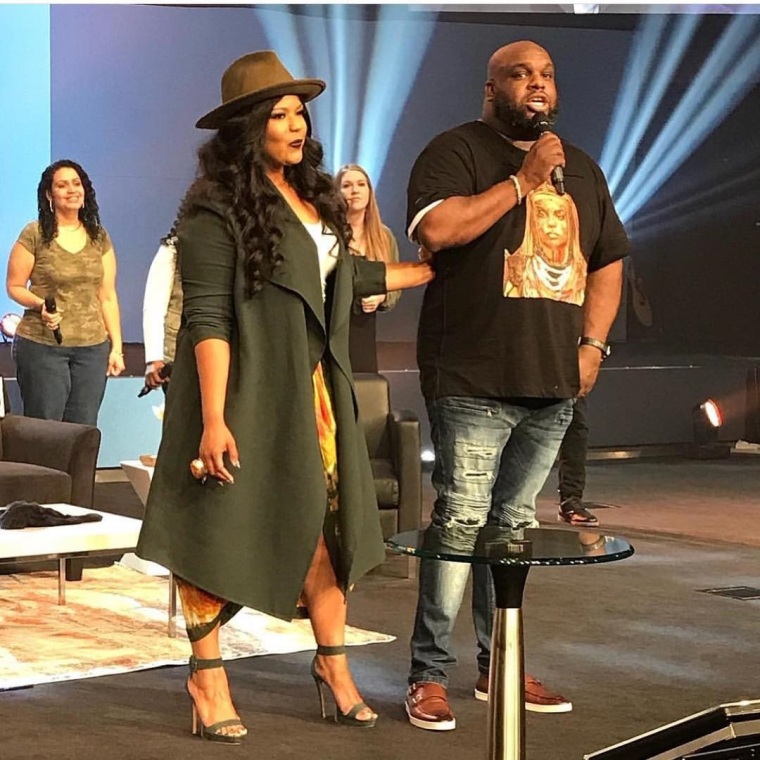 Months after megachurch pastor John Gray revealed that he and his wife were on the verge of getting a divorce, the couple announced that they will be hosting a relationship conference, billed "Align," at their South Carolina church next month.
"ONE OF THE MOST IMPACTING RELATIONSHIP CONFERENCES OF 2019! Join me @myrelentlesschurch and let's bring in the New Year with a new you! Register for the @thealignconference happening February 7-9th, 2019. Married, singled or divorced, this relationship conference has something specifically for you," Gray and his wife announced on Sunday via their Instagram accounts.
The conference announcement comes weeks after the celebrity preacher, who leads Relentless Church in Greenville, was forced to defend his decision to purchase his wife a $200,000 Lamborghini Urus for their eighth wedding anniversary.
Gray cited Ephesians 5 as part of the fuel that drove him to lavish Aventer with the expensive gift.
It also comes months after he admitted to his church that he had marriage troubles. Last summer, Gray opened up about their marital challenges explaining that for about two years they had been contemplating divorce.
"What they didn't see is that for the last two years we weren't sure if we would even make it. This is what the people saw," he said while fake smiling, "but they didn't see the tears at night. They didn't see the times when one of us was sleeping on the couch because the argument. We had to keep smiling because even though we were struggling and even though I was failing as a husband, I was already in front of the people and the people can't receive my brokenness because where do leaders go when they bleed? Because sheep don't do well with blood so I had to bleed alone," Gray said.
Despite their problems, Gray said God kept moving in their ministry.
"What's strange is that I traveled the whole world and the Holy Ghost showed up and me and my wife just kept smiling and nobody knew that we were getting ready to get a divorce. Because as long as I kept producing nobody cared what was happening at home. Because as long as we can use you, we will and when you fail we'll find someone else. Just do me a favor, keep smiling, keep producing, fly all over the world, fight for everybody else's family while your own marriage is falling apart. While your kids are crying for you every night, wondering when daddy's coming home but you're doing the best you can to provide," he said.
Gray didn't specify how he failed as a husband but he explained that when his wife discovered that he had started "listening to the wrong voices and let some people get too close … she set it off just like a good wife should."
Aventer Gray then revealed to the congregation that she chose not to leave her husband despite being upset by her husband's unspecified actions. She refused to allow the devil to have her marriage.
"I prayed for them and him and then the devil loses," she said to applause. "'Cause what's not gonna happen is you tell me that I'm gonna lose my purpose because somebody whispered to a 16-year-old John? The devil is a liar. I'm staying with my husband and you can go back to the pits of Hell where you came from."
She added, "So you want me to leave my husband because you spoke to the 16-year-old that couldn't get a date? And he listened. So I'm supposed to leave my husband because you spoke to a place of brokenness that had not yet been submitted back to the Father? But because I know the tricks of the enemy and I'm learning them every day, I can stand here in boldness for everybody that tried to sneak in, thank you, because I got closer to God because of it. I got in that word … come on devil, you don't want it with me."
Aventer Gray later spoke of a "strange woman."
"I put Scripture on that strange woman," she shouted. "I put Scripture on that strange woman. She don't want it with me and she don't want it with y'all, amen!" 
She noted that she indeed was heartbroken and had him sleep on the couch, among other things. But she did not want to give up on her marriage.
"However, when the word is inside of you and you know what your position is, everything else is false. I know who I am. I am the rib that God took from him. I'm his rest in brokenness — RIB — rest in brokenness," she said as the congregation shouted and applauded.
"I'm standing with my husband and you can go on back to the pits of Hell where you came from. Was I upset? Yes. Was I heartbroken? Yes. But you better learn to get in there for the, what's the vows? Better and worse so when the worst shows up you don't run away. When the worst shows up you pray.
"Until he wakes up and understand who he is, you pray wife, while the devils run away. I'm not saying to sit there in perpetual foolishness. I'm saying pray the devils away. If you give up too soon he wins. But he couldn't have this purpose. He knew what this was," she said, motioning her hands across the congregation.
"He was coming for y'all, that's why he came for us. We know better. We know better," she said, getting emotional. "I see you devil but you don't want it with me. I get in the eyes of the devil, you hear me? You can't have this here devil. I don't care. I just look cute but the devil don't want it with me."