After Tear Gassing, Jailing Reporters, Police in Ferguson Will Be Relieved From Duty
After Tear Gassing, Jailing Reporters, Police in Ferguson Will Be Relieved From Duty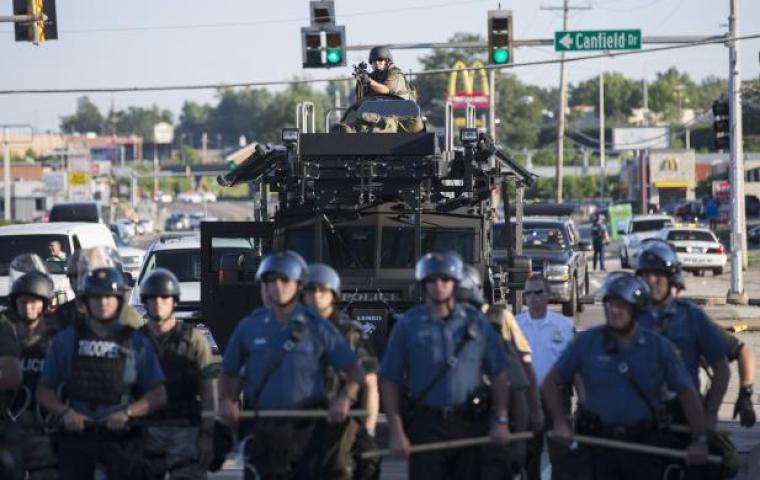 Missouri Gov. Jay Nixon, D, will relieve the St. Louis County police force from duty Thursday following media outrage over the detention and tear gassing of reporters.
The reporters were in Ferguson, Missouri, to cover protests over the police shooting of Michael Brown.
News agencies across the country ran reports Thursday morning of the jailing of Washington Post reporter Wesley Lowery and Huffington Post reporter Ryan Reilly. Later Thursday, additional reports surfaced of other reporters covering the protests who were targeted by the police. Amateur video showed the police shooting an Al Jazeera film crew with tear gas and then taking their film equipment apart.
#Ferguson was one of the top trending hashtags on Twitter. Some of the journalists reported the incidents using the hashtag #mediablackout.
Lowery described the encounter in first person for The Washington Post's lead story. According to Lowery, he and Ryan were at a McDonald's to use the Wi-Fi, charge their phones, and respond to some people on Twitter. Ferguson police entered, asked for identification and told them they had to leave. Lowery recorded some of the encounter on his cell phone, which was posted with his Washington Post article.
The video shows the officer telling the reporter to "stop recording," to which Lowery replied, "officer, do I not have the right to record you?" As Lowery was trying to leave, the officers arrested him for, they said, "trespassing in a McDonald's."
Lowery put his hands behind his back and twice said, "I'm not resisting," to which an officer responded, "you're resisting, stop resisting."
Lowery and Ryan both asked the officers for their names and badge numbers, but their requests were denied. When they asked for a police report, they were supplied a case number and told that a report would be available in one or two weeks.
Bloomberg reporter Jonathan Allen broke the news Thursday morning that Nixon will, later on Thursday, announce that the St. Louis County police will be "taken out of the situation." He heard the news from U.S. Rep. Lacy Clay, D-Missouri. USA Today reporter Yamiche Alcindor later confirmed that report with U.S. Sen. Claire McCaskill.
In a Thursday morning statement, Nixon said, "The worsening situation in Ferguson is deeply troubling, and does not represent who we are as Missourians or as Americans. While we all respect the solemn responsibility of our law enforcement officers to protect the public, we must also safeguard the rights of Missourians to peaceably assemble and the rights of the press to report on matters of public concern."
Nixon will spend Thursday in Ferguson after canceling a scheduled appearance at the Missouri State Fair.
The protests began after an unnamed police officer shot and killed Brown, 18, who was unarmed, on Saturday. According to the police, Brown assaulted the officer and reached for his gun. Scuffles between protestors and police have occurred all week with many arrests.