Alabama Pastor Says 'Satanically Motivated' Women Accusing Roy Moore, Calls GOP 'Sissies'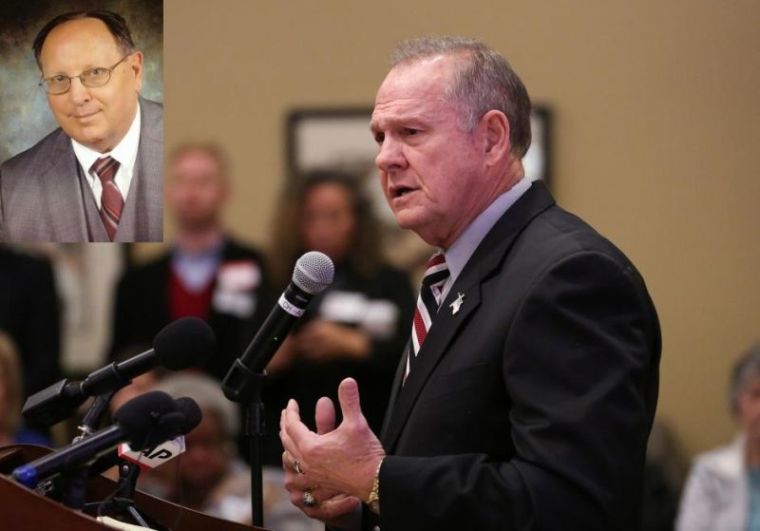 Dr. David Gonnella, pastor of Magnolia Springs Baptist Church in Theodore, Alabama, says he doesn't believe the multiple women accusing Republican Senate candidate Roy Moore of sexually pursuing them as teenagers when he was a younger man, and slammed GOP leaders pushing for him to "step aside" as "sissies."
Gonnella, who is one of the more than 50 pastors who endorsed Moore's successful Senate primary runoff in September against the Donald Trump backed Luther Strange, argued the accusations could be a "satanically motivated" smear campaign and aren't enough for him to abandon his friend according to a Fox 10 report.
"I don't desert my friends just on mere accusations, I require evidence," Gonnella said.
He questioned the timing of the allegations, first started approximately one month before the Dec. 12 special election to fill the Senate seat once held by Attorney General Jeff Sessions.
"Well perhaps satanically motivated, but politically carried out," said Gonnella in describing the allegations against Moore. "Why was everyone, all these people silent for so many decades [and] want to all come for[ward] at the same time now?"
Prominent Republican leaders, including House Speaker Paul Ryan and Texas Sen. Ted Cruz, have urged Moore to step aside from the race due to the allegations. Sen. Cory Gardner, R-Colorado, who is the head of the Republican campaign committee has also argued that Senate should vote to expel Moore if he is elected.
Gonnella argued that the GOP is failing Moore.
"It's funny how the Republican Party is. What a bunch of sissies! The Democrats rally around their candidate even when they're guilty, Republicans want to throw them under the bus on a minor accusation without knowing whether they're guilty or not," he said.
He argued that whether or not Moore gets elected and seated should be left up to the voters and not by GOP leaders.
The Alabama preacher also noted that even though he has not spoken to Moore, he has spoken to his wife Kayla and she is standing by her husband.
Moore appeared to applaud Gonnella's loyalty Wednesday when he tweeted the Fox 10 report and highlighted the quote from the pastor that said: "I don't desert my friends just on mere accusations, I require evidence."
Gonnella isn't the only pastor from the primary list who is standing by Moore and believes his accusers are lying.
The New York Daily News said their reporters contacted 50 of the pastors from the controversial list this week. Many, but not all, of them still support Moore, despite divisions over the allegations.
"I still support him," Mike Allison, pastor at Madison Baptist Church in Alabama, told the publication. "That hasn't changed a bit."
Allison said he has known 70-year-old Moore for 20 years and says he is standing with him because they share the same Christian values.
"I'm a Bible-believing Christian and he is as well," Allison said.
He said if Moore is guilty of what he has been accused of, "I believe he would've said."
Frank Raddish, who leads Independent Baptist Ministries in Alabama believes the women are lying about Moore because of the timing of their accusations.
"The reason I don't believe it is credible is because they haven't said anything in 40 years," Raddish said.
On Wednesday, Moore also responded to Conservative Fox News host Sean Hannity who said Tuesday night that the former judge had 24 hours to explain inconsistencies in his response to the accusations against him or he "needs to get out of this race."
Moore charged on Twitter that he is being attacked in the same way that other Republican candidates have been attacked and adamantly denied the allegations made against him, specifically those made by accusers who said they had sexual contact with him when they were 14 and 16 respectively.
"Are we at a stage in American politics in which false allegations can overcome a public record of 40 years, stampede the media and politicians to condemn an innocent man, and potentially impact the outcome of an election of national importance? When allegations of events occurring 40 years ago – and never before mentioned during a 40-year career of public service – are brought out and taken seriously only 30 days before a critical election, we may be in trouble as a country," Moore said.
On Monday, Alabama resident Beverly Young Nelson, the latest of five women to accuse Moore of sexually pursuing them as teenagers, said at a press conference in New York City with celebrity attorney Gloria Allred , that during an encounter with the Republican nominee for Senate in Alabama when she was just 16, she thought Moore was "going to rape me."
Leigh Corfman, another accuser, also alleged in The Washington Post that she was 14 years old in early 1979 when she met Moore as she waited outside a courtroom in Etowah County, Alabama. He allegedly told her how pretty she was and kissed her when he was alone with her. In another encounter Moore allegedly took off her shirt and pants and removed his clothes. She said he touched her over her bra and underpants and guided her hand to touch him over his underwear.
In addressing those allegations specifically, Moore denied them "adamantly."
"I adamantly deny the allegations of Leigh Corfman and Beverly Nelson, did not date underage girls, and have taken steps to begin a civil action for defamation. Because of that, at the direction of counsel, I cannot comment further," the former judge said.
Prior to making that statement, Moore highlighted the various public offices he has held and investigations he has endured and never once was he ever faced those allegations.
"Over the last 40 years I have held several public offices, including Deputy District Attorney, Circuit Judge, and Chief Justice of the Alabama Supreme Court. In addition to running five statewide and three county campaigns for public office, I have been involved in two major controversies that attracted national attention, one about the Ten Commandments and the other the sanctity of marriage," he said. "The Alabama Judicial Inquiry Commission, Court of the Judiciary, and Attorney General have investigated, scrutinized, examined, and vetted me, not to mention every opposing candidate against whom I have run."
Referring specifically to Moore's alleged signature in Nelson's high school yearbook in 1977, which has been used to bolster Nelson's claim, Moore argued the evidence appears to show tampering.
"We are in the process of investigating these false allegations to determine their origin and motivation. For instance, we have documented that the most recent accuser, Beverly Nelson, was party in a divorce action before me in Etowah County Circuit Court in 1999, a matter that apparently cause her no distress at a time that was 18 years closer to the alleged assault. Yet 18 years later, while talking before cameras about the supposed assault, she seemingly could not contain her emotions," Moore said.
"My signature on the order of dismissal in the divorce case was annotated with the letters 'D.A.,' representing the initials of my courts assistant. Curiously the supposed yearbook inscription is also followed by the same initials – 'D.A.' But at that time I was Deputy District Attorney, not district attorney," he continued.
"Those initials as well as the date under the signature block and the printed name of the restaurant are written in a style inconsistent with the rest of the yearbook inscription. The '7's' in 'Christmas 1977' are in a noticeably different script than the '7's' in the date '12-22-77.' I believe tampering has occurred," he added.
After Moore's response Hannity backed off his call for Moore to quit the race during his show on Wednesday night.
"We demanded, rightly, answers from Judge Moore. He provided them to the specific questions we asked," Hannity said, noting that he's confident the people of Alabama can make the best choice for their state.