Alaska Town Forgoes Funding Church Renovation After Atheist Group Complains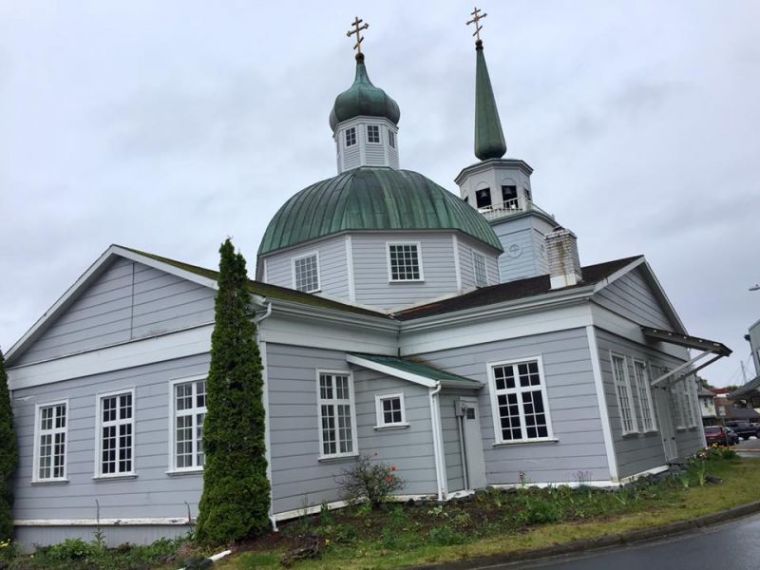 An Alaskan city council has reneged on a plan to give a historic local church funding to repair the the outside of the building after the nation's leading secularist group voiced a complaint.
The Wisconsin-based Freedom From Religion Foundation has claimed victory after the city assembly of Sitka voted 4 to 3 against a motion to give St. Michael's Cathedral $5,000 from the municipality's visitor's enhancement fund to repair exterior damages to church building.
"It's a fundamental American principle that citizens may not be taxed to support a church," FFRF Co-President Annie Laurie Gaylor said in a statement after the vote. "We're pleased that the majority of Sitka City Assembly members nixed this very bad idea."
Local radio station KCAW reports that the idea to donate $5,000 to the church, which is a key focal point in the town and is suffering from structural problems and a leaking roof, was proposed to the city assembly on Nov. 7 and spurred much debate surrounding the issue of separation of church and state.
The cathedral, which is a replica of a cathedral that burned down in 1966, is in such bad shape that it has been placed on the Alaska Association for Historic Preservation's list of 10 most endangered properties in the state.
In mid-December, City Attorney Brian Hanson approved a revised plan for the donation that specified that the funding could only be used to repair the outside of the church and determined that such a donation wouldn't violate the Establishment Clause of the First Amendment to the U.S. Constitution.
Hanson also stated that such a donation passed the "Lemon Test" (taken from the 1971 Supreme Court Case Lemon vs. Kurtzman) because the donation is for a secular purpose and doesn't advance or inhibit religions.
According to KCAW, the city assembly approved the donation upon first read on Dec. 12.
But on Dec. 19, Hanson received a letter from FFRF attorney Ryan Jayne arguing that his prior conclusion that the donation to St. Michael's doesn't violate the First Amendment was wrong because he improperly applied the "Lemon test."
"In Tilton v. Richardson (1971), which was decided the same day as Lemon, the court unanimously struck down a statute that provided grants to colleges for the construction of educational facilities, including facilities to be used 'as a place for religious worship' after 20 years," Jayne contended. "More recently, in Community House, Inc. v. City of Boise (2007), the U.S. 9th Circuit Court of Appeals, which has jurisdiction over Alaska, enjoined a city from leasing a homeless shelter to a religious organization for one dollar per year so long as the lessee continued to hold daily chapel services for its residents."
Jayne's letter caused some on the assembly to reconsider. Last Tuesday, after deliberating in several meetings, the council voted to forgo the donation to the church.
The result was decried by assembly member Bob Potrzuski, who co-sponsored the motion for the donation.
"It certainly does not promote any religious activity," Potrzuski said, according to KCAW. "There's not any reason except to continue to have an iconic building that draws visitors by the thousands to our downtown to our community as a whole."
Mayor Matthew Hunter explained the importance of the church.
"We need this structure so that people can continue to come to Sitka and live the history that brings so many people here," Hunter was quoted as saying.
Assembly member Kevin Knox told the radio station that it is almost impossible to think about the town's visitor industry without thinking about the iconic church.
"You can't pick up a piece of literature that supports our visitor industry and not see that picture, the face of that church," Knox stated.
Although proponents of the church funding claim that the funding wouldn't serve a religious purpose because it would have only been used to renovate the outside of the church, critics did not buy that line of reasoning since money is fungible.
"It's pretty clear that by doing this you will be advancing the church's goal," assembly member Aaron Bean said, according to KCAW. "Any money that they wouldn't have to otherwise pay a contractor to do the work that they've been neglecting for years is going to end up furthering their agenda."
Hanson told KCAW that although he still believes that the town is on solid legal ground to donate the money to the church, he suggested that the $5,000 isn't worth a potential lawsuit.
"I would suggest if a lawsuit is filed, it's no longer economically viable to do this, no matter if you win or not," Hanson said.
Money from the town's visitor's enhancement fund comes from the 6 percent tax charged to people who stay in a Sitka hotel, motel or bed and breakfast.
Last June, the Supreme Court ruled in favor of a church in Missouri that was denied funding as part of a state program to renovate playgrounds simply because of a state law that bans state funding from being used on the construction of churches.
"... the exclusion of Trinity Lutheran from a public benefit for which it is otherwise qualified, solely because it is a church, is odious to our Constitution all the same, and cannot stand," Chief Justice John Roberts wrote in the opinion of Trinity Lutheran Church of Columbia, Inc. v. Comer.