Albert Mohler Offers 3 Lessons for Christians After 'Agonizing' Eugene Peterson Gay Marriage Ordeal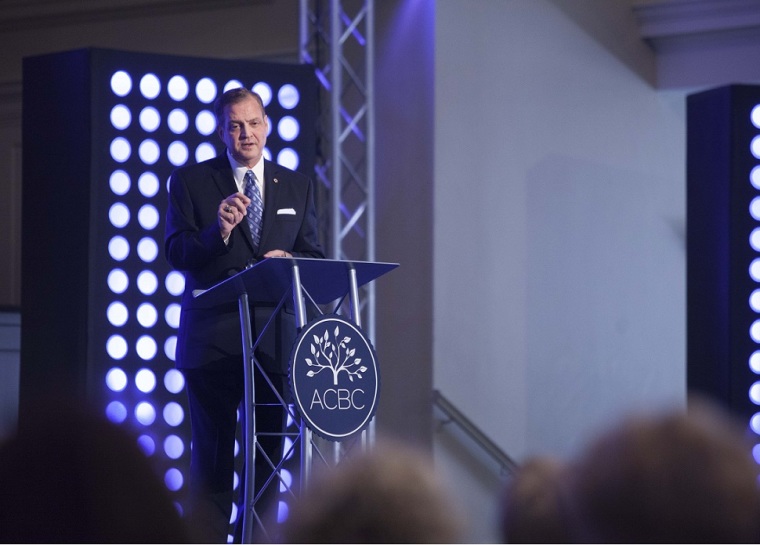 Dr. Albert Mohler Jr., president of The Southern Baptist Theological Seminary in Louisville, Kentucky, has offered three key lessons for Christians to take from the "agonizing" gay marriage ordeal of Eugene Peterson.
Mohler wrote in a blog post on his website on Monday that despite Peterson's long ministry and career, in which the 84-year-old Presbyterian pastor authored more than 30 books, he was never tasked with answering highly controversial questions, such as whether all same-sex relationships are sinful.
The Message author said in an interview with Religion News Service last week that he would perform a same-sex marriage if asked, which drew a firestorm of comments from the Christian and lgbt communities. He later reversed his stance and told The Washington Post that he affirms the biblical views of marriage as between one man and one woman.
"When put on the spot by this particular interviewer, I said yes in the moment," he said of RNS' Jonathan Merritt, before explaining that upon "further reflection and prayer, I would like to retract that."
Peterson added: "That's not something I would do out of respect to the congregation, the larger church body, and the historic biblical Christian view and teaching on marriage. That said, I would still love such a couple as their pastor. They'd be welcome at my table, along with everybody else."
Peterson's initial comments in support of gay marriage led LifeWay Christian Stores to consider removing his books and resources from their shelves.
LifeWay spokesman Carol Pipes later told The Christian Post in an email statement, however, that based on his retraction, they will continue to sell his resources.
Mohler said that the "agonizing" ordeal surrounding Peterson was "largely self-inflicted, and virtually inevitable," before warning Christians that they will also be asked the same question.
Offering three lessons to take from the situation, he wrote:
"First, there is nowhere to hide. Every pastor, every Christian leader, every author — even every believer — will have to answer the question. The question cannot simply be about same-sex marriage. The question is about whether or not the believer is willing to declare and defend God's revealed plan for human sexuality and gender as clearly revealed in the Bible."
Next, he advised Christians to have their answers ready, warning that "evasive, wandering, and inconclusive answers will be seen for what they are."
"Third, if you will stand for the Bible's clear teachings on sexuality and gender, you had better be ready to answer the same way over and over and over again," Mohler warned.
"The question will come back again and again, in hopes that you have finally decided to 'get on the right side of history.' Faithfulness requires consistency — that 'long obedience in the same direction.'"
Christian apologist and ethicist Bill Muehlenberg similarly wrote on his own website last week that Peterson "seems to be all over the place," with his exact views on homosexuality still unclear.
"But as always we must pray for folks like Peterson. He certainly needs our prayers during this time, and we can pray that he gets back to the biblical message on this, not the world's message," Muehlenberg wrote.
"Sadly, none of this is all that surprising. Christian leaders are dropping like flies in the West when it comes to all things homosexual. One after another is compromising and capitulating on these sorts of issues."