Alejandro Villanueva Jersey Sales Spike After Standing During National Anthem Amid Protest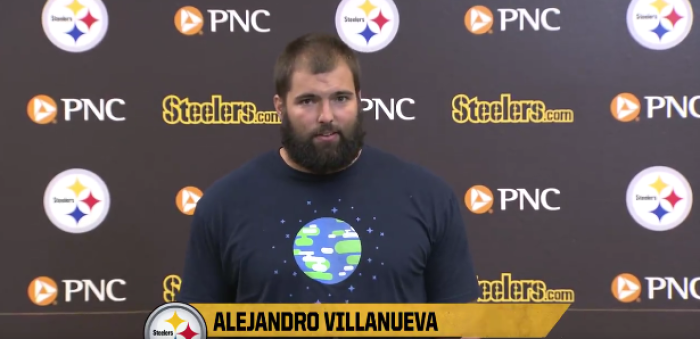 Alejandro Villanueva was the only member of the Pittsburgh Steelers who did not protest the national anthem Sunday and it seems to have resulted in a large spike in his jersey sales.
The 29-year-old Steelers offensive tackle stood for "The Star Spangled Banner" at the end of the tunnel before his team played against the Chicago Bears at Soldier Field stadium in Chicago, Illinois. The Steelers coach and players decided to remain in their locker room after President Donald Trump suggested at Sen. Luther Strange's campaign rally Friday that NFL players who kneel during the national anthem should be fired.
Villanueva, a former army ranger who earned a Bronze Star medal after serving in Afghanistan, wanted a glimpse of the flag while his team stayed away from eyesight. The lineman was captured on camera with his hand over his heart in an act that may have inspired more people to buy his jersey.
"The jersey of Steelers lineman & veteran Alejandro Villanueva now listed as the 6th best selling jersey (also factors in search) on NFLShop," ESPN reporter Darren Rovell tweeted Monday.
However, the lineman was apologetic on Monday for not standing in unity with his team. The team had voted to not participate in the national anthem Sunday.
"Unfortunately, I threw my teammates under the bus, unintentionally," Villanueva said at a press conference Monday.
The Catholic NFL player explained that as a veteran who finds special significance in the flag, he intended to get a glimpse of it before the national anthem started. However, he accidentally remained outside of the tunnel apart from his teammates which caught the attention of countless people.
"I asked one of the security guards when the national anthem was going to start, and he said 20 seconds, and so I just walked up and I stopped as soon as I saw the flag, as soon as I had a vantage point, that to me was enough," he said. "There was a flag that was coming in from one of the previous celebrations, and when I turned around to sort of signal everyone else in so they wouldn't leave me alone, that's when they were essentially unable to exit."
Villanueva declined to comment on Trump's recent comments concerning players kneeling during the national anthem in order to protest racial injustices in the nation.
"People that are taking a knee are not saying anything negative about the military, they're not saying anything negative about the flag, they're just trying to protest the fact that there are some injustices in America," Villanueva said. "Every single one of my teammates is extremely supportive and extremely patriotic in this locker room, and I can not only say that for this locker room, I can say that across the NFL."