Alex McFarland on Spiritual Town Hall: Survival of America Depends on Revival of Christianity
Christian apologist Alex McFarland says that in order for America to survive there needs to be a revival of Christianity. He plans to host a spiritual town hall meeting tonight (Tuesday evening) in Charlotte, N.C., to address the position that a Christian worldview in America needs to be re-established.
"We encourage people everywhere to get serious about prayer, get serious about living out their Christian faith because I personally believe that to save America, to preserve our Constitution, we have to again in this culture reassert and proclaim and even defend the Christian worldview," McFarland recently told The Christian Post.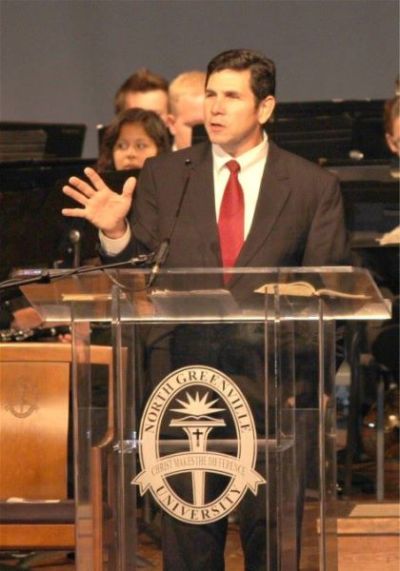 "The survival of America depends on a revival of Christianity. It is time for God's people to join together and pray," he states.
"Awaken – America's Spiritual Town Hall" takes place at First Baptist Church at 7 pm ET and is scheduled to be webcast live online at http://www.truthforanewgeneration.com.
McFarland, who is the director of the Christian Worldview Center at North Greenville University, said the event will emphasize "prayer, unity within the body of Christ, and the proclamation of truth."
"This spiritual town hall meeting is designed to inspire and equip the church to not only seek the face of God, but once again to proclaim the Gospel to our culture," he said.
McFarland said he was inspired to create the spiritual town hall meeting because in the same way so many politicians call town hall meetings to present their viewpoints and to interact with people at the same time, he would like to see this interaction transpire in a discussion about America and the church.
"One of my passions is to encourage churches and equip churches to reach people for Christ. Many churches in America will not see any salvations in the next 12 months and yet we are called to help people find new life in Jesus Christ," he said. "At the spiritual town hall meeting people will be able to ask questions of experts like Dr. Ken Hemphill and others. They can ask questions they can interact and hopefully come away from the spiritual town hall meeting with not only a vision for what they can do for the Gospel in their community but a commitment for the duration to see America saved through the reassertion of a Biblical worldview."
During a radio broadcast on an American Family Network program on Monday, McFarland re-emphasized his belief that the nation needs revival.
"We're going to talk about revival. We're going to talk about the spiritual condition of our country. One of the things that we really need to talk about is religious freedom in America," he said. "We've got to have a revival in America and the church is the conscience of the culture. This is really about a one night rally and with the help of God do what we can do to change the spiritual direction of our country."