Alfie Evans: Life Support Withdrawn Despite Italy Granting Baby Citizenship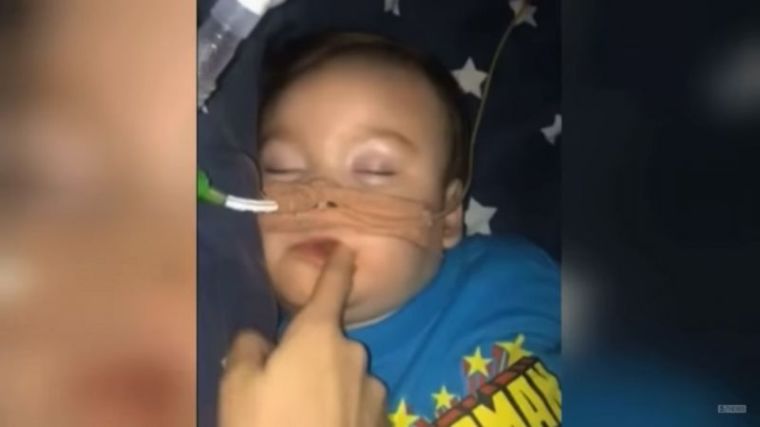 The parents of 23-month-old toddler Alfie Evans have said that his life support has been withdrawn despite Italy granting him an emergency citizenship in hopes of delaying that action.
On Monday, close to 200 protesters came out in support of Alfie against Alder Hey Hospital in Liverpool, England, though police blocked an attempt to storm into the health care facility.
The parents, Kate James and Tom Evans, have lost several court appeals seeking to keep their son on life support despite doctors saying that he is terminally ill and has no chance of recovery.
They suffered another blow on Monday after the European Court of Human Rights refused to intervene in the case, saying that the family's application was "inadmissible."
The Facebook page "Alfie's Army Official," ran by members of the family, reported on Tuesday morning that Alfie managed to breathe on his own for hours despite doctors believing he would only survive for minutes without life support.
An update by James states that he has since been "allowed oxygen and water" and that he has already "proved these doctors wrong."
Evans told BBC News that his son is "is now on oxygen. It's not changing his breathing but it's oxygenating his body."
"He is still working, he's doing as good as he can but we do need him to be supported in the next hour. It's going to be hard," he added.
Alfie has been at Alder Hey since December 2016, with doctors concluding that his condition is "futile" as he is suffering from an undiagnosed degenerative brain disease, which has also led to seizures and infection.
The Catholic News Agency has reported that the Italian government granted Alfie citizenship on Monday, seeking to have him transferred to a hospital in Rome for additional treatment and evaluation.
The parents have vowed to continue fighting for his life, with Evans meeting Pope Francis last week and urging the pontiff to do all he can to help Alfie.
Francis tweeted that it is his "sincere hope that everything necessary may be done in order to continue compassionately accompanying little Alfie Evans, and that the deep suffering of his parents may be heard."
The Roman Catholic Church leader added in another tweet on Monday: "Moved by the prayers and immense solidarity shown little Alfie Evans, I renew my appeal that the suffering of his parents may be heard and that their desire to seek new forms of treatment may be granted."
Courts have ruled in favor of Alder Hey and its decision to prevent Alfie's parents from taking him outside its premises, arguing that any further efforts will only prolong his suffering.
The hospital has also said that "out of respect for the privacy of Alfie and his family," it would not be commenting any further on the toddler's condition, following "normal and agreed practice with all our patients."