Alfonso Ribeiro Dead? Carlton From 'Fresh Prince' Death News Sparks Fan Panic (2012 Flash Mob Video)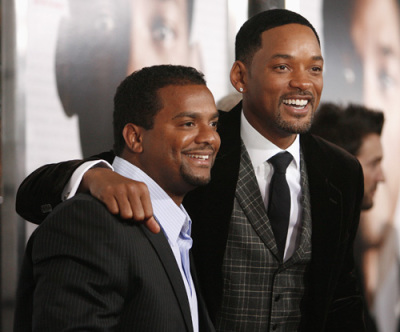 Alfonso Ribeiro, aka Carlton from "Fresh Prince," is dead, according to new reports on Saturday - however, it already appears that the actor was just the victim of yet another death hoax, and he has taken to Twitter to reassure fans he is alive and well.
The actor is just the latest victim in a string of death hoaxes that have gone viral through social media sites recently. A Facebook page labeled "R.I.P. Alfonso Ribeiro" was created this week and by Saturday the death rumors had gone so viral that the actor felt compelled to dispel them.
Rapper 50 Cent and comedy superstar Eddie Murphy have also been the victims of death hoaxes recently. Also actor Morgan Freeman most recently was reported as dead with a Facebook page set up to report his alleged death. However, all those celebrities are alive and well.
In those previous rumors Eddie Murphy was said to have been killed in a snowboarding accident in Switzerland, while 50 Cent was said to have been killed in a car accident. Those two hoaxes were sparked by fake news site Global Associated News, which has become famous for starting death rumors about the rich and famous.
Fans of the Fresh Prince's Carlton Banks have even take to Yahoo Answers to find out whether the reports of his death were true or not.
"Nope, proceed to do the Carlton," one fan wrote, using the opportunity to reference the popular dance Alfonso Ribeiro would always break into during episodes of "The Fresh Prince of Bel-Air."
Ribeiro himself tweeted Saturday: "I guess FB has a page saying I died. I wonder what people are gonna say at my funeral?"
Robert Pattinson, Rihanna, Bill Nye, Bill Cosby, Taylor Swift, Reese Witherspoon, and numerous other celebrities all have been falsely rumored to have died in recent months - all of which were hoaxes.
Ribeiro can be seen in the video below dancing and leading a flash mob in Hollywood, Calif.
World's Largest Simultaneous Flashmob feat. Alfonso Ribeiro | ViSalus Flash Mob - Hollywood CA