Alice Johnson Goes Full-On 'Pentecostal' Celebrating Release, Says Kim Kardashian West Is 'Anointed'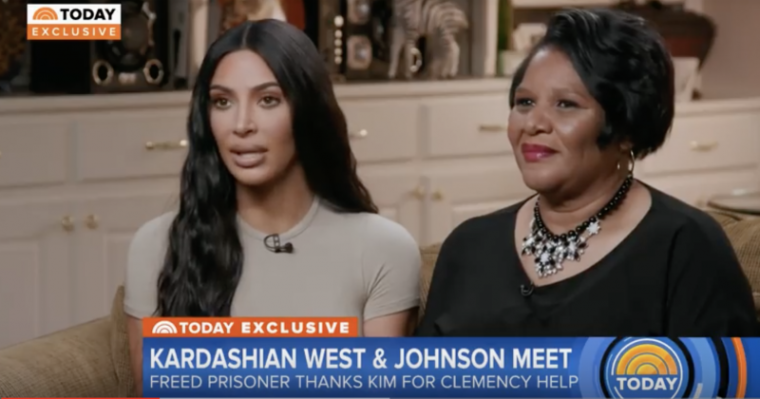 In a new intimate interview with Kim Kardashian West and freed inmate Alice Johnson, the grateful great-grandmother told TODAY's Hoda Kotb that she went into a "full-fledged Pentecostal holy dance" when finding out that she'd be getting out of prison thanks to West, whom she called "anointed."
Johnson was 22 years into her life sentence for running a nonviolent multi-million dollar cocaine trafficking ring, when West took up her cause. The reality star was so moved by Johnson's story that she petitioned Ivanka Trump for a meeting with her father, President Donald Trump. Months later, West was able to secure a meeting at the Oval Office with the president to plead her case. 
Trump apparently moved with "compassion" agreed to commute the Tennessee woman's sentence and she was freed on June 6.
"It became this mission that I just didn't want to give up," West told TODAY.
The day before the interview was the first time Johnson and the "Keeping Up With the Kardashians" star met face to face although West was working to free Johnson for the past seven months.
Johnson said when she learned she'd be freed, "I went into full-fledged Pentecostal holy dance! I started screaming and jumping, people were listening. I'm telling you, I was dancing, I was jumping, I was screaming. I was doing everything."
Johnson said she got involved in the drug trafficking ring following several tragedies in her life, including divorce, job loss, the death of youngest son, and foreclosure.
"It's a darkness of the soul. It's something unimaginable. I know that many people experience tragedy and they don't get involved in illegal activities," she said. 
"I thought that what I was doing (with drug trafficking) was such a minor thing. I'm not trying to excuse myself. I want to make that clear because I did make that choice to do what I did. But sometimes you make excuses for your actions and before you know it, it's deeper in, further down."
At one point during the interview, Johnson showed West her what she keeps inside her Bible — a photo of West and her husband, Kanye West. Johnson revealed that she prays for the couple all the time.
"My favorite picture of you moves around my Bible. My prayer focus for you [today] was in Psalm 105 — 'Touch not my anointed, and do my prophet no harm,'" Johnson shared.
"Kim has been anointed to do this, no one better not touch her, even with their mouth," Johnson declared.
The 62-year-old said she will have to "walk out" her thank you to West, her family and the president.
Follow Jeannie Law on Twitter:
@jlawcp