'Almost no Armenians left' in Nagorno-Karabakh; suffering mounts after Azerbaijan's takeover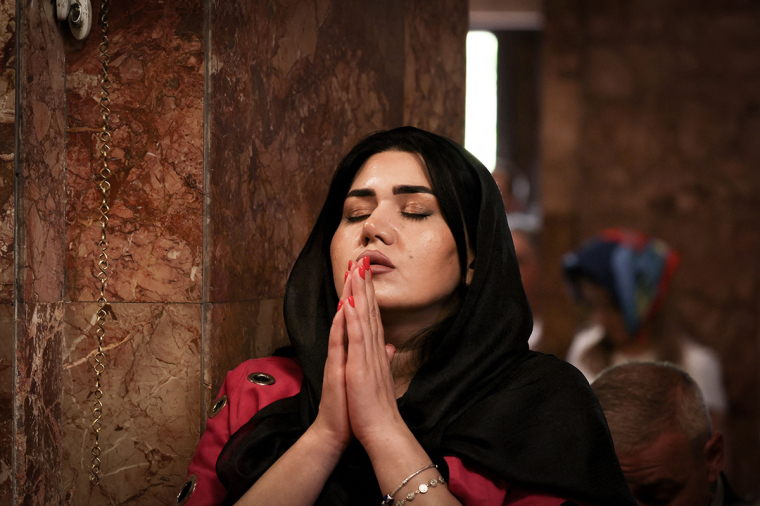 Nearly all ethnic Armenians have fled Nagorno-Karabakh following Azerbaijan's military occupation. A humanitarian crisis appears to be building with rising numbers of refugees, injuries and arrests.
Nazeli Baghdasaryan, spokesperson for Armenia's Prime Minister, revealed the number of forcibly displaced persons from Nagorno-Karabakh reached 100,417 as of Saturday morning, about a week after Azerbaijan regained control over the breakaway region following a military offensive, according to Armen Press.
Of the displaced, 32,200 have taken up accommodation offered by the Armenian government. Many others chose to stay with friends or relatives in Armenia.
Many of the 100,000 people are hungry, exhausted and needing immediate assistance, UNHCR representative Kavita Belani said in a statement. "People are tired. This is a situation where they've lived under nine months of blockade. When they come in, they're full of anxiety, they're scared, they're frightened and they want answers as to what's going to happen next."
UNICEF has noted that 30% of the arrivals are minors, many separated from their families.
Some 405 displaced persons are receiving medical treatment in Armenian hospitals, Armenia News quoted Baghdasaryan as saying. Of these patients, 337 suffered injuries from recent military activities and explosions. Ten children are in intensive care units; five are in serious condition, while one is extremely serious.
Azerbaijani forces arrested and persecuted Armenian citizens, including prominent figure Ruben Vardanyan, former State Minister of Artsakh, according to another report by Armenia News, which said public figures in Armenia were urging the government to protect the rights and interests of Vardanyan and others.
Vardanyan is highly regarded for his contributions to Nagorno-Karabakh and Armenia.
At least 200 ethnic Armenians and dozens of Azerbaijani soldiers were killed during Azerbaijan's military operation, reported the BBC, adding that an explosion at a fuel depot killed at least 170 people, with an additional 105 still missing.
The World Food Programme has set up mobile warehouses and kitchens to aid refugees. The U.N. Population Fund is distributing health kits and dignity kits, including sanitary pads and soap.
Armenian villages near the Karabakh border have turned into makeshift refugee camps, reported the International Federation of the Red Cross and Red Crescent Societies. Refugees arriving are traumatized but also hopeful, IFRC's Hicham Diab said.
Azerbaijan has offered to reintegrate Nagorno-Karabakh's residents as equals, a claim that an Armenian spokesman dismissed as a "lie," as per the BBC.
The region is recognized internationally as part of Muslim-majority Azerbaijan even though it has a majority Armenian population.
The conflict has its roots in the early 20th century when the region, which has a majority Armenian population, was part of the Russian Empire and later, the Soviet Union.
In the 1920s, Soviet dictator Joseph Stalin established the Nagorno-Karabakh Autonomous Oblast within Soviet Azerbaijan. However, as the Soviet Union began to collapse in the late 1980s, ethnic Armenians in Nagorno-Karabakh voted to secede from Azerbaijan and join Armenia. This led to a war between the two countries that lasted from 1988 to 1994, resulting in the deaths of tens of thousands of people and the displacement of over 1 million.
A ceasefire was signed in 1994, but sporadic violence continued in the region.
In 2016, a four-day war broke out between Armenia and Azerbaijan, resulting in hundreds of deaths. In September 2020, the fighting broke out again, escalated rapidly and resulted in a large-scale military operation by Azerbaijan, with the support of Turkey, to retake the regions of Nagorno-Karabakh and the surrounding areas under Armenian control.
A ceasefire was signed again in November 2020, but tensions remained high, with both sides accusing each other of ceasefire violations.
In Nagorno-Karabakh, residents had been living in dire conditions, with no electricity and limited food supplies amid a monthslong blockade of the Lachin Corridor, the only road that connects Nagorno-Karabakh to Armenia.
Switzerland-based human rights group Christian Solidarity International had urged U.S. President Joe Biden to propose a four-point emergency response to the monthslong blockade, including an immediate humanitarian airlift. The group also called for sanctions against Azerbaijan President Ilham Aliyev for policies of ethnic-religious cleansing.
"You were the first U.S. president to officially acknowledge the Armenian Genocide, thereby earning the gratitude of the Armenian people and all who abhor genocide," CSI President John Eibner said at the time. "Let it not be said that, on your watch, Azerbaijan — a strategic partner of the United States — successfully executed another phase of the historic Armenian Genocide."
Biden became the first president since former President Ronald Reagan to recognize the Armenian genocide on its 106th anniversary in April 2021. Some historians see the Armenian genocide as a precursor of genocides the world witnessed later, including the Holocaust.
In October 2020, an estimated 100,000 people marched through the streets of Los Angeles, California, to call for an end to the fighting between Azerbaijan and Armenia.