Amazon Best-Seller 'Israel Rising' Shows Proof of Biblical Prophecy Fulfilled in Holy Land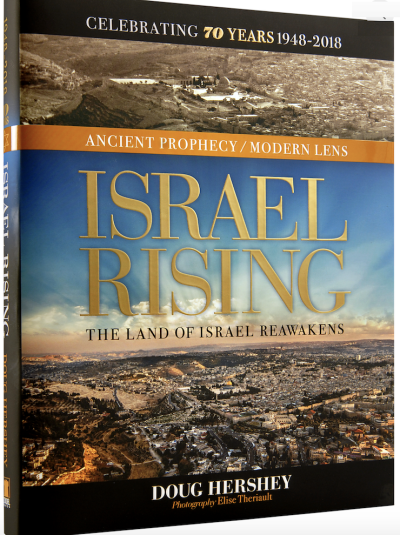 The fulfillment of biblical prophecy in the Holy Land is what author Doug Hershey wants Christians to see in before-and-after photographs featured in his book, Israel Rising: The Land of Israel Reawakens. 
Hershey's new book shows the visual transformation of Israel from desert to fertile land in geographic images from the 1800s and 1940s through 2016. 
The book was released ahead of Israel's 70th anniversary and has reportedly already sold tens of thousands of copies on Amazon, where it has been ranked as high as No. 1 on several Amazon charts.
In Israel Rising, Hershey shows examples of the region's agricultural and ecological repair, as well as technological advances, as it takes readers on a journey through over 2,600 years of Israel's history. He also highlights the nation's foreign rule under the Romans, Persians, Ottomans, Byzantine, Arab, and British Empires, leading up to its independence in 1948.
Along with being an author and conference speaker, Hershey, a resident of Lancaster, Pennsylvania, is the founder of Ezra Adventures, a tourism company that helps people explore the Holy Land.
Below is an edited transcript of Hershey's interview with The Christian Post.
Christian Post: What inspired you to go on this adventure of exploring fulfilled prophecy in Israel in this way?
Hershey: I own a company for small group travel to Israel called Ezra Adventures where we get off the normal tourism path and into some seldom seen regions in Israel. It was on some of these trips that I began seeing over a period of several months to a couple of years, certain desert regions begin to change from dusty and desolate landscapes to newly planted fields, to growing orchards and thriving vineyards.
Around the same time I had been reading Ezekiel 36 and began putting these two things together and wondered if this was the beginning stages of what I was witnessing. I had to know if this was really what I was seeing. That began my studies into history and these old photos.
CP: Why would you say this information is important for Christians to pay close attention to?
Hershey: While Ezekiel 36 is a lesser known prophecy, Israel Rising is very significant for Christians in a few ways. First, it shows the Bible is true and means exactly what it says. When it says that the land will be a desolate wasteland until the Jewish people return from the nations then the branches will put forth fruit, the waste and forgotten cities will be rebuilt and be inhabited — that's exactly what it means and exactly what is happening. It shows that God is faithful to His Word.
Secondly, God's everlasting promises to Israel are forever. No other people group in human history has been thrown off their historical homeland to return to the same land 70 years later. Then again be forcibly removed from the land, scattered to the ends of the Earth, then to again return to the same piece of real estate 2,000 years later, as an identifiable recognizable relatives to their ancestors who were removed 2 millennia before, returning with the same characteristics, scriptures, even speaking the same language.
And now the physical land is responding to their return. It has never happened before in human history. It just so happens it's the same people group that the God of Genesis 1 said He made an everlasting covenant with between Himself, the people and the land.
But perhaps most importantly, if God means exactly what He says in the Scriptures and He is about to keep His promises over thousands of years, then we can expect that God will keep His promises regarding the return of Jesus in a very literal and tangible way. He will return to a Jewish Jerusalem as the Jewish King to defend and dwell with His people as well as to rule Israel and the world, just as the prophet's foretold.
CP: In the book you include Mark Twain's writings about his trip to Israel in the 1800s. What was it about his experience that stood out to you?
Hershey: What stood out to me from his writings was just how desolate the land really was, and not just in a certain area but all over the region. It was like the more he traveled, the more depressed and discouraged he became.
In what is now northern Israel, he writes: "Close to it was a stream, and on its banks a great herd of curious-looking Syrian goats and sheep were gratefully eating gravel. I do not state this as a petrified fact — I only suppose they were eating gravel, because there did not appear to be anything else for them to eat." 
In Jerusalem he laments, "Renowned Jerusalem itself, the stateliest name in history, has lost all its ancient grandeur, and is become a pauper village." Near the Dead Sea he holds nothing back: "It is a scorching, arid, repulsive solitude. A silence broods over the scene that is depressing to the spirits. It makes one think of funerals and death." By the time he is ready to leave he summarizes, "It is a hopeless, dreary, heart-broken land. And Palestine sits in sackcloth and ashes."
Less than 80 years after Mark Twain's dismal journals, everything he described began changing. He could have never dreamed that the same desolate and unforgiving land that he struggled through and wrote of is the same land that is prospering as an agricultural and technological powerhouse today.
CP: You used accounts from Christians, Muslims and Jewish eyewitnesses who detailed what the land used to be like and what it is now. Was anyone shocked to discover that the evolution is prophecy fulfilled?
Hershey: The historical quotes span almost every century for the last 2,000 years and are often the most shocking to the average reader. Regardless of the religion or empire, they all say similar things for 2 millennia — that the land is poor, desolate, and forgotten. This is verified by the old photos in the book, starting in 1844. In the time that Jews were not in charge of the land, it never becomes a homeland for any other people group and the land would never produce for anyone else. That is until Israel again becomes a nation in 1948 when everything begins to change.
Another aspect that many are surprised by are Muslim sources in the 10th and 19th centuries stating that there is a Jewish majority in Jerusalem. Jews have always had a presence in Jerusalem but the land didn't begin changing until the land again "became their possession" in 1948, exactly as Ezekiel 36 foretold.
CP: Would you share an account that impacted you while on this journey?
Hershey: From a Christian standpoint, one of the most impacting aspects of this process was that God doesn't need our help in fulfilling His Word. He is more than able to do that Himself.
I saw this over-and-over as I encountered Jewish people returning from all over the world, especially those living a secular lifestyle. Whether religious or secular, the people all talk about something within them pulling them to move to the land of Israel.
As Christians, I think we wrongly believe that God won't fulfill His promises unless we repent or simply just do something right first. But that's not what the Bible says. In Deuteronomy, God told Israel that when He brings them into the land it would be because of His promises to their forefathers, not because they were righteous.
Ezekiel 36 tells us that God will gather the people back to the land and then He will sprinkle clean water on them and bring a cleansing. So the fact that the modern day Israel, despite a whole host of problems and cultural sins, is still fulfilling biblical prophecy is simply proof that God is doing exactly as He said. He is keeping His promises.
The fact that after 2,000 years the people are returning and the land is physically responding is proof that the cleansing is coming and the promise to remove the stony heart [and replace it] with a heart of flesh, and remove our spirit and replace it with His Spirit is about to also come to pass. God is doing exactly as He said He would in the Scriptures. We can read it ourselves, then watch it unfold in our day.
CP: You point out that Israel began to flourish under Jewish sovereignty, what would you say is the significance of the Trump administration's decision to move its embassy to Jerusalem, the capital of Israel?
Hershey: From the time of King David, Jerusalem has always been the capital of Israel, has always had a Jewish presence and was the focal point of the Jewish nation. Even in the last 2,000 years since the Romans destroyed the Temple in 70 AD, the prayerful cry at every Passover is "Next year in Jerusalem" and that God will allow His people to return to the spiritual and geographic heart of the Jewish people.
During that time when the land was controlled by other nations or empires, never did Jerusalem become a significant trade city, let alone the capital city of any other nation, but laid in desolate ruins.
In Israel Rising, you can see the oldest photo of Jerusalem ever taken from 1844. You can see it's a rundown dump that no one cared about. When the U.S. first recognized Jerusalem as the capital and moved the U.S. embassy to Jerusalem, this was simply agreeing with what God had already stated in the Bible. Jerusalem is the capital of Israel, the place that He has chosen to dwell and the city that Jesus will return to defend and establish a worldwide rule.
If the scriptures mean what they say, one day all nations will come to Jerusalem to worship the King. The nations that recognize the value of Jerusalem now are simply ahead of the curve. Anytime anyone, whether people or nations, align with the Word of God, there is nothing but blessing that will come from it.
CP: What do you think it means for the future that Ezekiel's prophecy is coming to pass in Israel?
Hershey: I think we are seeing the very beginning of Ezekiel 36 coming to pass, not yet the full fulfillment. The end of Ezekiel 36 tells us two things that are very specific. "They will say, 'This desolate land has become like the garden of Eden; and the waste, desolate and ruined cities are fortified and inhabited.' 36 "Then the nations that are left roundabout you will know that I, the LORD, have rebuilt the ruined places and planted that which was desolate; I, the LORD, have spoken and will do it" (Ezek 36:35-36).
First, is that other nations will look at Israel and know that it was the Lord's doing. There are lots of nations that are starting to recognize that amazing things are happening in Israel, in technology, agriculture, medicine, you name it. But it's not yet at the point that the nations are saying, "there is no other explanation but God did this."
Secondly, the land will become like "the garden of Eden." While the garden of Eden was a beautiful place, it was a place where God was dwelling with man. This answers the real question: Why is this dramatic changes in the land happening? The land is reviving to demonstrate to the nations that He is able to bring life from dead, desolate places and that He still wants to dwell with His creation.
I think in the coming years this process will continue — the land being treated better than what it ever was before, the waste and forgotten cities being rebuilt and inhabited, and God returning the people to the land He promised. Why? Because the King is coming and we are privileged to see and experience the early stages of that process as God is faithful to His ancient promises in very practical, tangible and verifiable ways. That is what I hoped to capture in Israel Rising.
CP: Final thoughts?
Hershey: We are living in unique time in history.
For centuries, the prophetic words about Israel that Christians believed were allegorical, symbolic and a spiritual parallel are today proving to be shockingly accurate and literal. The deserts are blooming and streams are literally being found in the desert. The land is finally again being cultivated and sown.
The forgotten cities and waste places are being rebuilt. The people are returning from all over the world. Israel is again a sovereign nation after 2000 years. The land is physically responding to Jewish sovereignty in a way it hasn't in millennia, which is what these photo comparisons in Israel Rising demonstrate.
We cannot only see and recognize it, but be involved in this miraculous restoration of Israel. Whether it was by the help of the Egyptians giving silver and gold to Israel as they left Egypt or the Persian king providing anything Ezra and Nehemiah needed to return to rebuild Jerusalem or the prophets foretelling that Israel will again return to their land through the help of Gentile hand, it's happening just as foretold.
Hershey's Israel Rising book tour will run May 5-14, 2019, and he is inviting anyone who would like to learn more about the locations featured in Israel Rising to join him. For more information, visit Ezra Adventures.