Amazon, public libraries pressured to ban trans-critical book highlighting harms to teen girls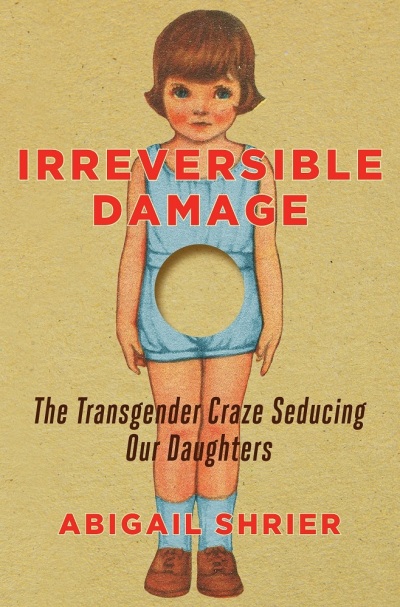 Public libraries and retail giant Amazon have faced increasing pressure to ban a book that's critical of transgender ideology amid what the author calls a rising culture of censorship.
To the surprise of many, Amazon refused to stop selling a book by Wall Street Journal contributor Abigail Shrier, titled, Irreversible Damage: The Transgender Craze Seducing Our Daughters, despite a high-pressure campaign by employees who are demanding its removal.
Corporate media outlets supportive of the transgender movement also expressed their disappointment in Amazon's decision not to pull the book, running such headlines as: "Amazon will not remove book advocates say endangers transgender youth," "Amazon overrules employees' calls to stop selling book questioning mainstream treatment for transgender youth," and "Amazon Refuses to Stop Selling Anti-Trans Book."
Canada's, CTV News reported Monday that a trans-identified parent in Ottawa is attempting to get the Ottawa Public Library to remove the book from its shelves. The mother, who claims to be on the "trans spectrum" and to have a 6-year-old gender-nonconforming child, sent a letter to the library complaining about the book. The library, however, has refused to remove it on the grounds of intellectual freedom. 
"I sent this letter to Ottawa Public Library along with 204 signatures about the transphobic book, Irreversible Damage, by Abigail Shrier in their circulation. Their response is attached. Selecting material is NOT neutral and 'intellectual freedom' is different than hate speech," the trans-identified woman, Elm Klemic, complained on Twitter. 
"As somebody who identifies within the trans spectrum and as somebody who has a trans child as well, it hit close to home and I was really outraged about it," Klemic told CTV News. "The main theory in this book is that trans youth don't know themselves, and can't, shouldn't be allowed to transition."
The news outlet also interviewed a program manager from the Ottawa Public Library who said the institution investigated the complaint and decided not to remove the book just because the ideas in it are unpopular among some. The library already has a waitlist of 30 people who want to read the book, the program manager added. 
In response to the backlash in Canada, Shrier described the alarming shift in norms in the culture — that the baseline expectation today is that unpopular ideas and speech must be censored and resisting calls for censorship is what is seen as surprising. 
"And it isn't only the activists who are pushing for censorship — but journalists — journalists! Those whose life's work depends on a culture of free expression," Shrier wrote on Substack. 
Amazon, which said earlier this year it wouldn't sell books on its platform that frame LGBT identity as a mental illness, reviewed Shrier's book and found that it did not violate its content policy. Amazon, however, subsequently banned Ryan Anderson's 2018 book When Harry Became Sally: Responding to the Transgender Moment.
Before Shrier's book was released last year, the online retail giant prohibited her publisher from purchasing ads to promote the book.  
The Irreversible Damage author recounted Thursday an exchange she had with a Seattle Times reporter who reached out to her for comment after a single Amazon employee accused the book of being "hate speech." The Seattle Times journalist reportedly asked her: "Well ... I see 'contagion,' 'epidemic,' don't you think that tends to diagnose [transgender-identifying people with a mental illness]?"
"Are you seriously going to pull out random words from my book?" Shrier replied, adding that those words refer to social phenomena such as peer-to-peer fads and trends. 
Irreversible Damage explores how, for the first time in approximately 100 years in clinical diagnostic history, the predominant demographic of people with gender dysphoria is teenage girls. Until recently, the extremely rare condition was seen almost exclusively in young boys.
Teenage girls today do not have traditional gender dysphoria, the book argues, and have gotten mired in an internet-fueled peer contagion, a thesis that dovetails with a 2018 study from public health researcher Lisa Littman.  
"What happened to us — as thinkers, journalists, Americans? Our commitment to free expression, codified in the U.S. Constitution's very First Amendment, once webbed American culture like tree roots through the earth. Now it strikes us as so much useless netting," Shrier posited.