American Atheists President David Silverman Fired After Sexual Misconduct Allegations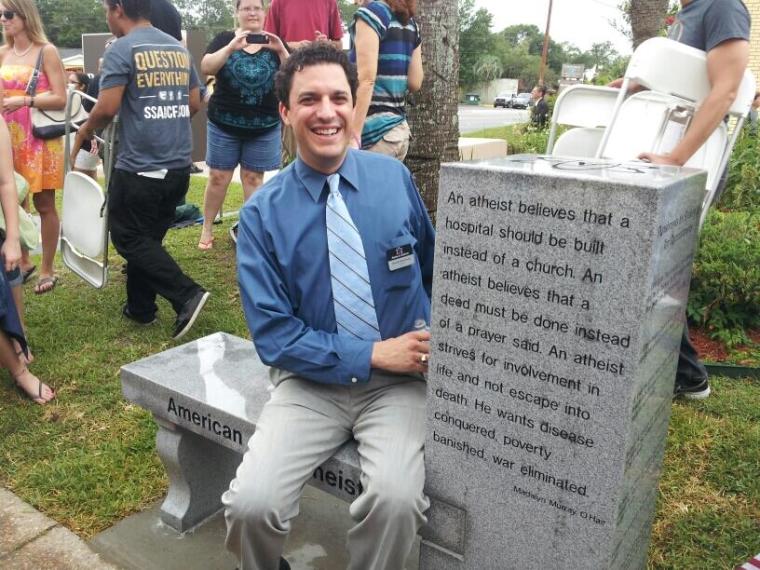 American Atheists President David Silverman has been fired from his position at one of America's largest secular organizations after sexual misconduct allegations against him came to light.
Silverman, who was temporarily suspended earlier last week, was terminated on Thursday by the American Atheists Board of Directors, according to an update on the group's website on Friday.
"The board of directors has reviewed internal documents and communications related to the initial complaint as well as evidence relating to the additional allegations brought to the board's attention. Today's announcement is based on these findings, and the board intends to cooperate with any future investigations," wrote Neal Cary, chair of the American Atheists Board of Directors.
"American Atheists is committed to creating and maintaining an environment that is safe and welcoming to all. Based on the allegations made, and the evidence presented, the Board believes it is prudent and necessary to reaffirm that commitment and move forward with new leadership," it added.
Nick Fish, national program director of American Atheists, confirmed in a conversation with Hemant Mehta of The Friendly Atheist blog that there were two separate sexual misconduct allegations against Silverman dating back to 2012 and 2015.
An article by BuzzFeed News on Friday expanded that those cases included an incident at the end of the 2015 American Atheists' Convention in Memphis, Tennessee.
A woman, identified only by the initial "R," says that Silverman flirted with her throughout the evening. At one point, the now-former American Atheists' president asked her to join him in smoking marijuana on the roof, but before they could leave the room, she says that he forced himself on her.
"He physically pressed me to the wall and began to kiss me forcefully, grabbed my breasts, and put his hand into my leggings ...," the woman wrote in her complaint.
Another sexual assault allegation involved an undergraduate student attending the annual Secular Student Alliance convention in Columbus, Ohio, in 2012. The student, Rose St. Clair, says that she was invited to go to a bar with speakers from the conference, including Silverman.
Clair says that she got drunk, after which he pressured her into going to his hotel and having sex with him.
Responding to the allegations of sexual assault, Silverman's lawyer, Sebastian Ionno, told BuzzFeed: "Mr. Silverman denies any wrong doing and has never had a non-consensual sexual encounter."
Ionno also clarified that Silverman and his wife were in an open marriage at the time.
Fish told Mehta that the American Atheists board already "had reason to believe Silverman had violated a confidentiality agreement, conflicts of interest policies, and staff management guidelines" before they received statements from two women claiming misconduct. The culmination of the evidence led to Silverman's firing, he explained.
The secular group is famous for putting up billboards in cities across the United States around Christian holidays such as Christmas and Easter, urging people to "skip church," or arguing that God is a myth.
Some social commentators, such as Catholic League President Bill Donohue, who says that he debated Silverman on a number of occasions, urged American Atheists to offer more information about the incidents that led to Silverman's firing.
"Why is the board of directors of American Atheists refusing to offer any details about Silverman? Whatever happened to transparency? American Atheists has been quick to pounce on the Catholic Church for holding back information about wayward priests. Why the double standard?" Donohue asked.
"I debated Silverman several times and always found him to be intellectually shallow and mean-spirited. But I had no idea that he was this bad," he added.