American Bible Society Names Ex-Wycliffe CEO as New President Months After Fallout Over Dismissal of Doug Birdsall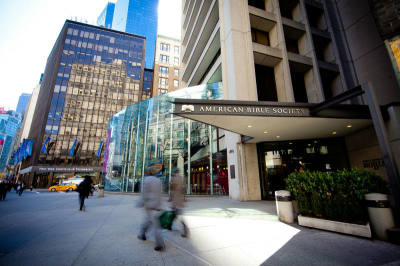 The American Bible Society has named a new president and CEO, months after an apparent fallout among Pastor Timothy Keller and other evangelical Christians over the dismissal of the NYC-based nonprofit's previous president, Doug Birdsall.
"We are thrilled to welcome Roy Peterson to American Bible Society," said American Bible Society Board Chairman Pieter Dearolf in a press release. "Roy's decades-long leadership in Bible translation and depth of experience will serve him well as he helps lead American Bible Society into our third century of ministry."
Peterson, formerly president and CEO of Bible translation ministry The Seed Company, will be taking on the new position in February. Peterson, who also previously served as president and CEO of Wycliffe USA and has been commended for his work in Bible translation, shares three children with his wife, Rita.
"American Bible Society's history and influence in the world of all-things Bible cannot be overstated," said Peterson. "I am looking forward to joining this dynamic organization, especially within this historic moment for Bible mission."
ABS's previous president, Doug Birdsall, was let go just six months after being welcomed aboard the 197-year-old organization. Birdsall's sudden dismissal came in October, while he was to be inaugurated in November. Instead, the former Lausanne Movement Chief Executive said he was "mysteriously" called to a law office and told he was being dismissed. He reportedly declined severance pay due to lawyer's fees and in hopes of avoiding "an ugly fight."
There was no fight, at least publicly, but some of Birdsall's friends and supporters, among them Redeemer Presbyterian Church pastor and author Timothy Keller, issued a letter lashing the ABS for its "perplexing" and "grievous" action. The signers of the letter include Keller, Mr. Bob Doll, Terry Douglass, Mr. Peter Ochs, and several other organization leaders.
At the time, ABS Board Chairman Pieter Dearolf said there had been "significant differences" between the board and Birdsall, which the latter affirming the clash of differences in an initial statement regarding his dismissal.
Dearolf issued his own letter in response to Keller and company's, however, calling for an agreement to avoid disrespect of the organization and the Birdsalls.
"As in the book of Acts, it is clear that even those with the best of intentions and faithfulness simply do not always agree," read Dearolf's response. "It has been and continues to be our hope that neither Doug and Jeanie nor American Bible Society would be disrespected in this separation of service. Our prayer is that we can all agree on this. The wider reach of global Christian mission continues to be our shared goal."
The American Bible Society, founded in 1816, states that its mission is "to make the Bible available to every person in a language and format each can understand and afford, so all people may experience its life-changing message."