American Missionaries Found Brutally Murdered in Jamaica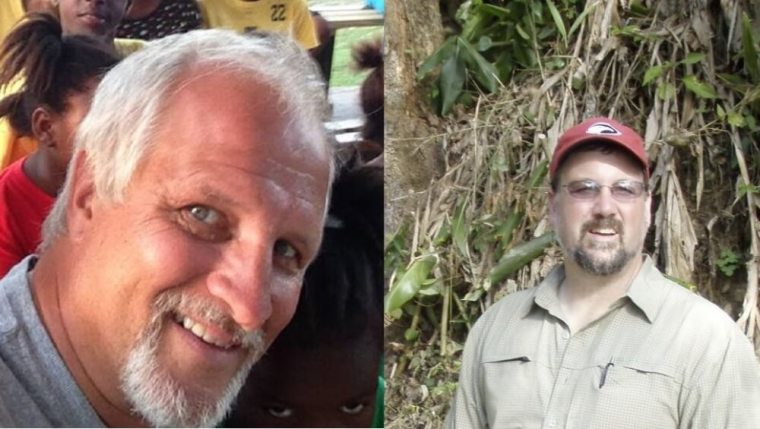 At about noon on Saturday, shocked residents of the Boscobel, St. Mary community on the Caribbean island of Jamaica stumbled upon the bound and lifeless body of missionary Randy Hentzel, 48.
On Sunday, at about 4 p.m., they found the body of Hentzel's colleague, missionary Harold Nichols, 53. His head was reportedly bashed in.
The last time anyone saw them alive, according to the Jamaica Observer, was on Saturday morning when the two men, who worked as missionaries for Pennsylvania-based TEAMS for Medical Missions, were heading out on a trail in the Albion Mountain area of the island. Police say they rented motorcycles in Ocho Rios prior to the fateful trip.
Nichols' wife, Teri, who has been living on the island with her husband, told RJR News that he left to visit the work site for a house he planned to build for a woman in a week. Hentzel tagged along, she said, to check on a woman in his Bible college.
"He's building a house for a woman in a week. And he went to check to see if the foundation was finished and to check on the woman it was being built for," said the grieving widow. "I believe Randy wanted to take care of somebody that was in his Bible college who was in dire need of a house. They were gonna go look at her situation yesterday (Saturday) morning. They went and they just never came back."
Fellow missionary Merlin Pratt backed up Teri's story in a reaction on Facebook.
"Tragic News from Jamaica. Our beloved friend and fellow missionary Harold Nichols and fellow Missionary from Teams for Medical Missions, Randy Hentzel, were murdered yesterday in the mountains of St. Mary Parish. They were on their way to check on the foundation of a house soon to be built for Jamaica's poorest of the poor," Pratt wrote. "Please pray for Harold's wife, Teri Marie Nichols, and Randy's wife, Sarah, and three children. Harold and Randy were both great men of God who just loved Jamaica, her people and serving the Lord Jesus Christ. May the Peace of Christ surround the families, the communities and the church. We are thankful that other missionaries are nearby and offering what then can in this awful time."
Deputy Superintendent of Police Dwight Powell told the Observer that Hentzel's body was discovered face down with his hands tied with a piece of cloth they think was ripped from his shirt. One of the rented motorcycles was found beside his body. The second motorcycle was found about 60 meters away from Hentzel's body. But Nichols was missing.
With the help of some 70 residents and search dogs, police launched a frantic and somewhat hopeful hunt for the beloved missionary at about 7 a.m. on Sunday morning but their hopes were dashed when they discovered Nichols' battered body several hours later.
"Marks of violence were seen (on Nichols' body) .... These persons are missionaries and they would have been in Jamaica for over 14 years doing a lot of humanitarian work. They were assisting people with houses and with a regular medical team that comes down from abroad," Superintendent Powell told The Gleaner.
According to the TEAMS for Medical Missions website, the ministry began in 1990 through the vision of Pastor John Jameson and physician John M. Kauffman Jr. as an effort to provide healthcare for the poor in the rural Robin's Bay area of the island. As the years went by, however, the effort expanded to providing free healthcare in government clinics and local churches in other towns.
Missionaries also engaged in Christian evangelism in addition to ministering to the physical needs of the poor. They recently added the house construction and repair program which benefited many people, according to the Jamaica Observer.
"They have Bible study at their homes; every day the children go there," a political representative for the Boscobel Division, Fitzroy Wilson, told the Observer. "I have been working with him (Nichols) for the past six to seven years."
"We have three houses now that we are working on, and just [last] Tuesday we had a meeting," Wilson recalled. A mission team was expected to travel to the island in a week to help with that effort.
The Christian Post reached out to TEAMS for Medical Missions for comment on the murders on Monday but no one picked up at the number listed on their website. On their Facebook page, the organization posted a somber statement late Sunday night.
"On Saturday, April 30, Harold Nichols and Randy Hentzel, two of our missionaries in Jamaica were murdered. We do not know who would do this or what their motivation was. These men greatly loved the people of Jamaica and were greatly loved in return. TEAMS for Medical Missions remains committed to serving the people of Jamaica and demonstrating the unconditional love of Christ. Our T4MM family is grieving and we covet your prayers. We serve an amazing God who is able to bring beauty from ashes and it is in Him that we put our trust," it said.
Joshua Polacheck, a representative of the U.S. Embassy in Kingston, Jamaica, called the deaths of the missionaries "horrible" and said they were looking forward to swift justice.
"We are saddened by the horrible deaths of the two American missionaries. They're not just visiting, but have been pillars of both communities for years," said Polacheck. "The ambassador has been in contact with the highest levels of the Jamaican security apparatus, and we are hoping for a speedy resolution to this matter and that the killers are found and brought to justice."