Americans' Acceptance of Sexual Immorality Growing, Gallup Finds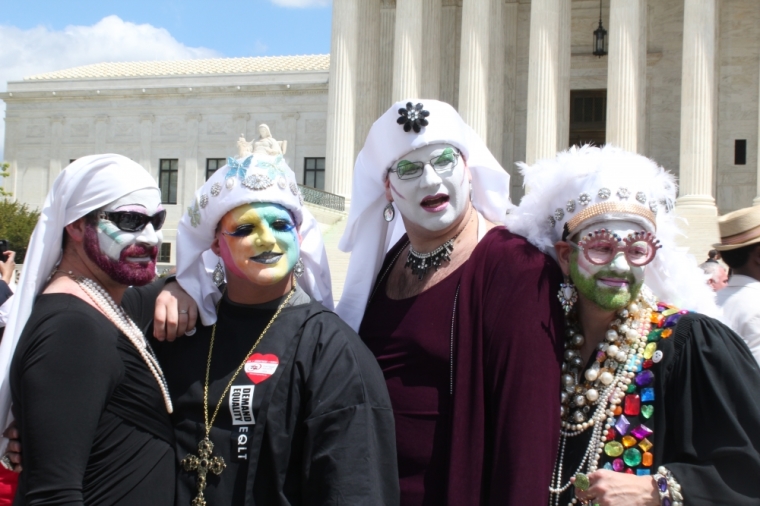 Americans' acceptance of sexual immorality is growing, according to a Gallup report.
When asked about the moral acceptability of a range of issues, five of the top six issues that saw an increase in acceptability were related to sexual morality.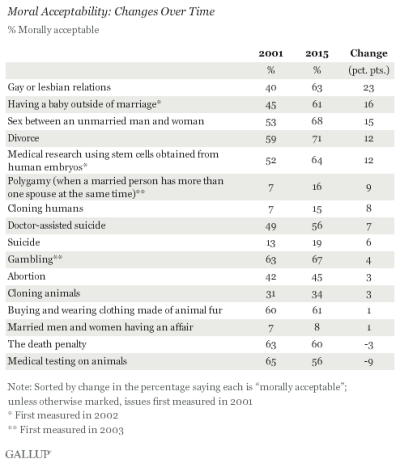 The largest increase in moral acceptability from 2001 to 2015 was for homosexual relations, which increased 23 percentage points, from 40 to 63 percent. That was followed by having a baby outside of marriage (45 to 61 percent), heterosexual sex outside of marriage (53 to 68 percent), divorce (59 to 71 percent) and polygamy (7 to 16 percent).
Also in the top six for increase in moral acceptability was medical research using stem cells from human embryos, which increased 12 percentage points, from 52 to 64 percent.
Views on the moral acceptability of abortion did not change. From 2001 to 2015 the percentage of those saying abortion is morally acceptable went from 42 to 45 percent, which is within the poll's plus or minus 4 percentage point margin of error.
Only two issues that were asked about saw a decrease in moral acceptability. The death penalty went from 63 to 60 percent (within the margin of error) and medical testing on animals went from 65 to 56 percent.
Another recent poll found support for same-sex marriage at an all time high for Gallup. Sixty percent said same-sex marriages should be legally recognized while 37 percent were opposed.
An August 2014 study found that Christians who support same-sex marriage are more likely to support other types of sexual immorality, such as premarital cohabitation, "no-strings-attached" sex, abortion and viewing pornography.
The increased acceptance of sexual immorality also tracks with an increase in those identifying themselves as socially liberal. The percentage of those who say they are social liberals is now the same as those who say they are conservative on social issues (31 percent), according to Gallup.
"This liberalization of attitudes toward moral issues is part of a complex set of factors affecting the social and cultural fabric of the U.S. Regardless of the factors causing the shifts, the trend toward a more liberal view on moral behaviors will certainly have implications for such fundamental social institutions as marriage, the environment in which children are raised and the economy," Frank Newport, editor in chief for Gallup, wrote.
"The shifts could also have a significant effect on politics, with candidates whose positioning is based on holding firm views on certain issues having to grapple with a voting population that, as a whole, is significantly less likely to agree with conservative positions than it might have been in the past."
The recent poll, conducted May 6-10, had a random sample of 1,024 adults living in the United States.