America's First Openly Bisexual Governor Bans Gay Conversion Therapy in Oregon, Ex-Gay Group Calls Bill 'Child Abuse'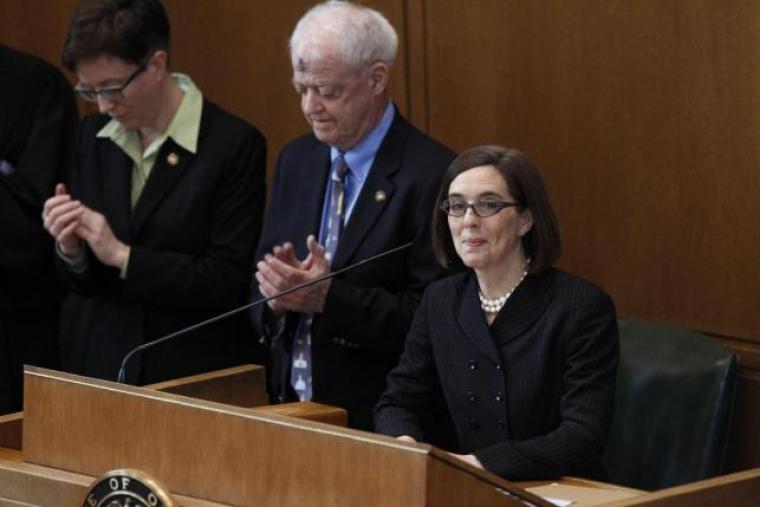 Oregon became the third state in the United States to ban gay conversion therapy, a practice that has attracted much debate. Democratic Gov. Kate Brown signed the bill into law earlier this week, though an ex-gay group has protested and called the bill "child abuse."
CNN reported on Wednesday that the bill signed by Brown, the first openly bisexual governor in the U.S., will block therapist from offering conversion or reparative therapy on individuals who are younger than 18. Laws against the practice have also been made in California, New Jersey, and Washington D.C.
While the American Psychological Association has supported such bans, arguing that there's a lack of evidence to show that the therapy has positive effect, groups such as Parents and Friends of Ex-Gays & Gays, have said that the practice is needed for youths who have unwanted same-sex attractions.
"Not only is withholding talk therapy from minors who are seeking help, a violation of individual rights and self-determination, it's also dangerous," Regina Griggs, PFOX executive director, said earlier this month in a statement titled "Therapy Bans Are Child Abuse," after news came out that Oregon's Senate had voted 21-8 in favor of the bill.
"No one should be forced to live with or accept unwanted same-sex attractions when talk therapy is available to help the individual overcome unwanted feelings. Children who have been sexually abused keep the abuse a secret. Through talk therapy, children feel free to confide in a therapist who can walk and talk them through the horror and, in some cases, bring the abuser to justice," Griggs continued, in the statement that was shared with The Christian Post.
"Why would anyone want a child to live in silence about their abuse? Perhaps that's the question for those seeking to deny a child's right to receive help. Our society should allow every child and every person the freedom to live their life in accordance with their personal beliefs and faith."
President Barack Obama has agreed with such bans, however, and said that scientific studies have shown that conversion therapy can be harmful.
"The overwhelming scientific evidence demonstrates that conversion therapy, especially when it is practiced on young people, is neither medically nor ethically appropriate and can cause substantial harm," Obama's senior adviser Valerie Jarrett said in April.
"As part of our dedication to protecting America's youth, this administration supports efforts to ban the use of conversion therapy for minors."
Efforts have also been made by Democratic Congressman Ted Lieu, representative of California's 33rd District, to ban the practice on a federal level.
Lieu introduced the "Therapeutic Fraud Prevention Act" on Tuesday to the U.S. House, arguing that conversion therapy is "incredibly expensive" and a "dangerous scam."
Some, such as David Pruden, executive director of the Alliance for Therapeutic Choice and Scientific Integrity, have argued, however, that opponents often provide "misleading" descriptions of conversion therapy.
"We believe that the personal and intimate conversations that take place in the confidential setting of a licensed professional counselor's office cannot become an excuse for politicians or policy organizations to push their way into the private lives of individual Americans," Pruden told CP in April.