Anglican Leaders Describe Pope Benedict as a 'Great Theologian' as Catholic Head Announces Retirement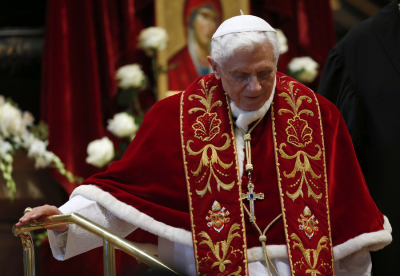 The new Archbishop of Canterbury, the Most Reverend Justin Welby, has reacted to the news of Pope Benedict XVI's resignation with a "heavy heart."
He praised the 85-year-old Pope as someone who had held office with "great dignity, insight and courage."
"As I prepare to take up office I speak not only for myself, and my predecessors as Archbishop, but for Anglicans around the world, in giving thanks to God for a priestly life utterly dedicated, in word and deed, in prayer and in costly service, to following Christ," said Welby.
"He has laid before us something of the meaning of the Petrine ministry of building up the people of God to full maturity."
The Archbishop said he was praying God would bless the Pope "profoundly" in retirement with health and peace of mind and heart.
"And we entrust to the Holy Spirit those who have a responsibility to elect his successor," he added.
The Archbishop of York, Dr John Sentamu, said the Christian world would will "miss a great theologian with great spiritual depth."

"We should remember Pope Benedict communicated the revelation of God in a characteristic way as a true successor of St Peter," he said.
"He was unafraid to proclaim the Gospel and challenge a culture that is so self-referential, managing to lift our eyes to God's glory.

"Let us all lift our eyes to the glory of God, embracing his love and care for this world."