Anglican Priests Kneel Beside Muslims in Prayer at Canadian Church Doubling as Mosque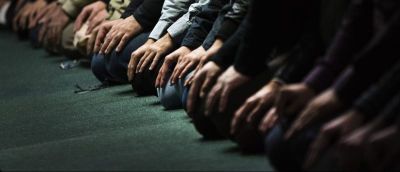 An Anglican church in Canada has also been operating as a mosque in an effort to be more welcoming to Syrian refugees in the municipality of Leamington.
As CBC News reported, St. John the Evangelist Anglican Church has allowed the local Muslim community to set up a mosque on its grounds. Some priests have even decided to kneel in prayer beside the Islamic faithful.
Community member Taha Halabi said that the church and the mosque can serve as examples for others.
"We tried to show the community in Leamington, and everywhere in Ontario, that Muslims and Christians are hand to hand," Halabi said.
The Rev. Andrew Wilson offered the church as a space for the Muslim community back in September, as the latter had been renting a small location that was not big enough for its needs.
Hundreds of Muslims attended the mosque within the church during the Islamic holy month of Ramadan, which started in late May, and 30 to 40 people regularly join for Islamic prayers now.
Najam Jutt, who helps lead the prayers at the mosque, said that he has heard of "many other churches and mosques" that are also sharing locations and helping each other out.
"We absolutely love it," Jutt said. "It highlights how we all work together for a common cause."
St. John the Evangelist parishioners have reportedly welcomed the Muslims, with Charlotte McDonald, who has been going to services for 50 years, stating:
"We cannot gain peace in this world, until we can live together with one another in one community."
McDonald added, "That's just reaching out and saying here we are together — brothers and sisters of this earth, regardless of religion, creed, color, it doesn't matter."
Some conservative Anglicans have in the past strongly criticized efforts to allow Islamic worship inside Christian churches, however.
The Rev. Dr. Gavin Ashenden, the former chaplain to Queen Elizabeth II, resigned from his position back in January following a service at St. Mary's Episcopal in Glasgow where the reading of a passage from the Quran denying that Jesus is the Son of God was allowed.
The cathedral said at the time that it invited local Muslims to worship as part of efforts to improve relations between Christians and Muslims in Glasgow.
"There are things we should not tolerate because they are destructive," Ashenden said at the time, according to The Telegraph.
He pointed out that Christians are "suffering dreadful persecution at the hands of Muslims," and warned that the denigration of Jesus in Christian worship could be considered blasphemy.
"To have a reading from the Koran at that point was a fairly serious error for the Christian worshiping community, but to choose the reading they chose doubled the error. Of all passages you might have read likely to cause offense, that was one of the most problematic," Ashenden argued.