Anglicans Donate Nearly $1M to Fight Gay Marriage in Australia, Warn of 'Irreparable Consequences'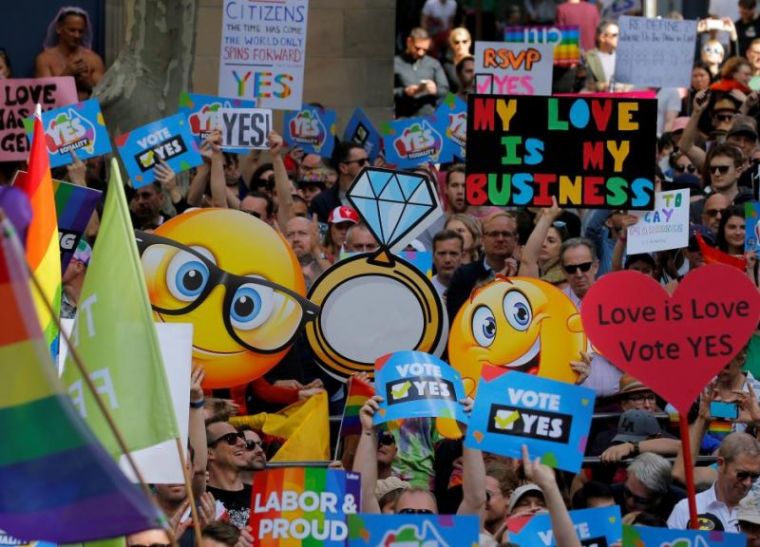 The Anglican Diocese of Sydney has announced a donation of $780,000 (A$1 million) to defend traditional marriage in the midst of a postal ballot vote on the legalization of same-sex marriage, warning of "irreparable consequences" for society.
Archbishop Glenn Davies used his presidential address ahead of the 500 year anniversary of the start of the Reformation to talk about the nonbinding, voluntary poll, which according to the Bureau of Statistics has garnered 10 million votes so far.
"Brothers and sisters, the stakes are high and the cost is high. Yet the cause is just and it is a consequence of our discipleship to uphold the gift of marriage as God has designed it — a creation ordinance for all people," Davies said.
"I believe that a change in the definition of marriage is unwarranted, not just because it is in opposition to the teaching of Scripture and our Lord himself in Matthew 19, but because I believe marriage, traditionally understood as a union of one man and one woman, is a positive good for our society, where marriage and the procreation of children are bound together as the foundational fabric of our society, notwithstanding the sad reality that not all married couples are able to conceive," he continued.
Davies further warned of "irreparable consequences for our society, for our freedom of speech, our freedom of conscience and freedom of religion" if Australia is to legalize gay marriage.
The Anglican Diocese is a founding partner of the Coalition for Marriage, the Australian group urging citizens to vote "no" on redefining marriage that will be decided after voting ends on Nov. 7. The Roman Catholic Archdiocese of Sydney, Marriage Alliance and the Australian Christian Lobby are other major partners in the coalition, along with 80 other organizations.
Executive director of the Equality Campaign, Tiernan Brady, who is advocating for a "yes" vote on gay marriage, told The Australian about the large donation: "We've always known opponents of 'equality' have radically outspent the yes side."
Brady added: "But what they have in buckets of cash, we make up with in hundreds of thousands of Australians making the case for a fairer, more just and inclusive society."
As The Australian reported, however, Qantas' CEO Alan Joyce has personally donated $1 million to the same-sex marriage campaign.
Churches and campaigners in Australia opposed to gay marriage have complained that they are being mocked by society and branded as "bigots" for their views.
Coalition for Marriage advocate Jon Malota said in September that "a lot of 'no' voters are keeping their opinions to themselves."
Malota argued that despite projections that "yes" campaigners are winning, the vote will be closer than many believe, because "people are really sick of being pushed an agenda."
Pastor Phil Pringle of My C3 Church in Sydney separately told his congregation that it's "entirely reasonable and not bigoted or intolerant to publicly support marriage between a man and a woman as a continuing good for society."
Bruce Clarke, senior minister at St. Matthews Anglican Church in Manly, said that Christians should not seek to "shame or bully people on this issue," but also talked about the dangers of voting to redefine marriage: "History has shown from other western countries such as Canada and Britain that legalizing same-sex marriage has eroded both religious rights and freedom of speech for people of various backgrounds."