Anne Graham Lotz Event Draws 500,000 in India; Multitudes Accept Jesus as Savior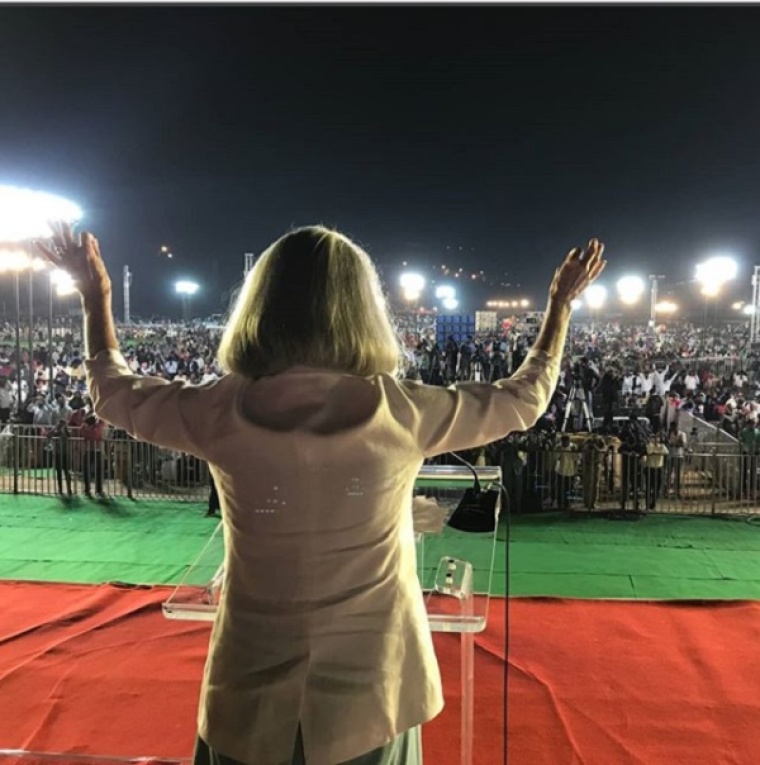 Evangelist Anne Graham Lotz drew close to 500,000 people at a prayer event in India earlier this month. And at a separate gathering of 10,000, almost "every hand" went up when people were asked if they want to receive Jesus Christ as Savior, her ministry reported.
According to Vicki Bentley, a member of AnGeL Ministries Board who traveled with Lotz to India, there were advertisements all over the city of Hyderabad for the second annual "National Day of Prayer," which Lotz was a speaker at. 
Local organizers helped put together the large gathering, with thousands of people arriving on trains, buses, and other forms of transportation from the countryside as well.
AnGeL Ministries noted that according to police estimates, as many as 500,000 people in total attended the prayer call.
"Anne preached on Daniel the prophet. She explained from Daniel 9 that 'one man, who knew God and prayed, moved heaven and changed a nation.' Then she challenged those present to pray as Daniel did," Bentley recounted.
"As far as the eye could see and beyond, people cried out to heaven, agreeing together as Anne led in prayer for personal and national revival."
The Hindu website also reported that "five lakh believers," which is equal to 500,000 people, were expected to attend the State and National prayer meeting on January 5.
The meeting was organized by the Christian Council of Telangana, which brought together bishops from different denominations, including the Roman Catholic Church, Church of South India and Methodist churches.
On another day, Lotz joined a worship gathering in the countryside, where over 450 churches had participated.
"Over 10,000 crowded inside an open air tent with thousands more outside, all listening with rapt attention as Anne shared from John 14: Hope for the New Year. Young and old, male and female, children and adults, all sat quietly, taking in every word," Bentley described.
"When the invitation was given to place their faith in Jesus as Savior a virtual sea of hands went up. It looked as though every hand in the audience was raised. Many came into the kingdom for the first time while many others were renewed in their sure hope."
The minority Christian faith has continued growing in India over the past several years, but they have faced significant persecution at the hands of Hindu radicals.
Persecution watchdog group Open Doors ranked the country as the 11th worst place in the world for Christians in its 2018 World Watch List.
Samuel and Benida, two underground Christian ministry leaders from New Delhi, recently told The Christian Post that Prime Minister Narendra Modi's Bharatiya Janata Party seeks to make sure the country remains a "Hindu nation."
Christian pastors have been beaten when suspected of converting Hindus to the faith, churches have been burned down, while Hindu fundamentalists, emboldened, Samuel shared.
"The fundamentalists used to come to church just to disturb the worship services. Now, when they come, they not only just disturb the worship service, they beat up the pastor very severely. Even women and children, they beat them up, even older people," he told CP.
"There are many, many incidents that have happened where there are attackings on the pastors and people, they always attack on their head so that it will have a maximum impact on their life. If they don't die, at least they won't live a normal life."