Apologist Nabeel Qureshi, Author of 'Seeking Allah, Finding Jesus,' Dies at 34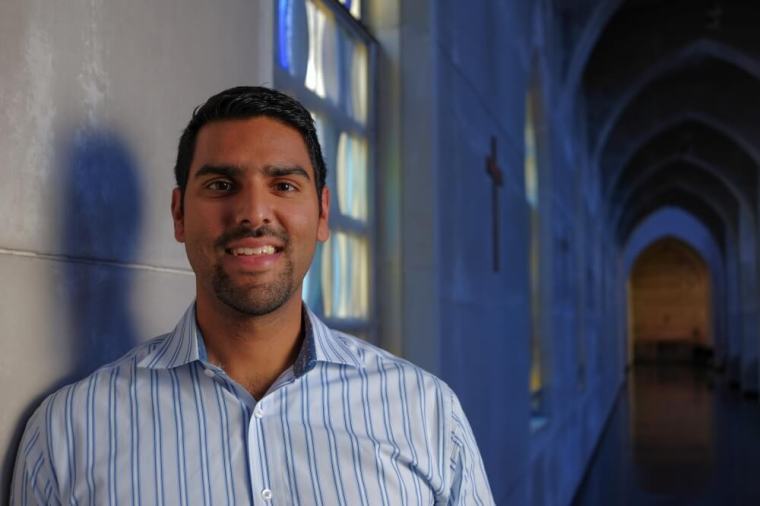 Apologist and author Nabeel Qureshi, who said last week that doctors believed his body had entered the "final stages of life," died Saturday at the age of 34. He was a Christian convert from Islam and served with Ravi Zacharias International Ministries until he was diagnosed with advanced stomach cancer last August.
"Nabeel Qureshi, your eyes will now see and your hands will now touch that which is the only Real estate," Ravi Zacharias tweeted Saturday.
Qureshi, a U.S. citizen who was born to Pakistani immigrants in California, is survived by his wife, Michelle, and a daughter, Ayah.
"Our dear brother in Christ Nabeel Qureshi went to be with the Lord following a year-long battle with cancer," RZIM said in a statement Saturday. "We received this news with deep sadness and yet profound hope, confident that he is finally and fully healed in the presence of his Savior."
The statement added, "We know this is Nabeel's gain, but a tremendous loss for all those who loved him and were impacted by his life and testimony on earth."
On Aug. 24, a public Facebook celebration of "Nabeel's 12th spiritual birthday" was held to mark the day he received Christ as his Lord and savior. It was last Aug. 24, Qureshi's 11th spiritual birthday, that he found out he had cancer.
Qureshi's parents, who were from the Ahmadi sect of Islam, fled religious persecution in Pakistan. Qureshi began to think about Christianity in August 2001, when he saw a fellow student at Old Dominion University in Norfolk, Virginia, reading the Bible in his free time, according to a blogpost by Justin Taylor, the executive vice president of book publishing and book publisher for Crossway.
Qureshi challenged his belief and began discussing the claims of Jesus and the Bible. Years later, Qureshi began to see the reliability of the New Testament.
"I began mourning the impact of the decision I knew I had to make," Taylor quotes Qureshi as saying in an earlier article. "On the first day of my second year of medical school, it became too much to bear. Yearning for comfort, I decided to skip school. Returning to my apartment, I placed the Qur'an and the Bible in front of me. I turned to the Qur'an, but there was no comfort there. For the first time, the book seemed utterly irrelevant to my suffering. Irrelevant to my life. It felt like a dead book."
Last week, Qureshi released a video blog while laying in a hospital bed, saying, "I Wanted to give you a quick update of where we are — not the best news. The doctors have pretty much given up on treating me. They think my body is in its final stages of life. So, they have suggested palliative care and that's what we are doing."
Qureshi had been hospitalized for over a month and had his stomach removed due to severe bleeding. He explained in a previous update that cancer had also spread to his liver.
He was released from the hospital in late August but had to be evacuated from his Houston-area home back to a hospital due to the severe flooding caused by Hurricane Harvey.
In his update from the hospital, Qureshi said that he wanted to share the dire news about his health because he needs people to pray for him and his family going forward.
"If there is something that I am kind of wrestling with through all this is its where does my faith need to be verses I, as a believer, and a real person, where can I actually find my faith? In other words, do I need to perform? Do I need to say I am going to have this level of faith right now?" Qureshi asked. "Honestly, I don't think so. I think God understands where I am right now and He comes along side us in that and He loves us and He gives us His strength."
In another update, he said, "I have noticed at times that people will take the information that I share and use it to undercut one another. That has not been my intent. My whole point in teaching is for love to reign. So, as you consider my ministry, I hope it leaves a legacy of love, of peace, of truth, of caring for one another. That is my hope and my purpose behind this. If at any point I have said anything that seems to contravene that, I do apologize and I hope that is not the legacy that I leave behind."
He also said, "I am contending for healing. I am asking God to heal. I believe with all my heart that God has the power to heal in the blink of an eye. But, my faith in God isn't shaken by whether or not He will heal me. I will believe in God no matter what. I trust him. He is sovereign and I love him."