Apple to Roll Out Its Largest Ipad Ever, 12.9''; Will This Help Declining Sales?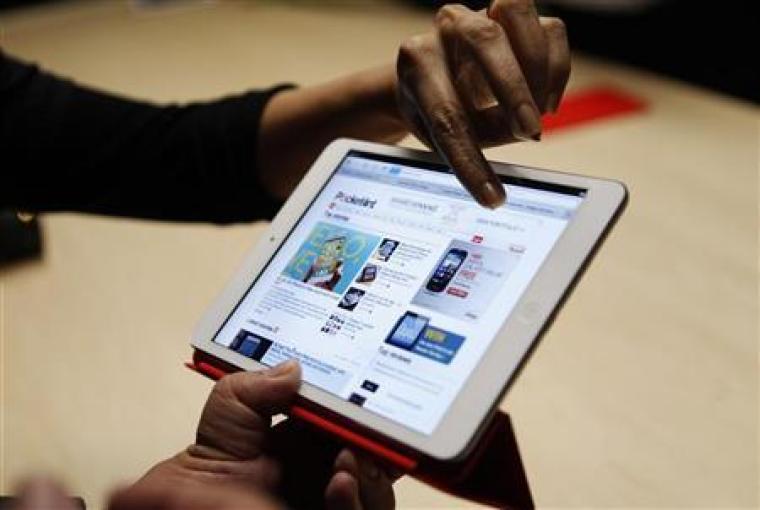 In response to declining sales, Apple is preparing manufacturers to begin producing parts for a new iPad that will measure 12.9 inches.
Apple has been working with suppliers for over a year on production of the new iPad that could be on shelves in the first quarter of 2015, sources said according to Bloomberg. The iPad Pro (as it is tentatively named) will look to bolster Apple's performance in the tablet market.
Apple currently offers iPads in 9.7 and 7.9 inch models. Apple CEO Tim Cook wants to revamp the iPad line, which has seen a decline in sales in the past two years. A lack of newer products on the line and users opting for smartphones with bigger screens have attributed to the decline.
It is not clear whether adding to the screen size will help Apple's woes in the tablet market. Google's Android system became the world's top tablet operating system last year earning 63% of the market. Google has been steady in producing smaller screened, least expensive tablets. Apple consumers are also replacing their iPads less, either out of not having the necessity to do so or due to the fact that the last two generations of iPad is not impressing folks with iPads already.
With the release of Microsoft's Surface Pro, which aims to offer the best of both the tablet and laptop worlds, Apple might enter that market as well. Apple is reportedly getting ready to introduce their new iPhone that will feature a 4.7 and 5.5 inch version.