AR Bernard on how the black church informed the fight for freedom and equality in America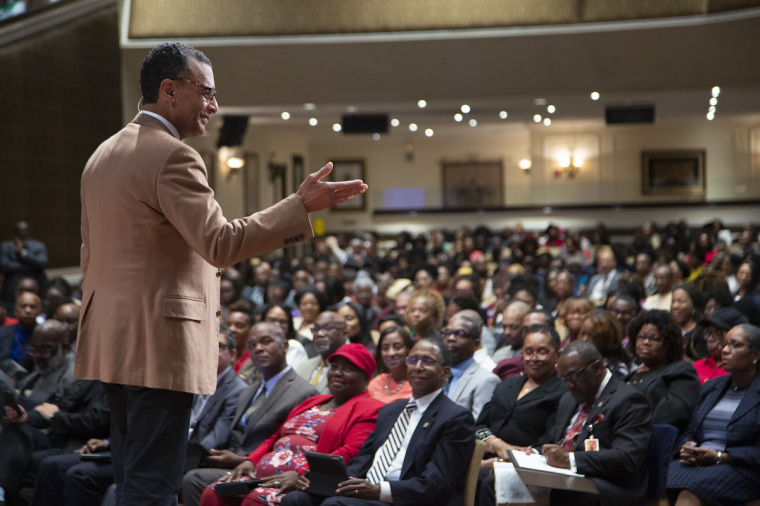 Center of the black community 
The father of seven sons asserted that the black church became the center of the black community following slavery. 
He referenced sociologist W.E.B. Du Bois who said that the construction of the black church building was the first form of economic cooperation among black people during Reconstruction as they began building churches. 
In the "13th century, Europe began to build cities and communities around the church as central," Bernard noted. "The black church was that primary stable institution. In fact, the black church was the womb that gave birth to black schools, black banks, black insurance companies, affordable housing for black people." 
"Black secular organizations came out of the black church," he added. "It nurtured black music, arts, entertainment, and it also became the center for the black community politically."
In his autobiography, legendary soul singer Ray Charles said his music style came from his gospel roots. 
"I became myself. I opened up the floodgates, let myself do things I hadn't done before, created sounds which people told me afterward had never been created before. … I started taking gospel lines and turning them into regular songs," he wrote.
Bernard said that the black church was also "instrumental" in elevating the status of women.
Because a preacher of the early black church was the most educated at the time, the Church gave people affirmation, power, acclaim, a sense of control, instruction and direction, he explained. 
"He was the voice, and that's why to this day, the black church still expects the pastor to opine on social issues, the issues that are affecting their community, especially the ongoing issues of race, race relationships and inequities within the society," the author of The Four Things Women Want added. 
"So they look to the black church that looks to the preacher to weigh in on those things."
The issue presents itself when blacks attend predominantly white churches, and the pastor shows a lack of empathy toward the experience of those persons of color, Bernard contended. 
"This has forced white pastors to say, 'Well, wait a minute. I've got people of color here. I've got to say something.' Unfortunately, many of them don't know what to say or how to go about it."
Bernard advised pastors in such situations to "get educated" about the issues facing their black congregants and "build relationships" so "that you can change that."
"Then there's some, who to the contrary, are not only showing a lack of empathy but supporting things that are detrimental to the black community and black life," he argued. 
Black lives matter 
Bernard said the last four years have "forced America to take a look" at some things that many thought had been overcome since Americans elected a black president. 
"The election of Barack Obama was an event, change is a process that we go through over time, and it has to be intentional," he said. "It has to be guided with wisdom and collaboration and humility and empathy. So those things are very important if we're going to see things move forward."
In the past, the pastor has said that he separates the term "black lives matter" from the organization that goes by the same name. Again, he reiterated that is because he does embrace the "idea that black life does matter." 
He said to most people, "black lives matter" means they want to "reaffirm black humanity" because what has been shown on television and the media is people of color being mistreated by those in power. 
"There are those who are trying to deny that there ever was a black holocaust or black enslavement like they're trying to deny the Jewish Holocaust," Bernard insisted. "So it becomes convenient to erase certain aspects of history when it forces you to have to deal with it. The frustration of blacks tends to translate into an aggression that's rooted in their alienation from the quality of life that they have seen, experienced historically, by the dominant white society." 
He said that, as Christians, "we embody this idea that man's brokenness and woundedness and our disordered way of thinking and living and being comes from our alienation from God."
"So we believe that reconciliation back to God begins to change that," Bernard continued. "Well, what is true in our theology is true in the black experience. When you have a people feeling they've been alienated from a quality of life, that alienation becomes the root for a certain aggression that comes out in different ways."
Bernard assured that he was not "making excuses" for violent uprisings and destruction "because there's still personal responsibility." But he said people should take into account the social factors that influence and shape people's experiences.
Misconceptions of the black community 
Again, he felt it necessary to stress that people must stop lumping all black people into specific categories. 
A 2021 survey reported that black adults from all religious backgrounds are strongly Democratic. But Bernard, who pastors a multicultural church, says that is not the case at all. 
"The first misconception and the biggest one that has always been a challenge for me is the notion in the minds of many white people and white society is that black people are monolithic. That's why I started out with that," he echoed.
"We're not! We are Democrats, Republicans, liberal, conservative, independents, centrists," he insisted. "There are some for abortion, some against abortion, some for Israel, some against Israel."
"To paint us with a broad stroke brush as though we are all the same is wrong, just like the white community is not monolithic. There's a great diversity within the white community and whiteness," Bernard added.
"Whiteness is not a color. It's a culture. And a culture is a set of beliefs, traditions, ideas, and values and customs that shape and form the identity of a people. Just like blackness is not just a color, it's a culture. We have to understand these things in order to move this conversation forward."
The second misconception the minister wanted to debunk concerning the black community is that black men are aggressive, angry and impulsively react in violent ways to external stimuli. 
"That is not true at all. We are very diverse in our personalities, just like any other race of people. You have some who are docile. You have some who are strong. You have type-A personalities — the whole spectrum. Painting us with a broad stroke brush is wrong," he exclaimed. 
"We have aspirations and dreams and desires like any other human being. I think it is common to every human being to desire the good because it was the good that we were moved away from when sin entered, and we were alienated from God. That good is something that all human beings desire."
After 42 years of shepherding Christians as a pastor, Bernard does not believe that churches need to be desegregated because "it's not legitimate." 
"The church should reflect its context," he emphasized. "So if it's in a very racially diverse community, I think the church should make an effort to reflect that community. If it's in a predominantly white community, then it's going to reflect that context because what are you going to do? Bus some black folks in and bus some Latino folks in to create this look? It's not authentic; it's not real!"
He also encouraged all churches to acquire new curriculum to help combat racism and classism.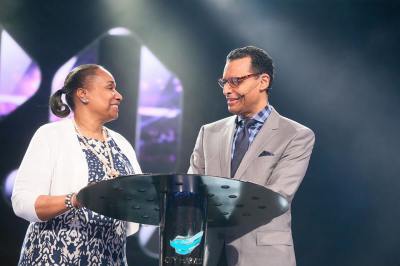 Married to his wife, Karen, for 50 years, the preacher has remained faithful to his union. He also addressed why black churches "tend to" be more forgiving toward their leaders who fall short in this area or have other moral failings. 
"Black people tend to be more forgiving and they've had to be considering the history that they've experienced here in America," he said.
"We could not get beyond the captivity of slavery and the injustice perpetrated against us if we continue to be angry, and hostile and bitter against those who perpetrated it. We could not be healed as a community. So based upon that experience, [we] have had to embrace the power of forgiveness.
"So we have been conditioned to forgive, sometimes to a fault," he admitted. "Consider that there are not many black leaders that we can look up to who champion our cause. So if there are not many black heroes and black leaders, we're not going to be quick to throw under the bus any of our black leaders because of some failing, because of some problem that may have been created or experienced in their leadership."
Bernard closed the interview by pointing to a verse found in Proverbs.
"A beautiful passage in Proverbs says, 'Hope deferred, makes the heart sick,'" he said, citing Proverbs 13:12. 
"That word sick is more than just disappointed or discouraged. It means that you get to a point after the deferral of hope; you get to a point where your tolerance is no longer a part of the conversation. You're demanding change and you're demanding it now."
He said that the passage "expresses the tone, the attitude, the feelings, the mindset of people of color" and "whites who are empathetic to the black experience." 
Bernard concluded that for equity to come about in the Church and society, people must continue to "make it difficult for extremists on left or right, black or white, to exist in this country without being held accountable."