Are Mormons Ditching Door-to-Door Missions to Evangelize Through Community Service Partnerships?
Are Mormons Ditching Door-to-Door Missions to Evangelize Through Community Service Partnerships?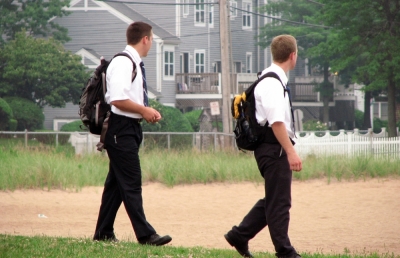 Mormon missionaries are breaking down their suit-donning, door-knocking stereotypes and replacing them with volunteering and charity work.
The community engagement efforts have come at a time when the Church of Jesus Christ of Latter-day Saints (LDS) leadership has publicly recognized that many Americans feel uncomfortable letting strangers into their homes and where some local missions have already discontinued "tracting."
One less forward strategy was suggested by the Mormon mission in San Jose, Calif., which proposed that its missionaries do two hours a day, five days a week of nonproselytizing community service. (Missionaries are required only to do four hours worth of community service.)
Realizing that this requirement would compel the LDS church to build partnerships with nonprofits, the mission created justserve.org, a website that enables individuals to find service opportunities.
"We met with a lot of nonprofit organizations," Randy Mack, who built the website, told The Salt Lake City Tribune. "We said, 'Here's what we are doing. If you have anything we could do, let us put these projects on our website.'"
The program has been well-received by both community members and missionaries, and has led to missionaries working at after-school programs, picking up litter, and helping out at a school for the deaf. After its inaugural year, it has expanded to Dallas and Denver.
"Because of their being involved with service, people love the missionaries. They are welcomed and get very positive responses — a much different response than knocking on doors," Mack said.
The idea has also been hailed by other LDS church lay members. Jonathan Stapley, a Mormon in Seattle, wrote on his blog last year that the mission status quo was both a fiscal and spiritual problem for Mormons.
"We have too many missionaries to do anything constructive with them under the standard program. It is a crisis and church leaders know it. It has sucked up the budget and everyone is trying to figure out what to do. It is the biggest logistical, budgetary and perhaps spiritual problem we have right now, and all the general leaders are talking about it because they want to find a solution," he wrote.
Peter B, a commenter on the site, said that a new model of missions would be a win for both the young and the people with whom they interact.
"The joy and fun of missionary work is interacting with people, exploring a new community, getting to know it inside out even if the tracting doesn't yield high returns, building relationships," he wrote.
The church has also said it would increasingly like to use the Internet and social media as a means of promoting its message. Last year, LDS leaders ran pilot programs in designated missions to enable missionaries to use the Internet "and digital devices such as ipads," stated a press release. It intends to broaden their use in 2014.