Aretha Franklin Dead at 76: Preacher's Daughter Credited God for Her Gift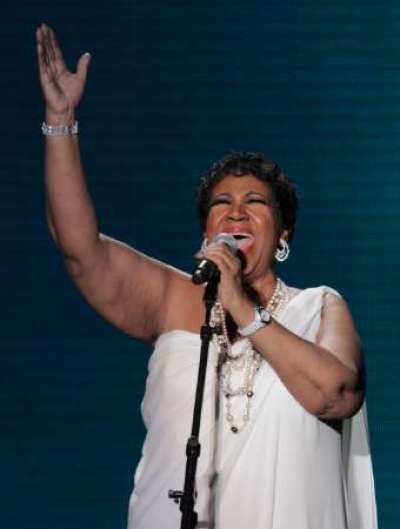 Iconic soul singer Aretha Franklin died Thursday in her Detroit home at age 76.
Franklin was surrounded by family and friends before passing away Thursday morning, reports confirm. The legendary singer died from an advanced form of pancreatic cancer which was confirmed by her oncologist.
Throughout her seven-decade career, Franklin paved the way as one of the most successful female artists in music history. With 18 Grammy Awards under her belt, and 75 million records sold worldwide, she was the first female performer to be inducted into the Rock and Roll Hall of Fame. Rolling Stone named her "the greatest singer of all time" in 2012, and she was also inducted into The Gospel Music Hall of Fame along with fellow mainstream music legend Elvis Presley (who also died on August 16, 41 years ago).
Born in Memphis on March 25, 1942, Franklin's family moved to Detroit when she was just 5 years old. Her mother, Barbara, was also a singer but her life was cut short and she died before Franklin's 10th birthday. Her father, Clarence LaVaughn "C. L." Franklin was a popular preacher at Detroit's New Bethel Baptist Church. Her famous dad was often visited by people such as Martin Luther King Jr., Jackie Wilson, Sam Cooke, and gospel singer Mahalia Jackson, who Franklin accredited as her mentor.
Franklin was a child prodigy and by the age of ten, she was already performing in church.
"They put a small box in front of the pulpit so I can be seen over the pulpit and that's where I would stand and sing," Franklin said in a past interview seen on MSNBC.
Franklin released her first gospel album by the time she was 14 years old. Managed by her father and signed to J.V.B. Records, her debut album, Songs of Faith, was released in 1956. At that time, she was also already a mother of two, giving birth to her first son, Clarence, when she was 12, and having a second son, Edward, two years later. In 1964 and 1970 she gave birth to two other sons, Teddy Richards and Kecalf Cunningham.
Despite being a young mother, that did not slow her down. By age 18 she shifted to secular music and the rest is history. Franklin is known for her hits such as "RESPECT," "Natural Woman," "I Say A Little Prayer" and "Chain of Fools."
As news of her death hit the media, many celebrities are taking to social media to honor Franklin's memory and great legacy.
Among those tributes was one from Franklin Graham, minister and president of the Billy Graham Evangelistic Association.
"The world lost an incredible voice today when 'the Queen of Soul' Aretha Franklin passed away. She once said, 'Being a singer is a natural gift. It means I'm using to the highest degree possible the gift that God gave me to use. I'm happy with that.'" he quoted the popular diva who always accredited God for her gift.
"I know she will be greatly missed. My prayers are with her family," Graham wrote on Facebook.
President Donald Trump likewise accredited Franklin 's immense talent to God.
"The Queen of Soul, Aretha Franklin, is dead. She was a great woman, with a wonderful gift from God, her voice. She will be missed!" he Tweeted upon hearing of Franklin's death.
Gospel singer Yolanda Adams accredited the "queen of soul" for her own musical talents as well.
"All Hail The QUEEN!!! Prayers and comfort to the Franklin Family as we say Good Bye to a TRUE LEGEND," Yolanda wrote on Instagram. "My heart is overwhelmed because Mrs. Aretha had such a great influence on My Musical Life. I grew up listening to her almost every day. Business Woman, Philanthropist, Mother..... her Achievements go on and on. I'm so glad I got a chance to tell her how much I love her."
Franklin is survived by her four sons and grandchildren. Funeral arrangements have not been announced.