Army Awards Medals for Heroism to 3 Students Killed in Florida High School Massacre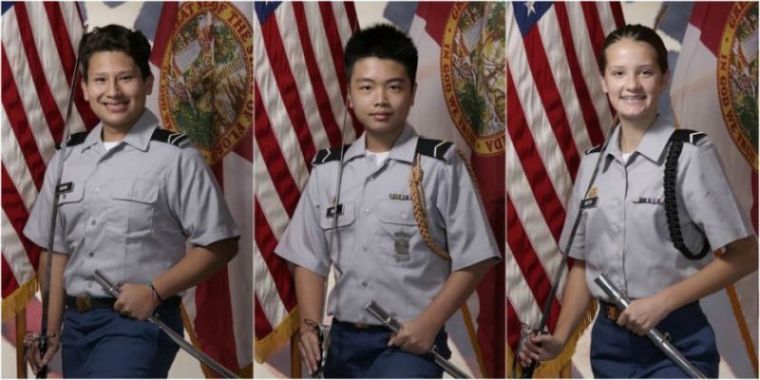 The U.S. Army has awarded medals to three Junior Reserve Officers' Training Corps cadets who were among 17 persons fatally gunned down in a bloody massacre at Marjory Stoneman Douglas High School in Parkland, Florida, on Ash Wednesday.
A spokesperson for the Army told the Daily Beast Tuesday that the Medal of Heroism was given to the family of 14-year-old cadet Alaina Petty at a memorial service on Monday. A medal was expected to be presented to the family of Peter Wang, 15, at his memorial service on Tuesday while a medal will be presented to the family of 14-year-old Martin Duque on Saturday.
Army spokesman Michael Maddox told CNN that Wang would be buried with his medal on his JROTC uniform.
"The JROTC Heroism medal will be on his uniform, but a second 'keepsake' medal" will be given to the Wang family, Maddox said.
As of Tuesday afternoon more than 60,000 people had signed a White House petition call for Wang to receive a full honors military burial for helping to save the lives of several students as crazed gunman and fellow JROTC member Nikolas Cruz, 19, went on a shooting rampage.
"He was a Jrotc Cadet who was last seen, in uniform, holding doors open and thus allowing other students, teachers, and staff to flee to safety. Wang was killed in the process. His selfless and heroic actions have led to the survival of dozens in the area. Wang died a hero, and deserves to be treated as such, and deserves a full honors military burial," the petition said.
More than 200 veterans, who were impressed by Wang's heroism and agreed that he deserved a full honors military burial, pledged on a reddit discussion board to provide a military presence at Wang's funeral and many others who could not attend agreed.
"Marine Veteran here. If there family sees this I want them to know I would have been honored to serve with this brave young man! He showed leadership and true valor! He should be given a full military funeral. God bless and Semper Fidelis!" Daniel Coleman wrote in a tweet.
U.S. Military Academy West Point also posthumously admitted Wang to its class of 2025, according to Sun Sentinel reporter Brittany Wallman.
"West Point will provide the family of Marjory Stoneman Douglas shooting victim Peter Wang a letter of acceptance to West Point Class of 2025, which was his dream, and honorarium tokens. His funeral is today," Wallman tweeted.
Instead of simply running to save his own life, Wang held a door open to allow other students to escape before he was killed, Cruz Wang's cousin, Aaron Chen, told The Miami Herald.
"He is so funny, caring and selfless," Lin Chen, Wang's 24-year-old cousin, told the Sun Sentinel. "He is so brave. He is the person who is genuinely kind to everyone. He doesn't care about popularity. He always liked to cheer people up. He is like the big brother everyone wished they had."
Wang enjoyed playing basketball. He is survived by two younger brothers, ages 11 and 5, along with other family members.
The Medal of Heroism is awarded to a JROTC cadet "who performs an act of heroism."
"The achievement must be an accomplishment so exceptional and outstanding that it clearly sets the individual apart from fellow students or from other persons in similar circumstances. The performance must have involved the acceptance of danger and extraordinary responsibilities, exemplifying praiseworthy fortitude and courage," according to the Army.