As I Lay Dying Frontman Tim Lambesis Reunites With Christian Group After Time in Prison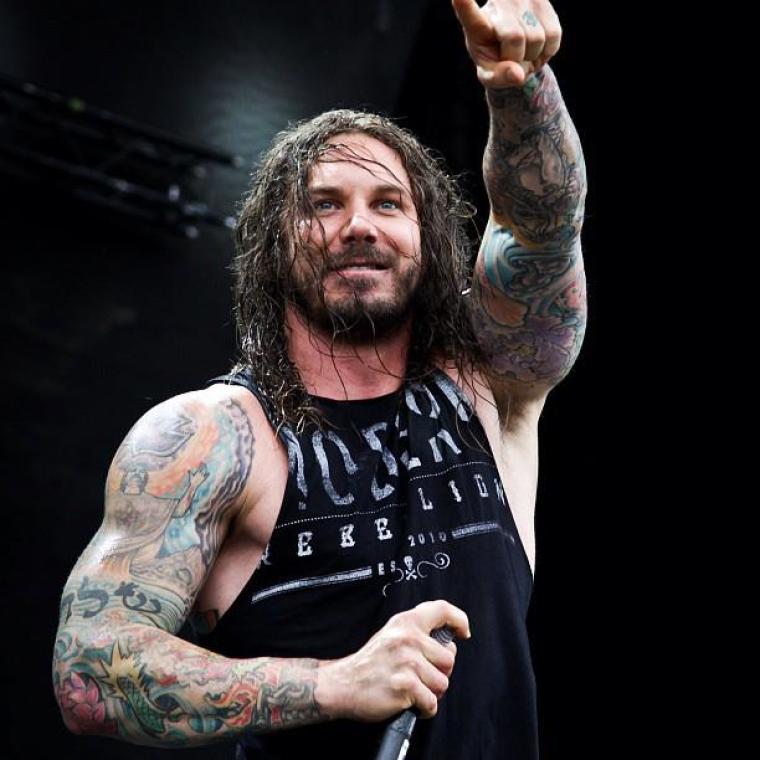 Tim Lambesis, founder of the popular metalcore Christian band As I Lay Dying, has reunited with the group after serving time in prison for plotting to kill his former wife and turning to atheism.
Last Thursday night, the reunited band posted a new music video on social media for a song billed "My Own Grave" with Lambesis back in his frontman role belting lyrics of regret that say in part:
I thought I was an architect but I was just moving dirt
Stacking mud over malice covered-up forming nothing but a pile of hurt
I hadn't been building (building)
The time was spent digging (digging)
Boring the barriers that kept others away (away)
The deeper the walls the less anyone could hear (hear me) fall
So now I know there is no one else to blame
On May 16, 2014, Lambesis, 37, was sentenced to six years in prison for plotting to hire a hitman to murder his now ex-wife and mother of his three adopted children, Meggan Murphy. That same day, Alternative Press published a substantive interview with Lambesis in which he discussed a number of personal issues such as the breakdown of his marriage, his descent into atheism, steroid use and how his bandmates shunned him after he was arrested.
Lambesis, who former Dokken guitarist George Lynch described as a Biola University trained theologian, was released from prison on parole on Dec. 17, 2016.
It is unclear where Lambesis currently stands on his faith and how the fractured band was able to come back together but in a statement posted to the group's Facebook page on Monday morning, they said they would try to explain everything to fans this week.
"It's difficult to encapsulate all of the topics we want to address with a written statement. We understand there are many questions and we plan to address them this week."
After completing parole last December, Lambesis publicly apologized to Murphy, extended family, friends and the people who worked with him for the damage his actions caused.
"Words cannot begin to express how deeply sorry I am for the hurt that I have caused. There is no defense for what I did, and I look back on the person I became with as much disdain as many of you likely do," he began in a statement he shared on Facebook last December.
"To my family, I apologize for the trauma you faced and may still feel. This is an ongoing sentence many of you serve because of me. I am so sorry to my friends who were betrayed by everything I hid from them and all the hardships I caused people who used to work with me. Band mates, road crew, managers, attorneys, agents, label people, and more all had to suffer through many unexpected changes because of my actions. While they were dealing with the aftermath of my arrest, I responded toward many of them with bitterness that I should have directed toward myself. I know that I can't undo the animosity I brought their way, but I hope to mend what I can now as time goes on," he said.
"To the people who looked up to me as an artist, I let you down in so many ways. I tried to show my best side to the public, while feeding an ugly growing monster behind closed doors. I wrote lyrics about the person I wanted to be rather than the person that I was. I was living a life that lacked empathy and viewed everything through a self-motivated lens."
Lambesis, who said he didn't feel like he deserved a second chance, said he hoped to continue living a life of redemption going forward even though he wasn't sure what his future would look like.
"I do not feel deserving of a second chance and am not asking for anyone's trust. The way many people feel about me makes sense, and only time will tell if my future actions line up with my remorse, something I pray for every day. In the last five years, the ripple effect of all my actions has extended further than a written statement can address. Thus, I will continue to apologize in both words and actions moving forward," he said.
As I Lay Dying's "My Own Grave" has nearly two million views as well as many supportive comments. His band is expected to perform on Saturday at the all-ages San Diego music venue SOMA Live.