As I Lay Dying Singer Tim Lambesis Said He Became Atheist But Kept Claiming to Be Christian to Keep Selling Music to Faithful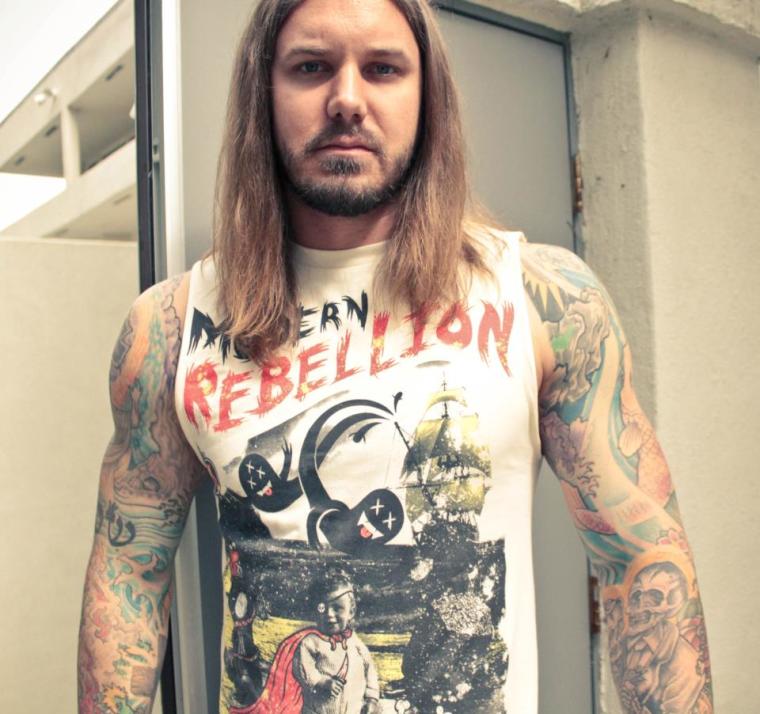 Tim Lambesis, lead singer and founder of Christian metalcore band As I Lay Dying, recently confessed that he and other members of his band had become atheists but kept claiming to be Christians so they could keep making money selling records to Christians.
In a wide-ranging interview with Alternative Press shortly before he was sentenced to six years in prison last month for attempting to hire a hitman to murder his estranged wife, Meggan Murphy Lambesis, the singer addressed a claim he made last year in a YouTube video about his spiritual allegiance after fans started saying he had become a Satanist.
"A month before your arrest, you posted a YouTube video addressing fans who felt your new side project, Pyrithion, was 'satanic.' I remember watching the video at the time and noticing you never gave the easy answer: 'Of course not. I'm a Christian!' You knew people thought of you as a Christian. Weren't you lying by omission?" asked AP's West Coast editor, Ryan J. Downey, of the singer in the interview.
Lambesis responded: "Yes. If you say, 'This is what I believe, you can count on this. If you believe the same things, I'm on your team.' A lot of Christian parents said, 'Yes, you can buy this As I Lay Dying CD, because they're a Christian band.' They don't even think to actually check the lyrics. So when you change your views, you kind of owe it to the fans to be honest."
He explained that he was afraid of revealing his true thoughts about God because he was afraid it would affect the record sales of his band; so he simply chose to just say, "I'm not a Satanist" as a cover.
"As far as the [YouTube] video I did explaining Pyrithion's lyrics … I was trying to put out a fire. I was afraid it would affect As I Lay Dying sales, which would affect my overall income. I was trying to put out the fire by saying the easiest thing, 'I'm not a satanist!'" he explained.
"Truthfully, I was an atheist. The 'strategy' I had at the time was cowardly. Two of the songs on that record were about coming to grips with the idea that life has no purpose, no meaning. These were negative themes I wasn't 'allowed' to deal with in As I Lay Dying songs. I thought making As I Lay Dying darker would be bad for my career. That was my thinking," he said.
Lambesis noted that the majority of "Christian bands" he encountered while he was on tour had taken similar positions – where they were simply working to collect a check.
"We toured with more 'Christian bands' who actually aren't Christians than bands that are. In 12 years of touring with As I Lay Dying, I would say maybe one in 10 Christian bands we toured with were actually Christian bands," he said.
He also explained that he wasn't the first member of As I Lay Dying to give up on Christianity.
"I actually wasn't the first guy in As I Lay Dying to stop being a Christian. In fact, I think I was the third. The two who remained kind of stopped talking about it, and then I'm pretty sure they dropped it, too," he said.
"We talked about whether to keep taking money from the 'Christian market.' We had this bizarrely 'noble' thing, like, 'Well, we're not passing along any bad ideas. We're just singing about real life stuff. Those kids need to hear about real life, because they live in a bubble,'" he added.
He said after a while, the double life had become awkward.
"I remember one Christian festival where an interviewer wanted one of the guys [in the band] to share his testimony, and he just froze up and let one of the guys who was still a Christian at the time answer the question. We laughed about it afterward, but we were only laughing because it was so awkward," said Lambesis.
"When kids would want to pray with us after shows, I'd be like, 'Um, go ahead and pray!' I would just let them pray. I'd say 'Amen.' If praying while I have my hand on their shoulder makes them feel better, I didn't want to take that away from them. When they would specifically ask me to pray for something, I'd say, 'I don't really like to pray out loud, but I'll take that with me to the bus," said the singer.
Lambesis was arrested on May 7, 2013, in Oceanside, California, for attempting to hire a hitman to murder his estranged wife and subsequently sentenced to six years in prison on May 16, 2014.
As I Lay Dying bandmate Nick Hipa responds to Tim Lambesis' interview, here.
READ COMPLETE AP INTERVIEW HERE.